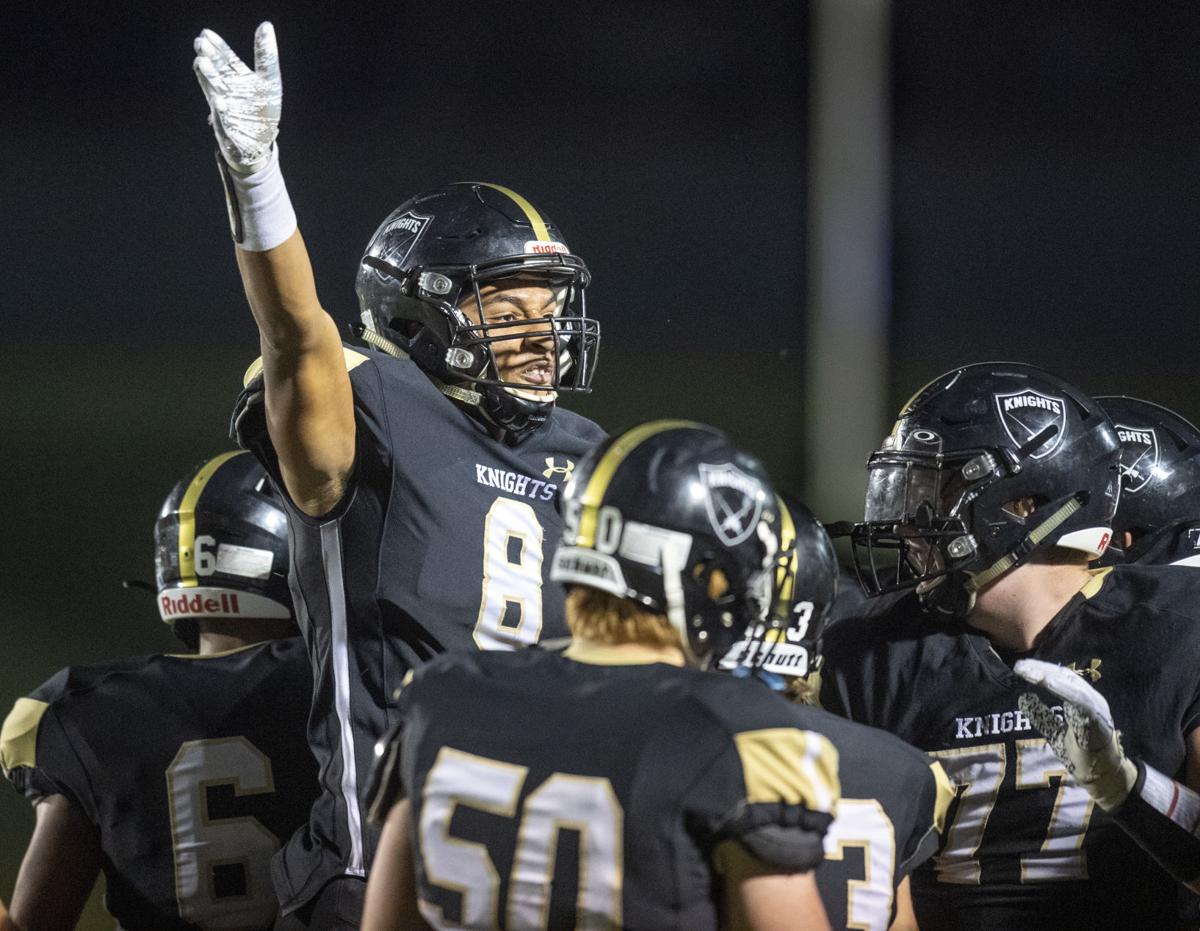 The high school football season kicks off with Week 0 on Friday, while most of the state's teams will begin play on Aug. 27. The Journal Star's Luke Mullin offers his preseason ratings.
1. Bellevue West (6-1) | 2
2. Millard South (8-2) | 3
3. Omaha Westside (12-0) | 1
4. Elkhorn South (10-2) | 4
5. Lincoln Southeast (8-1) | 6
6. Lincoln East (8-2) | 8
8. Creighton Prep (6-3) | 7
10. Millard West (2-7) | -
Contenders: Kearney, Gretna, Millard North, North Platte, Papillion-La Vista South.
Case for No. 1: After its shocking playoff quarterfinal loss to Kearney in 2020, Bellevue West is all-in on reclaiming the spot atop Class A this season. Over the past five seasons, the Thunderbirds have combined for a 51-5 record that includes undefeated state title seasons in 2016 and 2019. This year's group is just as strong, headlined by Power Five recruits Kaden Helms (Oklahoma) and Micah Riley-Ducker (Auburn). As always, Bellevue West has playmakers at every skill position.
Comments: Millard South will be dangerous again this season as Kansas State recruit Gage Stenger takes over at quarterback, while all-state running back Dominic Rezac will lead Omaha Westside's title defense. Lincoln Southeast and Elkhorn South have tremendous talent but some holes to fill on the defensive side of the ball. Omaha Burke and Omaha North should return to their top-10 status, but will it take the OPS schools a couple of games to catch up?
Contenders: Hastings, Elkhorn North, Scottsbluff, York, Omaha Gross.
Case for No. 1: Much of Class B's top 10 has the talent to claim the No. 1 spot at the end of the season, but last year's runner-up, Aurora, has the motivation and postseason experience to get it done. All-state linebacker Mack Owens is a key two-way player, and the Huskies' defense (20.6 points per game allowed last season) should be strong again.
Comments: Omaha Skutt had a down season after playing in the Class B title game four seasons in a row, but Wyoming recruit Caden Becker leads a SkyHawk team that should return to its previous heights. Waverly has a big hole at running back, but Super-State lineman Trevor Brown and starting quarterback Cole Murray are just a glimpse of the Vikings' depth. Bennington, Northwest, Norris and Plattsmouth will be in the hunt once again, while defending state champion Elkhorn has many questions that need answering.
2. Adams Central (10-3) | 3
4. Ashland-Greenwood (10-1) | 5
5. Kearney Catholic (9-2) | 4
7. Columbus Lakeview (4-5) | -
8. Central City (5-4) | -
9. Lincoln Christian (8-2) | 8
Contenders: Battle Creek, Wayne, Gothenburg, Ogallala, Boone Central, Mitchell, Cozad.
Case for No. 1: Pierce has played in the Class C-1 title game each of the past two seasons, and the Bluejays are favorites to make it three in a row. While Pierce does lose several all-state defenders, junior quarterback Abram Scholting is among the best in the class, as is Nebraska commit Ben Brahmer. Pierce is 34-2 over the past three seasons combined, and will be hard to beat once again.
Comments: State runner-up Adams Central loses half of its starters from last year, but an experienced offensive line will lead junior running back Hyatt Collins to a big season. Wahoo's rushing attack, led by seniors Gavin Pokorny and Colin Ludvik, is just as impressive. Kearney Catholic's Brett Mahony, Ashland-Greenwood's Cale Jacobsen and Central City's Kale Jensen have all-state potential at quarterback.
1. Archbishop Bergan (12-1) | 2
3. Oakland-Craig (10-2) | 3
5. Norfolk Catholic (6-3) | 8
8. Wilber-Clatonia (7-2) | 6
9. Hartington CC (8-3) | 9
10. North Platte St. Pat's (7-2) | -
Contenders: Centennial, Crofton, Doniphan-Trumbull, Bishop Neumann, Grand Island CC.
Case for No. 1: Behind all-state quarterback Koa McIntyre, Archbishop Bergan has had the best offense in Class C-2 for quite a while. The Knights fell just short of a state title last season, and with Jarret Boggs and Chris Pinales also returning into key roles on offense, Bergan could exceed the 38.8 points per game it averaged last season.
Comments: Aquinas has one of the deepest rosters in the class, with all-state lineman Rowdy Truksa taking up two of the Monarchs' 17 spots filled by returning starters. Behind quarterback Grady Gatewood and wide receiver Carson Thomsen, 2019 state champion Oakland-Craig will be in the hunt. Ord graduates standouts at quarterback and running back, but a senior-heavy Chanticleer team will be tough to beat again. Norfolk Catholic, Yutan and Sutton could make a jump into the upper echelon, while Hartington CC and North Platte St. Pat's are poised for playoff runs as well.
2. Dundy Co.-Stratton (12-0) | 1
3. Cross County (11-1) | 3
4. Howells-Dodge (7-3) | 4
7. Neligh-Oakdale (9-2) | 6
9. Lutheran Northeast (8-2) | 10
10. Laurel-Concord-Coleridge (6-4) | -
Contenders: Wakefield, Weeping Water, Clarkson/Leigh, Nebraska Christian.
Case for No. 1: After three straight runner-up finishes in the D-1 playoffs, Burwell is once again one of the top teams in the class behind senior running back Caleb Busch. The Longhorns will need to find a new quarterback, but several all-state caliber players return on defense.
Comments: Dundy County-Stratton graduates one of the best senior classes in school history, leaving senior quarterback Quade Myers to defend the title alongside an experienced offensive line. Cross County, Howells-Dodge and Lourdes CC also are title contenders, while Neligh-Oakdale and Tri County can build on strong efforts from last season.
1. Falls City SH (9-2) | 4
2. Sandhills/Thedford (12-1) | 2
7. Central Valley (10-1) | 3
Contenders: Wynot, Mullen, Ansley-Litchfield, Medicine Valley, Allen, Bloomfield.
Case for No. 1: Always a contender in Class D-2 athletics, Sacred Heart returns all-state selections Brogan Nachtigal on the offensive line and Jakob Jordan at quarterback. Good size and five returning starters on each side of the ball place the Irish as the team to beat.
Comments: Running back duo Dane Pokorny and Reece Zutavern will keep Sandhills/Thedford a title contender, and all-state running back Tyson Denkert will do the same for Kenesaw. Humphrey St. Francis, St. Mary's and Central Valley are experienced teams on the rise, while defending champion BDS is searching for several new starters.
1. Cody-Kilgore (6-3) | 4
4. McCool Junction (12-0) | 1
5. Arthur County (8-3) | 3
6. Spalding Academy (7-2) | 10
9. Creek Valley (7-3) | 9
Contenders: Wilcox-Hildreth, Pawnee City, Paxton, Stuart.
Case for No. 1: All-state selections Tucker Ravenscroft and Cactus Millar will be among the best six-man players in the state, as will be 1,000-yard rusher Peyton Sterkel. Cody-Kilgore has the talent and experience to take home a state title.
Comments: Sterling is a worthy title contender in its own right thanks to returning two-way starters Tanner McDonald, Andrew Richardson and Garrett Hier. Defending champion McCool Junction has only two players with starting experience, and schools such as Potter-Dix, Arthur County and Spalding Academy have potential to make serious runs as well.