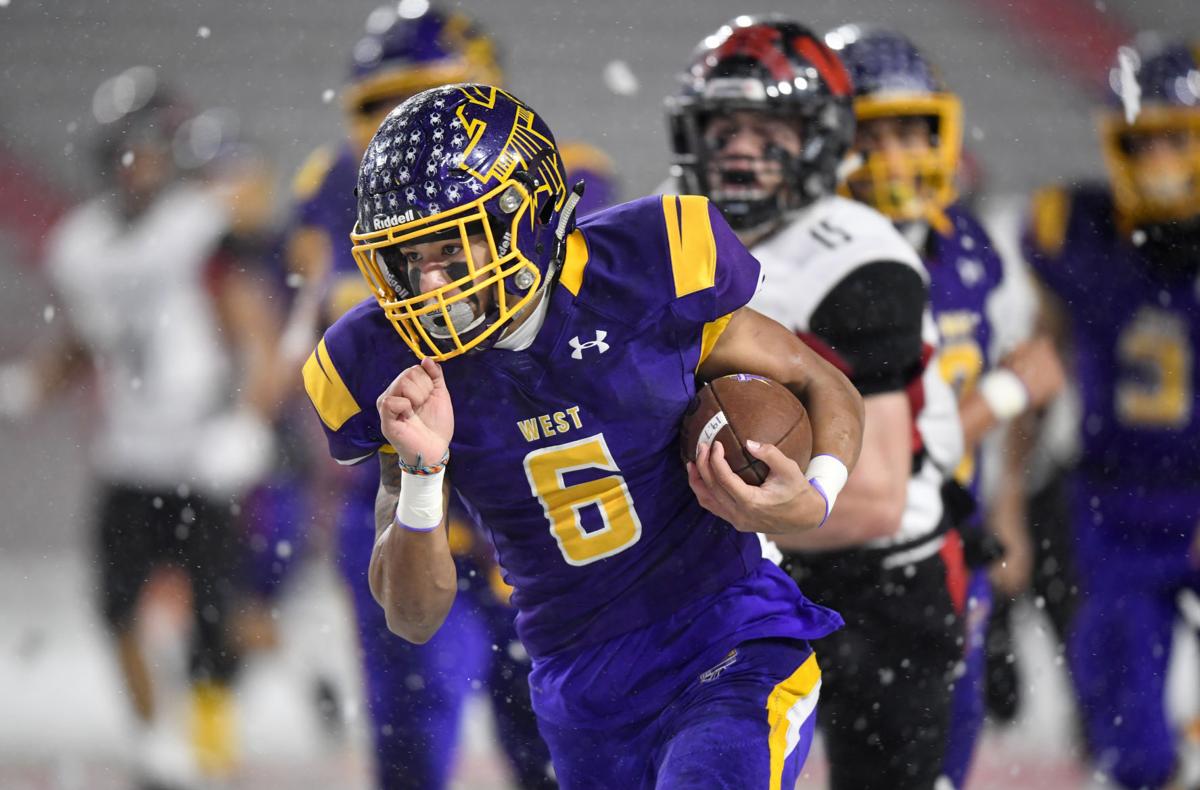 Top-ranked Bellevue West entered last Friday short on game experience and with some looming question marks about young players in key spots after major graduation hits from last year's Class A state championship team.
The Thunderbirds' 49-29 win against third-ranked Millard South — their 15th straight victory after going 13-0 last season — put all of those doubts to rest while making their case as one of the favorites to reach Memorial Stadium in November.
"Millard South had beaten three good opponents and we really hadn't been tested in a game situation before Friday, so that was a huge concern," said Bellevue West coach Michael Huffman, whose 2-0 Thunderbirds were idle both Weeks 1 and 3 because of different COVID-19 issues concerning their opponents and just had a 55-0 win over Bellevue East under their belts coming in against the Patriots.
"One of the things we do here on Tuesdays is we play our No. 1 offense against our No. 1 defense for about 20 minutes, and our guys really get after it during that time," added Huffman, whose team hosts Kearney on Friday. "We feel like we have one of the top three defenses in the state and one of the three top offenses in the state, so it's time well spent for our guys."
Bellevue West's season opener with Omaha Burke was canceled after Omaha Public Schools decided not to participate in fall sports because of the pandemic. The Thunderbirds' Week 3 game with Creighton Prep was canceled because of a Junior Jay testing positive for COVID-19. Attempts to get a replacement game with Iowa power Southeast Polk fell through, then North Platte agreed to play, only to have that contest canceled late that Friday morning because of COVID-19 investigations ongoing with some Bulldog players.
"I had just brought my pillow out and lay my head down on the bus, and then Coach Huffman told us there was no game, they called it off," Super-State senior Keagan Johnson said. "It was disappointing because you go through all that preparation and go through a whole week of an emotional rollercoaster to have it end like that.
"But it just made us even more excited about the Millard South game."
It certainly showed in the Iowa recruit's performance. Johnson, a 6-foot-1, 195-pound senior who is playing both wide receiver and quarterback in the wildcat formation this season, rushed seven times for 81 yards and a touchdown, and caught eight passes for 132 yards and two more scores.
"Keagan is special. He might be the best one I've had," Huffman said. "He goes from stop to full speed so fast, and he plays with a chip on his shoulder. I think he could be an elite running back, slot receiver or safety at Iowa. That's why we're trying to find different ways to get the ball in his hands."
The problem with opposing defenses loading up to stop Johnson is that there are other Power Five conference recruits who can break big plays for the Thunderbirds if given the opportunity.
The junior duo of Micah Riley and Kaden Helms have combined for 14 catches for 162 yards in the first two games. The 6-foot-5 Riley has scholarship offers from Nebraska, Arizona State, Auburn, Iowa, Michigan, Minnesota, Oregon and Penn State. Helms, who is also 6-5, has offers from Nebraska, Minnesota, Iowa, Purdue and Iowa State.
"Those guys are big-bodied, physical receivers who are college ready," Johnson said of Riley and Helms. "They add a different dimension to our offense and open things up for me."
Dae'Vonn Hall, a 6-2 freshman wide receiver who has three catches for 77 yards and a TD this season, already has an offer from Iowa.
As lethal as the Thunderbirds are through the air, averaging 246 yards per game passing, the ground game averages almost 300 yards through the first two games. LJ Richardson, a 6-1, 220-pound junior, went off for 287 yards and three TDs in the win over Millard South, and Huffman expects him to be getting FBS recruiting attention soon.
Junior Luke Johannsen, a transfer from Bellevue East, won a preseason battle for the starting quarterback position, and now is benefiting from the vast array of talent surrounding him. The 6-foot-2, 180-pounder was 21 of 33 for 258 yards and three TDs against Patriots, and has earned praise from Huffman for quickly picking up the Thunderbird offense in limited offseason opportunities to learn because of the pandemic.
"I'm blessed to be in this position I am today," Johannsen said. "Getting to play with these guys who can do so much on every down, it is truly awesome. I just need to keep improving, make sure I'm making good decisions and get the ball in the right hands every play."