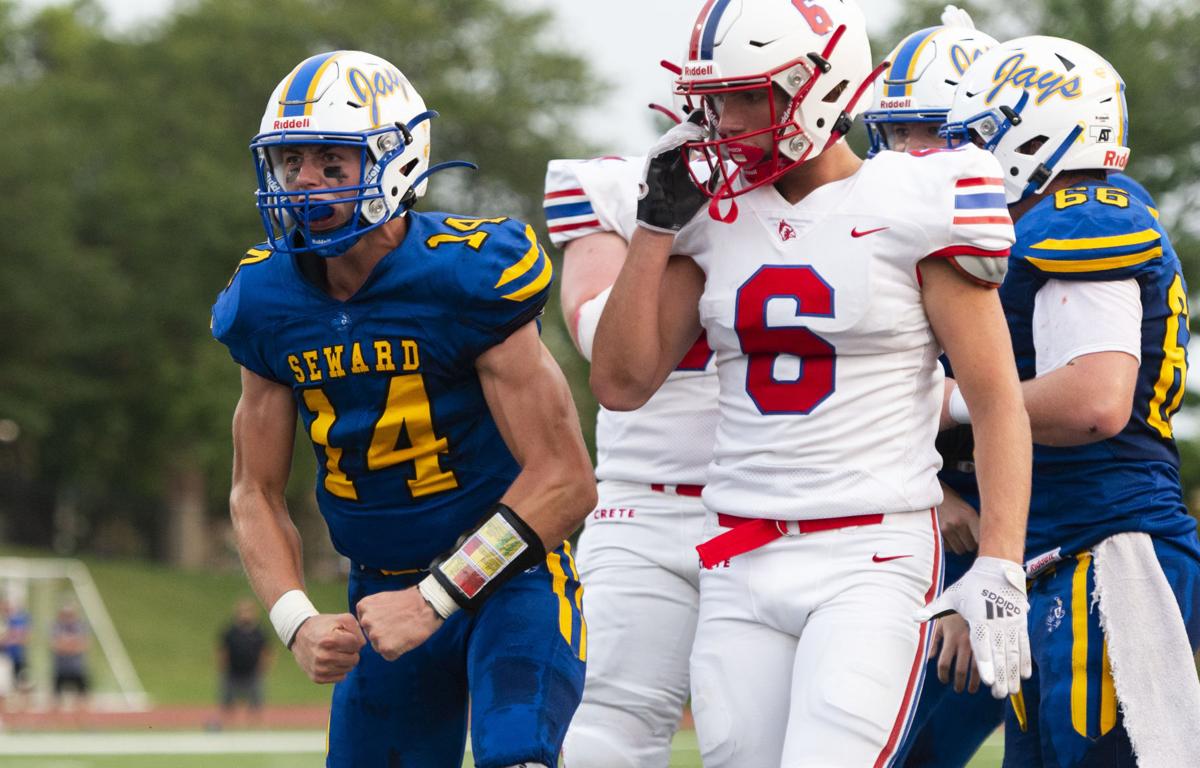 SEWARD — As expected, Gavin Sukup left his mark Friday night at Concordia's Bulldog Stadium in Seward's 46-31 football win over rival Crete.
The senior all-state quarterback rushed for four touchdowns, threw for two more and intercepted two passes as a defensive back.
But Sukup wasn't the only one who made major contributions in pushing the Bluejays to 3-0. Crete featured senior standout running back Isaac Kracl, but the Bluejays countered with another senior, Mason Bisbee, who finished with 195 yards on 15 carries and a fourth-quarter touchdown.
Sukup had 407 yards of total offense last week against Omaha Gross, so that's where the Cardinal defense was focused.
"Gavin just opens things up for the rest of us," Bisbee said. "We finally got the running game going, and that was sweet. He's a team player and he knows how to get us the ball."
Sukup had two TD runs of 4 and 1 yards and threw scoring passes of 7 and 17 yards to Micah Hackbart in the first half to lead the Bluejays to a 27-13 halftime edge. Sukup's first interception and 33-yard return set up his 7-yard toss to make it 13-0, a working margin the Cardinals (1-2) were never able to dent. Sukup, who finished with 63 yards rushing and another 89 through the air, had another 1-yard sneak in the third quarter and a 16-yarder in the final period.
Kracl, a 5-foot-10, 185-pound senior, kept the Cardinals within striking distance with 252 yards rushing on 28 carries and three touchdowns. He broke off a 40-yard scoring run in the third quarter, then scored on an 85-yard hook-and-lateral play late in the game to produce the final score. Drew Henning caught a Braden Schmeckpeper pass in the flat and flipped it back to Kracl on the fly.
"It was just punches back and forth, and I was proud of the resiliency and the toughness our guys showed tonight," Seward coach Jamie Opfer said. "There are some things I'd like to do better, but Kracl is a great running back who is hard to contain."
Crete threw three interceptions, two of which led to Seward touchdowns. Cardinal coach Mark Newmyer said those turnovers were on him because of the play calls in those situations.
"All the credit goes to Seward. That's a physical football team and they were able to run it right at us and do whatever they wanted all night," Newmyer said. "Sukup's the best quarterback we've seen this year."