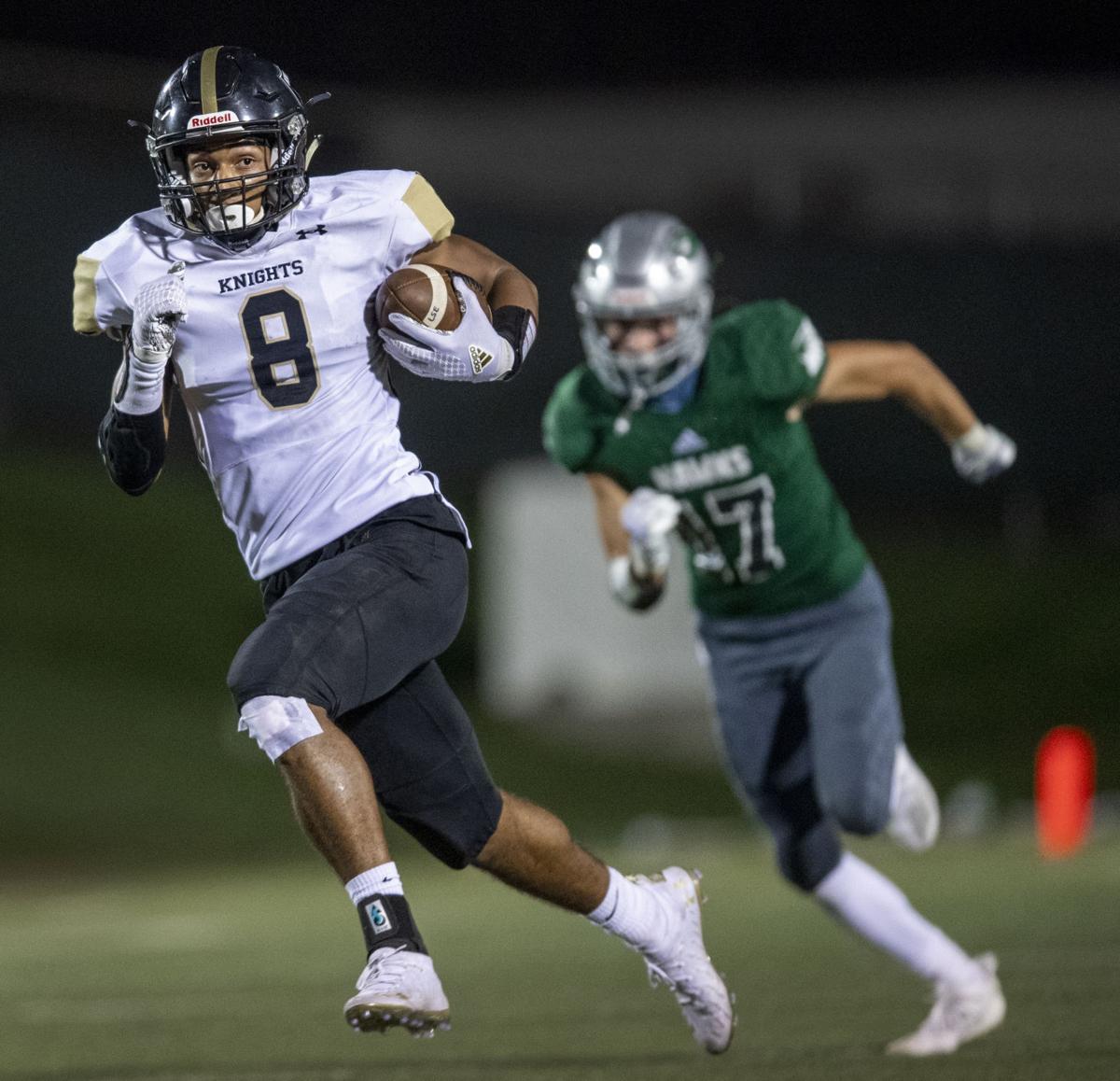 Taveon Thompson's days as a part-time coach and a part-time cheerleader are numbered.
At some point, the Lincoln Southeast senior's surgery to repair a torn labrum in his right shoulder in November will be in the rearview mirror. And that's when Thompson will be looking straight ahead at track season this spring followed by the Shrine Bowl football game on June 5, all of which will provide a solid foundation before the 6-foot-4, 205-pound wide receiver/outside linebacker begins building his college football career as a walk-on at Nebraska.
The Shrine Bowl rosters were released on Saturday, and Thompson got word he was going to be on the South team when head coach Mark McLaughlin of Platteview called him last week. He joins Super-State defensive tackle Maddox Burton, a fellow Knight and Nebraska walk-on, on the South squad.
"I wasn't expecting it (the call) because Maddox got his call two weeks ago," said Thompson, an all-city selection last fall who caught 14 passes for 265 yards and two touchdowns, registered 45 tackles, intercepted three passes, recovered a fumble and blocked a kick for the 8-1 Knights.
"It's definitely exciting and an honor to be chosen to play," Thompson said about the 63rd annual contest in Kearney that benefits the Shriner's Hospitals for Children. "It gives me something to work for as I go through rehab."
Thompson's surgery knocked him out of a prominent role on this season's Southeast boys basketball team, but as a returning starter from a year ago, he's still at practices and games both encouraging and instructing as much as he can.
"I'm doing what I can to help the team, but I'd rather be out there playing and contributing," Thompson said. "I'm doing rehab three times a week and I hope to be doing full-speed activity in about a month and a half, just in time for track season."
The COVID-19 pandemic wiped out the high school track season last spring, but Thompson finished fourth in the Class A high jump at state in 2019 by clearing a personal-best 6 feet, 5 inches. He's hoping to improve on that mark but also branch out into other jumping events as well as the sprints this season.
"I want to do anything that will help me become a better football player," Thompson said.
Other first-team Super-Staters on the South are the Omaha Westside duo of quarterback Cole Payton and lineman Cade Haberman, Millard South quarterback TJ Urban, Omaha Skutt linebacker/fullback Sam Scott, Papillion-La Vista South kicker Trenton Brehm and Millard South lineman Jack Nickolisen.
Having a pair of quarterbacks headed to Division I college programs — Payton to North Dakota State and Urban to Air Force — adds a bit more anticipation for a wide receiver like Thompson.
"I've seen Cole Payton throw and I've seen him run. He's a great football player," Thompson said.
Other Lincoln players on the South roster are Lincoln Christian's Josh Free, Lincoln East's Grant Springer and DeKendrick McCray, and Lincoln Southwest's Grant Miller.
The North has six first-team Super-Staters — Bellevue West lineman Kekoa Chai, Omaha Roncalli lineman Nolan Gorczyca, Elkhorn wide receiver/linebacker/punter Gannon Gragert, Bellevue West linebacker Jack McDonnell, Elkhorn running back Aiden Young and Elkhorn South lineman Isaac Zatechka.
Lincoln players for the North are Lutheran's Wyatt Marr and Lincoln High's Isaac Montgomery.