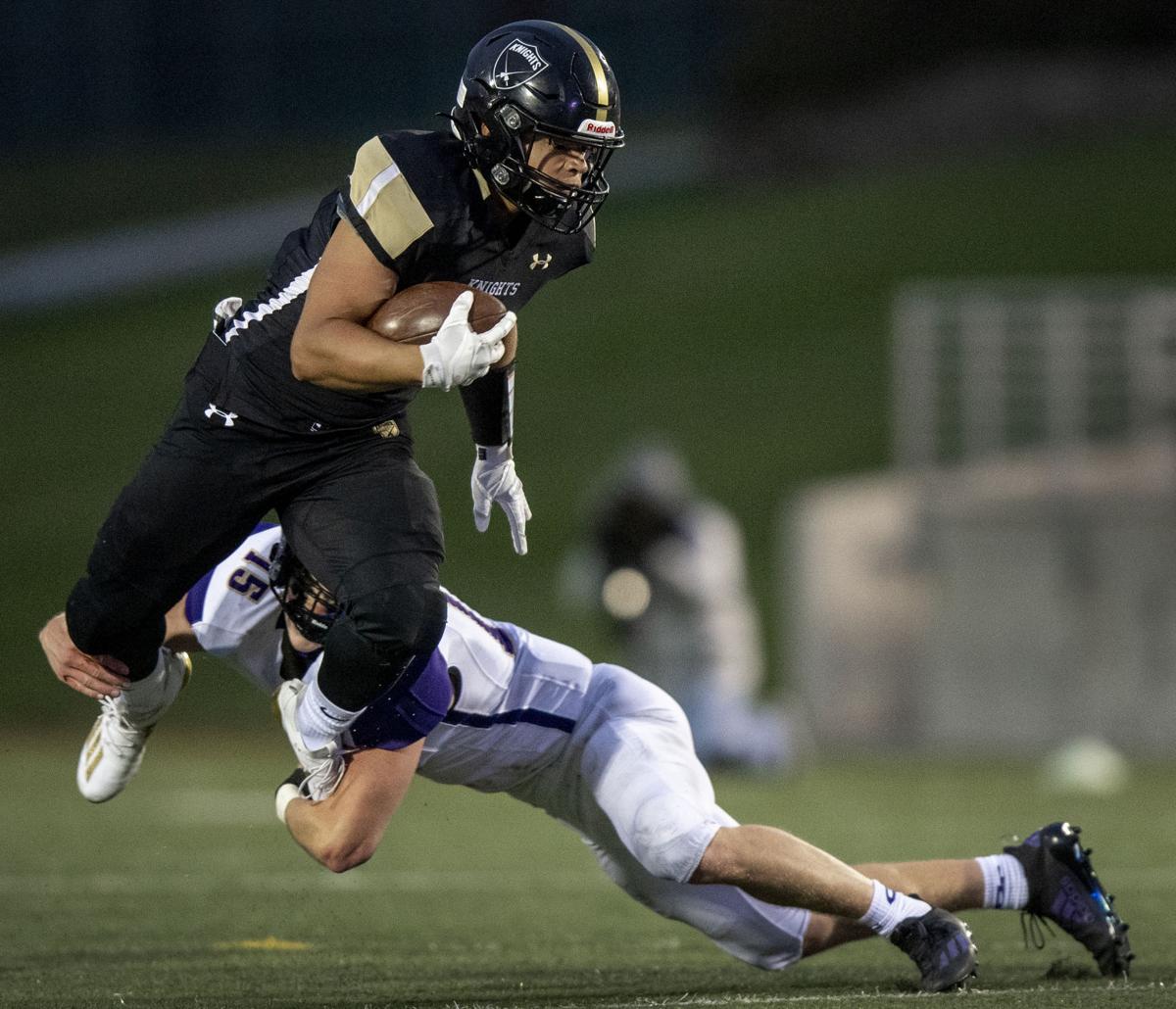 There was an adjustment period for running back Nigel Bridger as he made the transition from Crete to Lincoln Southeast for his senior season of football.
It appears after three games, Bridger is now ready for the next phase — being the main guy in a Knights running game that likes to wear down opposing defenses with their huge offensive line and play keep-away with the ball by grinding out long, physical, time-consuming drives.
Bridger rushed for just 42 yards in the first two games combined, but the 5-foot-8, 190-pound back went off for 174 yards on 21 carries and two touchdowns in the Class A No. 5 Knights' 35-10 win over No. 8 Grand Island last Thursday at Seacrest Field.
"The biggest thing was just experience," Bridger said when asked about the difference between the first two games against Kearney and Lincoln Southwest and Week 3 against the Islanders.
"Starting out here, the different offense was something that took me a while to get used to," Bridger added. "Just getting to know the offense and where things hit, I have a lot better feel for it now."
This is the second straight season Southeast has had a standout running back transfer in for their senior year. In 2019, it was Nick Halleen who came over from Lincoln Northeast and powered his way for 1,665 yards and 23 touchdowns in helping the Knights go 9-2 and reach the Class A state quarterfinals.
While Halleen was a runner who liked to bulldoze defenders and move the pile with pure power, Bridger depends more on his quickness and elusiveness in traffic. Bridger also has the upper body strength and leg drive to absorb contact and make yards after the initial hit, but it's his ability to hide behind blockers, then cut on a dime and explode through a crease that sets him apart.
"Nigel has the speed to score from long distance, so he can get big plays for you," said Southeast coach Ryan Gottula, whose 3-0 Knights host No. 7 Creighton Prep (1-1) at 8:15 p.m. Friday at Seacrest Field.
"But as we saw the other night, he's a tough runner too," Gottula added about Bridger, who rushed for 895 yards and five touchdowns in his sophomore and junior years combined at Crete. "He brings a lot to the table."
Gottula has been impressed by how Bridger and the other two backs in the rotation at running back — senior Nathaniel Gifford and sophomore Max Buettenback, Nebraska baseball recruit — have begun to mesh with five new starters on the offensive line.
Bridger is the first to credit junior center Nate Folmer (6-2, 265), guards Owen Anthony (6-0, 255, junior) and James Farless (6-2, 265, senior), tackles Marcus Kastanek (6-2, 245, senior) and Gunnar Gottula (6-5, 255, sophomore) and tight ends Barrett France (6-3, 245, senior) and Luke Blatchford (6-3, 215, junior) for the success he's had.
"It's fun running behind those guys," Bridger said. "We have a lot of linemen who are great players, and that's one of the things I like about the program."
Bridger used the Nebraska School Activities Association's option enrollment transfer last spring before the May 1 deadline, so he was immediately eligible even though his family still lives in Crete. The transition has been aided by the fact that his senior teammate, Ethan Steer, was also at Crete before he came to Southeast as a junior in 2019.
"As soon as I transferred here, Ethan introduced me to all of his friends, so I've been able to make a lot of friends so far," Bridger said. "My new teammates accepted me right away and made me feel at home from the start."
The only hang-up so far has been the drive every day from Crete to Lincoln to go to school, a trip complicated by road construction that can stop traffic on Nebraska 33 for up to 10 or 15 minutes.
"I got stuck there the other day and I was late for school. I wasn't very happy," Bridger said, laughing. "Now I leave a little earlier and try to avoid it."
Get in the game with our Prep Sports Newsletter
Sent weekly directly to your inbox!