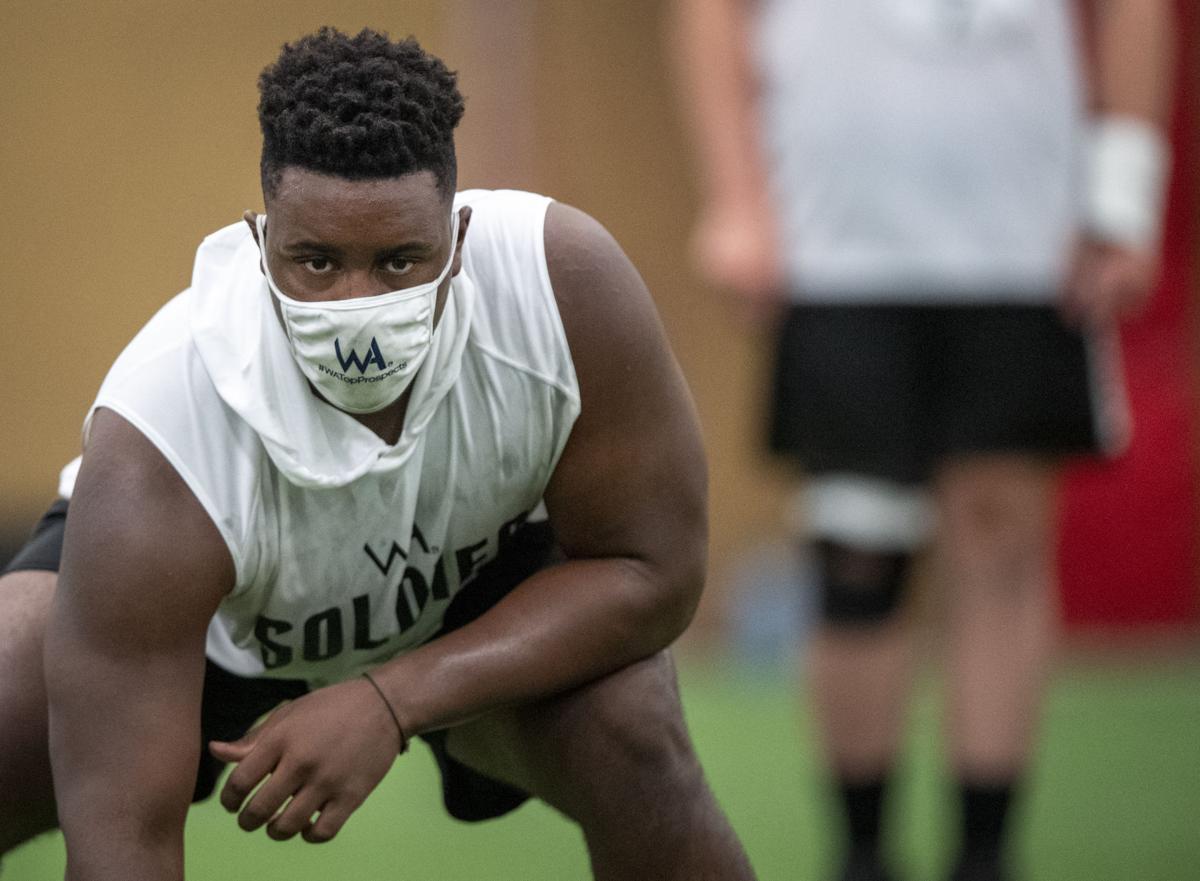 Barring injury, it's safe to say the junior duo of Omaha Central's Deshawn Woods and Omaha Burke's Devon Jackson would be among the first-team Super-Staters being honored by the Journal Star this weekend if Omaha Public Schools hadn't pulled the plug on fall high school sports back in August.
Woods, a 6-foot-5, 280-pound offensive tackle, has scholarship offers from Nebraska, LSU, Florida, Texas A&M, Iowa, Iowa State, Arizona State, Kansas State, Michigan State and Missouri, among others.
Jackson, a 6-3, 195-pound outside linebacker with sprinter speed, has taken in offers so far from Nebraska, Notre Dame, Michigan, Michigan State, Minnesota, Missouri, Auburn, Arizona State, Illinois, Iowa, Iowa State and Kansas State.
The consolation prize for Woods and Jackson is they still have another year of high school football left and a promising college career at a big-time Power Five program on the horizon. This was likely just a bump in the road for them.
But for the seniors in the OPS football programs, the decision not to play was devastating. This is a season these athletes will never get back. And no one will ever know just how many seniors had college scholarship opportunities slip away because of it.
Every year, there are seniors who suddenly grow and blossom before our eyes and become both all-state players and college prospects at the same time. Seeing these players denied that chance is troublesome, to say the least.
Some players managed to transfer and become eligible immediately, following the Nebraska School Activities Association's change of domicile rules. Sam Scott, a standout linebacker at Omaha North, made such a move to Omaha Skutt, and the Wyoming signee ended up having a shortened, but very productive Super-State season.
The vast majority, however, were left to watch the rest of the state play on Friday nights this fall in a season that ended with a school located right in the heart of the city, Omaha Westside, winning a Class A state title. The Warriors played all 12 games that were scheduled and didn't have a single case of COVID-19 on its varsity squad.
The long-term effects of shutting down OPS football this fall will be felt for several seasons to come. Starting up some of these programs after taking a year off will be a monumental, and perhaps an insurmountable, task.
No doubt a number of the OPS freshman football players scattered to schools throughout the Metro Conference where they could play freshman or junior varsity football immediately. The programs that were struggling prior to the pandemic with participant numbers are probably now in even more peril coming into 2021.
And when it comes to a question of "what if?", Clarkson-Leigh's Tommy McEvoy has to be right at the top of that list. McEvoy, a 6-2, 195-pound senior running back who signed with Wyoming this past week, was an all-stater as a sophomore when he rushed for 1,708 yards and scored 30 touchdowns.
He missed his entire junior season after tearing his ACL during the summer. McEvoy was all ready for a triumphant return as a senior, and he was off to a good start with 107 yards and two touchdowns in the season opener against a Cross County team that reached the semifinals of the Class D-1 playoffs.
But in Week 2, McEvoy had one carry for a 33-yard TD run against Elmwood-Murdock before another ACL tear ended his high school career.
Nothing, however, was going to hold back Central Valley's D-2 all-state senior Jackson McIntyre. Playing on a torn ACL all season, the 5-10, 180-pounder rushed for 863 yards and 17 touchdowns, caught 28 passes for 449 yards and five more scores, finished with 1,329 all-purpose yards and registered 63 tackles from his linebacker spot.
McIntyre had 15 stops in Central Valley's 40-36 semifinal loss to eventual state champion BDS to go with seven pass receptions for 125 yards and 43 yards rushing on 10 carries. He scored four TDs in that game.