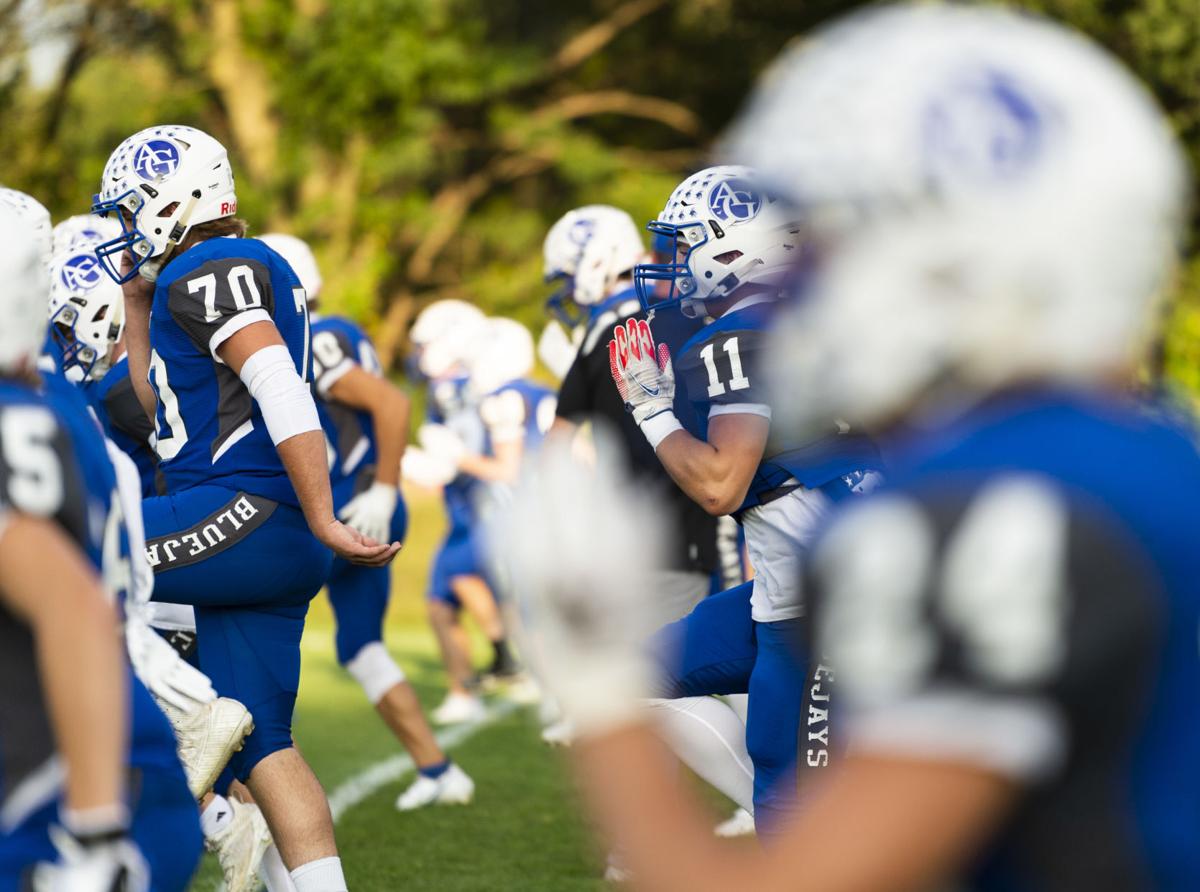 The first five weeks of the high school football season have flown by, and the first round of the playoffs are now just about a month away. Classes D-1 and D-2 start their playoff journeys on Oct. 21, with the other classes following on Oct. 29. With that in mind, wins are at a premium moving forward.
1. Millard South (5-0) | 1
2. Bellevue West (4-1) | 2
3. Omaha Westside (5-0) | 3
4. Creighton Prep (3-2) | 4
5. Elkhorn South (4-1) | 5
8. Lincoln East (4-1) | 9
9. North Platte (4-1) | 10
10. Millard West (2-3) | -
Contenders: Columbus, Lincoln Southeast, Kearney, Omaha Central.
Comments: There are few changes in Class A this week, mostly because much of the top 10 picked up impressive wins. Millard South took down Omaha North, Bellevue West avenged last year's playoff loss in a 49-13 win over Kearney, Omaha Westside rolled over Grand Island and Creighton Prep outlasted Millard West. That isn't even accounting for Elkhorn South's impressive win over Papillion-La Vista and Gretna's 77-0 blowout of Bellevue East, all results that show the strength of Class A's best.
Lincoln East rises one spot following a commanding win over Lincoln Southeast, which drops out of the top 10 for the first time this season following back-to-back losses. There are many teams in contention for the 10th spot, including a 4-1 Columbus team, but Millard West gets the edge due to the quality of opponents it has faced this season. All three of the Wildcats' losses have come to top-five opponents, with Lincoln East and Bellevue West up next on their schedule.
10. Scottsbluff (3-2) | -
Contenders: Northwest, York, McCook.
Comments: Bennington and Elkhorn both picked up comfortable wins last week and appear destined for another No. 1 vs. No. 2 clash in two weeks' time. Plattsmouth jumps Omaha Skutt due to its 55-0 win over Crete, but a challenging three-week run of ranked opponents begins now. Senior running back Christian Meneses is averaging over 250 yards per game, and the Blue Devil defense is only allowing 7.6 points per game as well. Beatrice deserves credit for its 35-21 win over Norris, as does Aurora for a commanding victory over York. Scottsbluff rejoins the ratings, and the Bearcats could perhaps be even better than No. 10 — their two losses are to Aurora and a 4-0 team from Fort Morgan, Colorado.
1. Ashland-Greenwood (5-0) | 2
2. Kearney Catholic (5-0) | 3
3. Boone Central (5-0) | 6
5. Columbus Scotus (5-0) | 4
7. Columbus Lakeview (3-2) | 5
Contenders: Milford, Wahoo, Adams Central, Broken Bow, Platteview.
Comments: Boone Central pulled off the impressive upset win over top-ranked Pierce, and the Cardinals jump into third while Pierce falls three spots to fourth. Ashland-Greenwood becomes the new team to beat in C-1, but Kearney Catholic and Columbus Scotus also have impressive wins which place them close behind. Two new undefeated teams, Cozad and Chadron, make their first appearance of the season. Three of Cozad's wins have been by one score or less, while Chadron's defense has two shutouts and is averaging 4.2 points per game.
1. Archbishop Bergan (5-0) | 1
2. Norfolk Catholic (4-1) | 2
5. Oakland-Craig (3-2) | 4
8. Hartington CC ( 4-1) | 10
9. Wilber-Clatonia (4-1) | 5
Contenders: North Platte St. Pat's, Bishop Neumann, Lincoln Lutheran, Crofton.
Comments: A gutsy two-point conversion led Aquinas to a 29-28 win over Oakland-Craig, which has now suffered back-to-back one-score losses. The Knights still have Hartington CC and Archbishop Bergan on their schedule in the next three weeks. Wilber-Clatonia's loss to Bishop Neumann allows Yutan and Hastings St. Cecilia to rise after impressive wins. Centennial joins the ratings ahead of a contender clash with Bishop Neumann, winners of three straight games.
2. Dundy Co.-Stratton (5-0) | 2
4. Howells-Dodge (5-0) | 4
5. Cross County (4-1) | 5
7. Lutheran High NE (5-0) | 7
8. Neligh-Oakdale (4-1) | 8
9. Weeping Water (5-0) | 9
10. Laurel-C-C (4-1) | 10
Contenders: Arapahoe, EMF, Bertrand, Arcadia-Loup City, Anselmo-Merna, Humphrey/LHF, Palmyra.
Comments: For the second straight week, there are no changes in Class D-1. Four games were decided via forfeit last week, including No. 7 Lutheran Northeast's scheduled game against Elkhorn Valley. There are 19 teams which are 4-1 or better in Class D-1.
1. Sandhills/Thedford (5-0) | 1
4. Falls City SH (4-1) | 4
7. Johnson-Brock (3-2) | 6
Contenders: Osceola, Mullen, Pleasanton, Ansley-Litchfield, Elgin/PJ.
Comments: Falls City SH held onto a 36-20 win over a solid Johnson-Brock team which drops to seventh. BDS falls to eighth due to Johnson-Brock's head-to-head win, similarly Riverside pushes Osceola out due to its Week 1 win. Leyton makes its first ratings appearance, and Pender is the big riser after a shutout win.
1. Cody-Kilgore (5-0) | 1
5. McCool Junction (3-1) | 6
6. Arthur County (3-2) | 4
8. Parkview Christian (3-1) | 9
9. Pawnee City (3-1) | 10
10. Spalding Academy (3-1) | -
Contenders: Silver Lake, Wallace, S-E-M, Crawford.
Comments: Potter-Dix topped the 60-point mark for a third-straight week in its win over Arthur County, which drops to sixth. McCool Junction has recovered nicely from an early loss, but the Mustangs have a top-10 clash with Parkview Christian ahead this week.