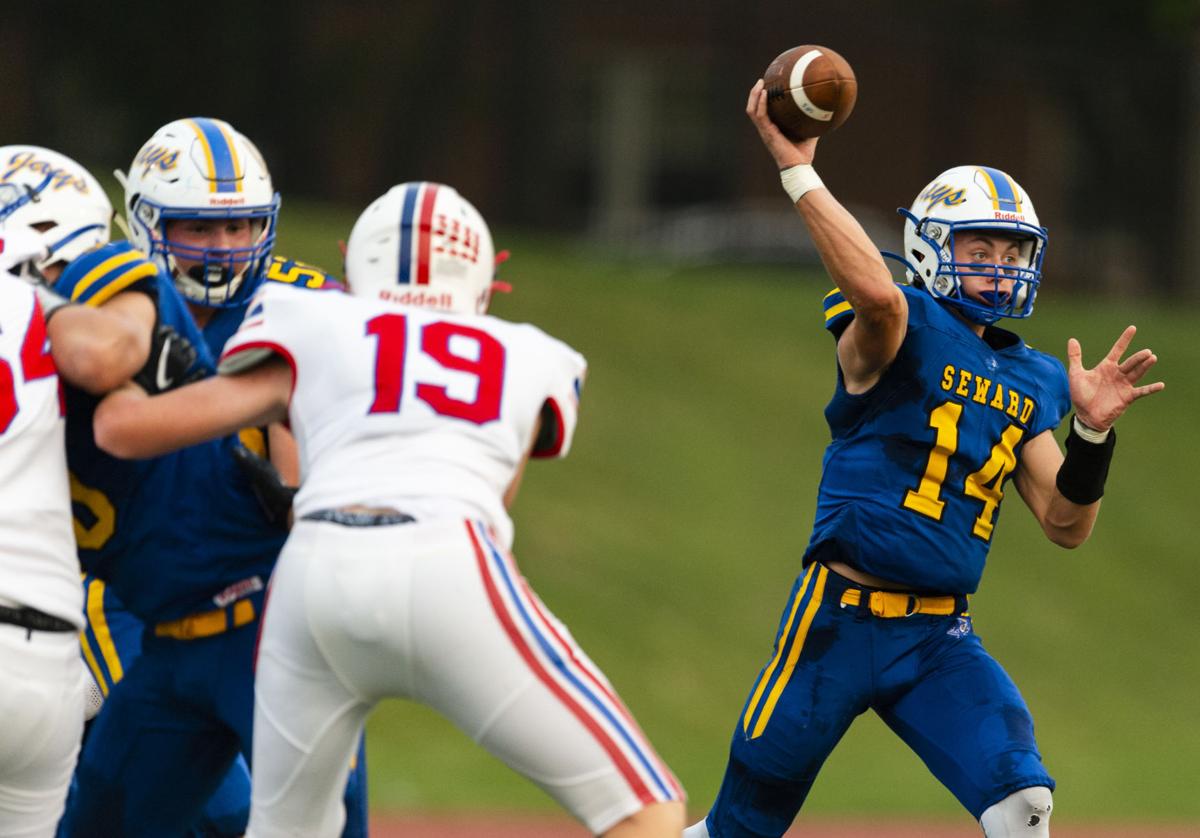 Week 3 brought challenges to top-five teams in several classes, and there are major changes in Classes B and C-2. Plus, some key wins set up No. 1 vs. No. 2 matchups in both Class A and Class B this week.
1. Bellevue West (3-0) | 1
2. Millard South (3-0) | 2
3. Omaha Westside (3-0) | 3
4. Lincoln Southeast (3-0) | 4
5. Elkhorn South (2-1) | 5
7. Creighton Prep (1-2) |7
10. Lincoln East (2-1) | 10
Contenders: North Platte, Papillion-La Vista South, Columbus.
Comments: No. 1 Bellevue West hosts No. 2 Millard South on Thursday in a possible state title preview, and if both teams live up to their potential it could be the game of the season. The Thunderbirds had a close call against Creighton Prep last week, and the Junior Jays remain seventh with their solid effort. Prep will play its third top-five opponent of the season in Lincoln Southeast, which flexed its defense in a win over Grand Island.
Gretna continues to roll, and if the Dragons can get past Lincoln Pius X and Bellevue East in the next two weeks, they'll be 5-0 heading into a brutal October schedule. Kearney slammed the door on North Platte's fast start in a 42-14 win. Omaha Burke remains in eighth due to its head-to-head win over Kearney, and the Bulldogs are putting up plenty of points behind quarterback Cooper Katskee.
Contenders: Northwest, York, Crete, Blair.
Comments: Class B also features a top-two clash, with No. 2 Bennington hosting No. 1 Omaha Skutt on Friday. Bennington has passed every test it has faced this season, and the Badgers' stellar offense will challenge Omaha Skutt in a different way than Waverly did two weeks ago. Elkhorn's elite defense is averaging under 13 points per game, and the Antlers look every bit like a state title contender again. Waverly, Norris and Aurora have all faced tough losses but remain capable of going on strong runs. Seward picked up a big win over Crete and it rises to sixth as a result, while Beatrice's schedule only gets tougher.
2. Ashland-Greenwood (3-0) | 2
3. Kearney Catholic (3-0) | 3
4. Columbus Scotus (3-0) | 5
7. Adams Central (2-1) | 7
8. Columbus Lakeview (1-2) | 4
9. Battle Creek (3-0) | 8
Contenders: Auburn, Nebraska City, Boone Central, Ogallala, Raymond Central.
Comments: Pierce, Ashland-Greenwood and Kearney Catholic all picked up nice wins last week, but Columbus Scotus impressed the most in a 28-21 win over Aquinas. Quarterback Trenton Cielocha leads a Shamrock offense that looks capable of being one of the best in C-1. Across town, Wayne pulled off a 30-17 upset win over Columbus Lakeview, and the Blue Devils quickly jump into sixth ahead of a clash with No. 2 Ashland-Greenwood. Battle Creek and Broken Bow both have solid wins but fall to accommodate Wayne's rise. There is a logjam of contenders eager to join the ratings as well.
1. Archbishop Bergan (3-0) | 1
2. Oakland-Craig (3-0) | 3
4. Wilber-Clatonia (3-0) | 5
5. Norfolk Catholic (2-1) | 8
10. Hartington CC (2-1) | -
Contenders: Lincoln Lutheran, Hastings St. Cecilia, North Platte St. Pat's, Centennial.
Comments: Archbishop Bergan rolled to an easy win over Lincoln Lutheran, but two top-five teams suffered their first losses of the season. Aquinas drops a spot after losing to C-1 Columbus Scotus, while Norfolk Catholic jumps into fifth with 30-7 win over defending champion Ord. The Knights now have an opportunity for back-to-back statement wins when Oakland-Craig comes to town this week.
2. Dundy Co.-Stratton (3-0) | 2
4. Howells-Dodge (2-1) | 5
5. Cross County (3-1) | 4
7. Lutheran High NE (3-0) | 8
8. Neligh-Oakdale (2-1) | 7
9. Weeping Water (3-0) | 9
10. Laurel-C-C (2-1) | 10
Contenders: Bertrand, Arcadia-Loup City, Anselmo-Merna, Clarkson/Leigh, Tri County.
Comments: Howells-Dodge outlasted Cross County 40-38 in the game of the week, and both teams can come away proud of their effort. Burwell and Lourdes CC picked up big wins over ranked opponents, and Neligh-Oakdale only drops one spot from its 58-12 loss to Burwell. Undefeated Hitchcock County has allowed just six points this season and gets a shot at No. 2 Dundy County-Stratton this week.
1. Sandhills/Thedford (3-0) | 1
4. Falls City SH (2-1) | 4
7. Johnson-Brock (2-1) | 6
10. Bloomfield (3-0) | 10
Contenders: Riverside, Pender, Hyannis, Osceola, Mullen.
Comments: After winning all of its regular-season games dating back to 2014, defending champion BDS has now dropped games in back-to-back weeks. Albeit, this week's loss came to No. 4 Falls City Sacred Heart, while Johnson-Brock followed last week's win with an uncompetitive 49-8 loss to Lourdes CC. There are plenty of 3-0 teams worthy of contender status — Pender takes on No. 10 Bloomfield this week with a chance to move up.
1. Cody-Kilgore (3-0) | 1
4. Arthur County (2-1) | 5
7. McCool Junction (1-1) | 4
10. Wilcox-Hildreth (2-0) | 9
Contenders: Paxton, Spalding Academy, Hay Springs, Crawford, Sioux County.
Comments: Cody-Kilgore and Sterling's impressive offenses continue to propel them forward, while Red Cloud is allowing just 10.3 points per game during its 3-0 start. Pawnee City jumps to sixth after a big win over McCool Junction.
High school football Week 3 is in the books. Here's all of the Journal Star's content, in one spot
Week 3! Our team was out around the city and area to uncover all of the stories that came out of Friday night — here's what we got.