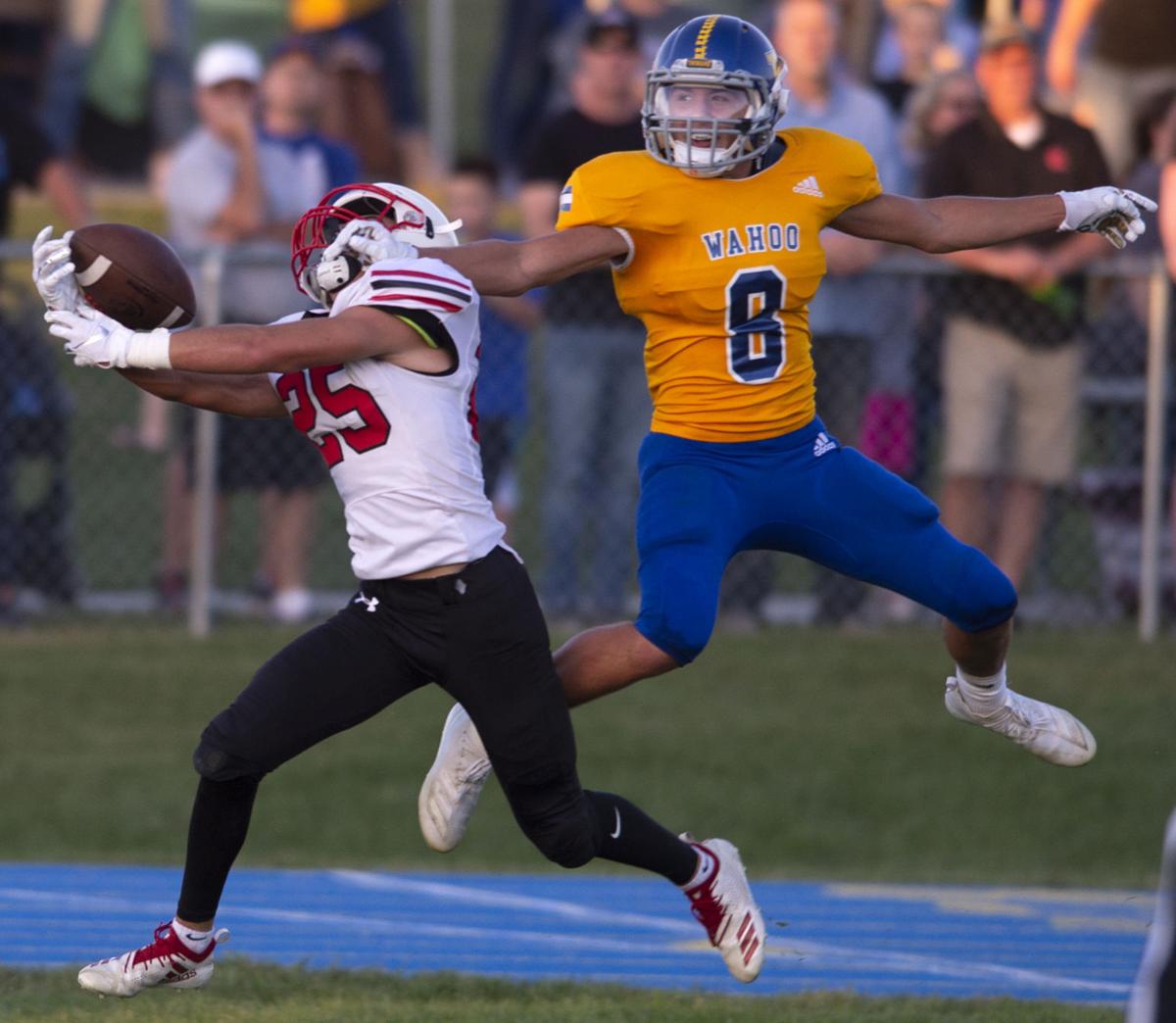 Class C-1
School ('19 record) | OS | DS | Key player
1. Wahoo (13-0) | 3 | 2 | LB Grant Kolterman
2. Wayne (9-3) | 6 | 6 | OL/DL Mike Leatherdale
3. St. Paul (11-1) | 10 | 9 | RB/LB Eli Larson
4. Kearney Catholic (7-3) | 9 | 9 | QB Heinrich Haarberg
5. Pierce (12-1) | 2 | 3 | TE/LB Garret Meier
6. Ashland-Greenwood (10-1) | 3 | 3 | QB/DB Cale Jacobsen
7. Adams Central (11-1) | 3 | 6 | WR/DB Tyler Slechta
8. North Bend Central (9-2) | 6 | 7 | WR/DB Breckin Peters
9. Columbus Scotus (8-3) | 6 | 6 | WR/DB Garrett Oakley
10. West Point-Beemer (4-5) | 9 | 9 | QB/S Jesus Barragan
OS-offensive starters back; DS-defensive starters back
Contenders: Gothenburg, Auburn, Nebraska City, Boys Town, Columbus Lakeview, Battle Creek, Boone Central, Chadron, Fort Calhoun, Milford.
Case for No. 1: Graduation hit the Warriors hard with nine starters gone offensively and 10 missing on defense, losses that include all-state running back Trevin Luben and all-state linebacker Kole Bordovsky. But Wahoo once again looks like the team to beat with a whole new group of players ready for their turn to shine. Junior running back Colin Ludvik rushed for 963 yards in a backup role last year and senior Grant Kolterman is a returning all-stater at linebacker who had 18 tackles for losses a year ago.
Welcome to C-1: St. Paul seems well-equipped for the journey from the Class C-2 to C-1 this season with 19 starters and two all-staters (Eli Larson and Tommy Wroblewski) back from a semifinal playoff team in 2019. In two of the first three weeks, the Wildcats will be tested to the max with a season-opening home game against No. 5 Pierce, followed by a Week 3 showdown at No. 4 Kearney Catholic Sept. 11. The KCHS-St. Paul matchup will feature two of the best players in the class in Husker quarterback commit Heinrich Haarberg of Kearney Catholic and Larson, who had 2,050 yards on the ground last season.
Class C-2
School ('19 record) | OS | DS | Key player
1. Oakland-Craig (13-0) | 6 | 7 | OL/LB Mike Brands
2. Aquinas (8-3) | 8 | 9 | RB/DB Kyle Napier
3. Ord (7-4) | 8 | 8 | RB/LB Tommy Stevens
4. Sutton (11-2) | 5 | 6 | QB/DB Cade Wiseman
5. Centennial (6-4) | 7 | 6 | QB/FS Cooper Gierhan
6. Yutan (5-5) | 9 | 11 | RB/LB Caden Egr
7. Norfolk Catholic (3-6) | 5 | 6 | QB/LB Cayden Cunningham
8. Bishop Neumann (6-4) | 4 | 5 | E/LB Karson Sander
9. Wilber-Clatonia (7-3) | 7 | 6 | RB/LB Mitchell Thompson
10. Lincoln Lutheran (5-4) | 7 | 6 | OT/DT Wyatt Marr
OS-offensive starters back; DS-defensive starters back
Contenders: Grand Island CC, Archbishop Bergan, BRLD, Doniphan-Trumbull, Hastings SC, Hartington CC.
Case for No. 1: The Knights return some key pieces from their undefeated state championship team from a year ago. Senior running back/defensive back Jaron Meyer rushed for 1,143 yards and averaged 11.3 yards per carry, while senior all-state linebacker Mike Brands is back after leading the team in tackles last season and providing quality blocking up front on offense. Another senior, Caden Nelson, is all-state material as is fullback/linebacker and senior teammate Coulter Thiele, who had 1,081 yards rushing and receiving combined and 16 TDs last season to go with five interceptions as a defensive back. Senior Jack Pille, whom coach Joe Anderson describes as the best athlete on the team, adds even more senior talent after missing 2019 with an ACL injury.
Loaded district: Not every team in the preseason top 10 is going to end the season ranked nor make the playoffs; that's almost a guarantee. District 1 has five rated teams in the six-team field: No. 5 Centennial, No. 6 Yutan, No. 8 Bishop Neumann, No. 9 Wilber-Clatonia and No. 10 Lincoln Lutheran. District round-robin play should be interesting, to say the least.