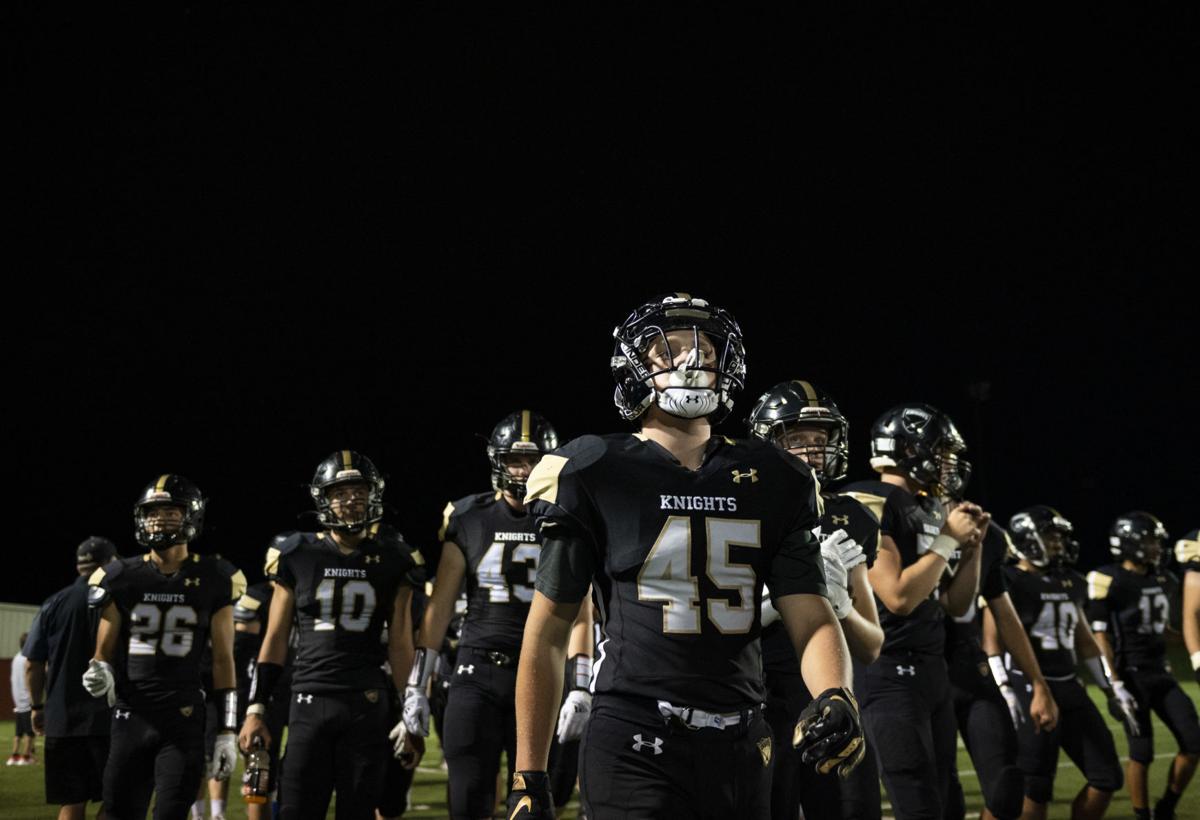 Each week, the Lincoln Journal Star will preview a game of the week and provide coverage for the matchup. Here are all the key details about this week's matchup between Class A No. 4 Lincoln Southeast (3-0) and No. 7 Creighton Prep (1-2), a 7 p.m. start Thursday in Omaha.
Players to watch
Will Barrett, WR/DB, Lincoln Southeast: When the Knights split two or three players out wide, 6-foot-4 Jake Appleget understandably commands plenty of attention. But through Southeast's first three games, Barrett is the team leader in receptions. He caught a touchdown pass against Omaha North, has gotten touches out of the backfield in every game and also put in a breakout eight-catch, 100-yard performance last week.
Sam Sledge, OL/DL, Creighton Prep: The Junior Jays' offensive and defensive lines can stand up to any team in the state, and players like Sledge are a big reason why. Despite only being a junior, Sledge is already an experienced veteran in the trenches ready to carve up opportunities for Prep's rushing attack. Several Division I schools, including Northwestern and Kansas State, have expressed interest in the 6-foot-4 prospect.
Season observations
Second-half shutouts: Opposing teams, be warned — run all your scoring plays in the first half against Southeast. The Knights have allowed 47 points this season, but none of those have come in the second half. After trailing Omaha North during halftime of Week 1 and going into the locker room tied with Lincoln Southwest in Week 2, the Knights held a slim 10-7 lead against Grand Island last week.
In a game where the Southeast offense needed a more consistent approach in the red zone, the Knight defense stepped up to the challenge once again. Southeast kept its opponent off the scoreboard in the second half once again, and the defense even scored a key insurance touchdown when nose guard Elan Pittman scored a pick six from a tipped pass.
"We talked at halftime about some things we wanted to do better, and that if they didn't score we were going to win the game," Southeast head coach Ryan Gottula said. "Not only did we shut them out in the second half, but the defense came up with a score themselves."
Brutal season start: While some of Class A's top teams have rolled to easy victories so far this season, Creighton Prep hasn't had that luxury. Including this week's matchup, three of Prep's four games this season have come against top-five teams: No. 1 Bellevue West, No. 3 Omaha Westside and now No. 4 Southeast.
Prep's season opener hardly went to plan as senior Jack Piernicky struggled in his varsity debut (4-for-22 passing, 40 yards and two interceptions), but the Junior Jays have learned from that experience and Piernicky has upped his performances. A big win over Papillion-La Vista led to the strongest challenge top-ranked Bellevue West has faced all season when the Junior Jays scored 16 fourth-quarter points in a 28-22 loss.
"We knew going in that the front end of our schedule was really loaded," Prep head coach Tim Johnk said. "Our kids have done great, and they understand that every week we're going to get everybody's shot."
One burning question
Which team can play to its strengths better?
Both head coaches know it — these are two pretty similar football teams. Neither Southeast nor Prep is going to throw the ball 30 times and score seven touchdowns as part of their game plan. Rather, both teams rely on strong rushing performances and stingy defensive showings.
The battle in the trenches will be key as both Prep and Southeast believe in the strength of their offensive and defensive lines. Southeast running back Max Buettenback leads the Knight offense with 491 rushing yards and four touchdowns. Marty Brown's 246 rushing yards and three touchdowns pace the Junior Jays.
Both teams will try to run the ball for first downs, control time of possession and force their opponent into obvious passing downs, something neither coach can deny.
"We're kind of mirror images of each other," said Johnk.
"(We're) similar football teams; we have a ton of respect for what they (Prep) do as a team, so it should be a fun matchup," said Gottula.
Prediction
After its offense struggled in Week 1, Prep has shown that it can score points consistently over the last two weeks. Lincoln Southeast has had long scoreless stretches of its own, but the Knights have the talent to pop a big play at any time. With strong defenses on both sides, scoring should be low and punts may be plentiful if the teams can't string together several first downs in a row.
Prep may have the toughest four-game stretch in Class A, but the Junior Jays should have plenty in their tank for a Thursday night home game. Meanwhile, this is one of four top-10 games remaining on Southeast's schedule for the season, and the Knights will have to overcome Prep's defense.
Given the similarities between these teams, it seems destined for a one-score game or late finish.
Score: Lincoln Southeast 23, Creighton Prep 21.
High school football Week 3 is in the books. Here's all of the Journal Star's content, in one spot
Week 3! Our team was out around the city and area to uncover all of the stories that came out of Friday night — here's what we got.