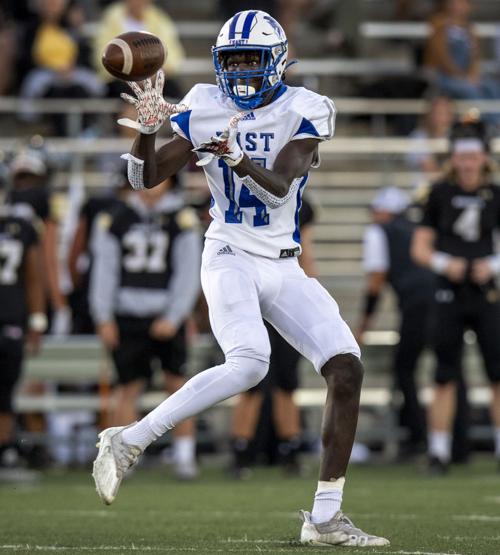 There have truly been some standout performers through seven weeks of the high school football season, and many juniors have put themselves on the radars of college coaches. Here are 10 players from the Class of 2023 whose performances should lead to increased recruiting attention:
Malachi Coleman, Lincoln East: A true impact player all over the field, Coleman's stellar season has produced a Nebraska scholarship offer and a three-star rating from Rivals. Coleman has 37 tackles and four sacks from his starting role at defensive end, and he's a big-time wide receiver, too. Six of his 11 receptions this season have gone for touchdowns, and another strong summer circuit could produce scholarship offers from all over the Midwest.
Beni Ngoyi, Lincoln High: Impressive performances at summer camps earned Ngoyi his first scholarship offers before the season started, and more are sure to come now. Ngoyi has been the Links' top wideout this season with 20 catches for 352 yards and four touchdowns in addition to playing defensive back. After taking several recruiting visits this fall, Ngoyi should be in line for even more attention as a senior.
Zane Flores, Gretna: Flores certainly grabbed the attention of college coaches last season when he tossed 18 touchdown passes, and the Gretna quarterback has been even better as a junior. His 73.1% completion percentage is the best in the state, and Flores is on pace to shatter his touchdown and yardage marks from last season. He's visited Kansas State and Nebraska over the past two weeks.
Deegan Nelson, Beatrice: After impressing as a sophomore, Nelson has elevated his game as a junior. With 832 rushing yards and nine touchdowns so far this season, Nelson appears to be a lock to break the 1,000-yard mark. Nelson also starts at linebacker, and returns kicks and punts, making versatility one of his greatest strengths.
Trey Bird, Bennington: If not for an injury to Seth Wempen, Bird may have never seen the field at quarterback this season. He has stepped in to lead the Badgers to an undefeated record as the No. 1 team in Class B. Bird has been exemplary as a pocket passer, completing 64.7% of his passes for 1,193 yards and 13 touchdowns.
Kade McIntyre, Archbishop Bergan: McIntyre was already picking up college attention when he attended summer camps with older brother Koa McIntyre, but it's possible Kade McIntyre could be an even better college prospect. Standing at 6-foot-4, he dwarfs most cornerbacks, and that's why nine of McIntyre's 18 catches this season have been touchdowns. Plus, McIntyre's size and athleticism will serve him well at the next level.
Sam Sledge, Creighton Prep: The Junior Jays' big offensive line has led to a stellar rushing attack, and Sledge is a big reason why. The 6-4 junior has been an absolute force at offensive guard, where he routinely pushes defenders off the line of scrimmage. Miami (Ohio) is his only Division I offer at this point, but more are sure to come soon.
Colby DenHartog, Raymond Central: One of Raymond Central's most talented players, DenHartog plays along the offensive line because the Mustangs need him there. DenHartog makes plays all over the field at linebacker, and his athletic ability is certainly one of his greatest assets. Also a talented wrestler, DenHartog should have a collegiate future in at least one sport.
Kade Seip, Lincoln North Star: One of the Navigators' standout performers on defense, Seip has racked up 64 tackles from his spot at linebacker, in addition to two sacks, two forced fumbles and an interception. At 6-3, Seip certainly has the size to continue playing linebacker in college, and his range is stellar for the high school level.
Cooper Jackson, Lincoln Southwest: A slightly undersized linebacker at 5-11, there's no denying Jackson's ability as a tackling machine. Jackson has recorded six or more tackles in every game this season, good for a total of 58 tackles alongside three sacks and two forced fumbles. After his first year as a varsity starter, Jackson has room to improve as a senior, too.