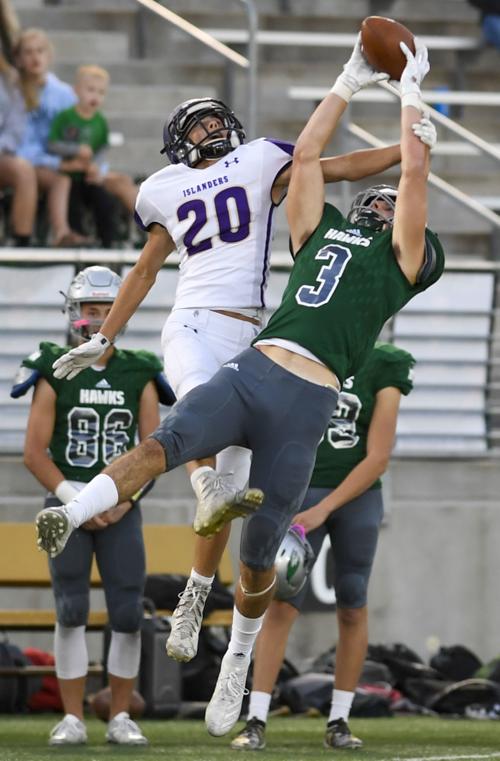 Football
Jarrett Synek, Charlie Shoemaker and Braden Kalvelage, Hastings: Synek threw a Class B state record 9 touchdown passes in a win over Beatrice; finished 24-of-37 through the air for 457 yards. Shoemaker had 8 receptions for 172 yards and 3 TDs, and Kalvelage 4 catches for 154 and 3 scores.
Dominic Darrah, Palmyra: 204 yards rushing, 6 touchdowns and 182 yards passing with 2 more scores in win over Weeping Water.
Laken Harnly and Grant McKinsey, Lincoln Southwest: Harnly completed 21 of 27 passes for 270 yards, and McKinsey caught a school-record 11 passes for 164 yards and a TD vs. Grand Island.
Caleb Francl, Grand Island: Rushed for 99 yards and a touchdown, caught 4 passes for 83 yards and another score, blocked an extra point, registered 10 tackles (5 for losses), forced 2 fumbles and recovered a fumble in a win over Southwest.
Tevin Godwin and Logan Page, Parkview Christian: Godwin threw for 271 yards and 3 TDs, and Page had 13 catches for 251 yards and all 3 scores vs. Diller-Odell.
Jay Ducker, Bellevue West: 198 yards rushing and 4 TDs in win over Omaha North.
Nick Halleen and Shadon Shannon, Lincoln Southeast: Halleen rushed for 175 yards and 2 TDs, and Shannon scored on a 90-yard QB keeper to finish with 109 yards on 3 carries in a victory against Papillion-La Vista South.
Isaiah Harris and TJ Urban, Millard South: Harris rushed for 213 yards and scored 4 TDs, and Urban ran for 200 yards and passed for 130 more in a win over Creighton Prep.
Tristan Gomes and Kaedyn Odermann, Millard West: Gomes was 13-of-20 for 363 yards passing and 3 TDs, and Odermann caught 8 passes for 208 yards and a pair of scores in a win over Lincoln East.
Nick Bohn, Bennington: 24-of-36 for 325 yards passing and 5 TDs in a win over Blair.
Evan Johnson & Gabe Conant, Adams Central: Johnson became the C-1 state career leader in passing yards and completions by connecting on 13 of 21 passes for 227 yards and 3 TDs in a victory against Kearney Catholic. Conant rushed for 153 yards and scored 3 TDs.
Will Gatzemeyer, BRLD: Threw for 236 yards and 2 TDs and rushed for 225 and 2 more scores in an overtime win over Archbishop Bergan.
Volleyball
Kalynn Meyer, Superior: Surpassed 1,700 career kills during the Southern Nebraska Conference Tournament.
Mya Larson, Wahoo: Had 34 kills, 24 digs and 5 ace serves against Syracuse.
Elle Glock, Wahoo: Had 45 set assists against Syracuse.
You have free articles remaining.
Marriah Buss, Lincoln Lutheran: Had 23 kills against Norris.
Emily Armstrong and Lauren Pick, Wayne: Each had 23 kills against Hartington Cedar Catholic.
Sophia Hass, Guardian Angels CC: Had 17 kills and 13 digs against Boone Central.
Hayden Wolf, Norfolk Catholic: Had 45 set assists against Battle Creek.
Jessie Sallach, South Loup: Had 21 kills and 23 digs against Ainsworth.
Steph Meyer, Thayer Central: Had 39 digs against Milford.
Cassidy Tompkins, Giltner: Had 16 kills, 21 digs and 5 blocks against Meridian.
Kennedy Benne, Oakland-Craig: Had 17 kills and 25 digs against Twin River.
Bekka Allick, Lincoln North Star: Had 20 kills and 23 digs against Omaha Burke.
Lauren Meyer and Jessie Moss, Syracuse: Combined for 43 kills, 22 digs and 9 blocks against Platteview.
Softball
Tori Kniesche, Wayne: Hit 5 home runs in three games during final day of the Class B state tournament; struck out 87 batters over six state games.
Jordyn Bahl, Papillion-La Vista: Pitched three no-hitters in the Class A state tournament.
Carly Dembowski, Lincoln North Star: Went 4-for-5 with an RBI and a run against Omaha Marian.
Olivia Richardson, Millard West: Went 6-for-15 with 8 RBIs and 3 homers in the Class A state tournament.
Hannah Lytle, Tavia Hausman and Avery Barnard, Beatrice: Hit back-to-back-to-back home runs against Crete.
Raven DeFrain, Fairbury: Went 9-for-16 with 9 RBIs, 3 homers in the Class C state tourney; had the game-winning RBI in the state final.
Jaeleigh Heck, Auburn: Finished with 6 RBIs and finished a single shy of hitting for the cycle against Cozad.