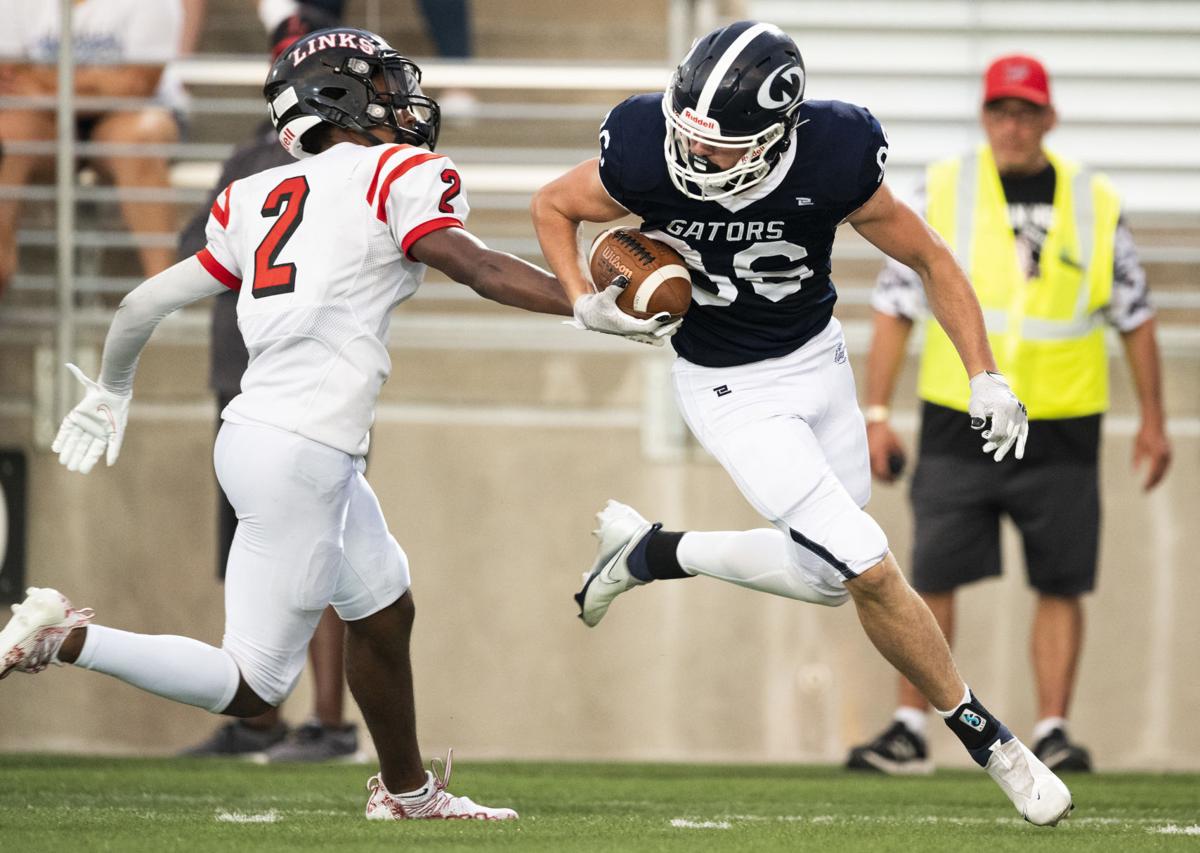 From a seven-touchdown game to loads of double-doubles from the volleyball court, here's a look at some notable performances from the past week.
Football
Jace Elliott, Lincoln North Star: Caught two touchdowns against Columbus, his second multi-score game this season.
Trey Holthus, Johnson County Central: Scored seven touchdowns and totaled 390 yards against Weeping Water.
Levi Belina, Howells-Dodge: Ran for 200 yards, scored two touchdowns and converted four two-point conversions against Cross County.
Brandon Cavender, Ralston: Led a shutout effort with seven tackles, a forced fumble and interception return for a touchdown.
Kale Jensen, Central City: Threw for 355 yards and four touchdowns, and ran for 164 yards and three scores in a win over O'Neill.
Trevor Hueske, Nebraska Lutheran: Caught 12 passes for 160 yards and three touchdowns in a win over Cedar Bluffs.
Gus Gomez, BRLD: Recorded 28 tackles in a loss to Logan View/Scribner-Snyder.
Breckan Schluter, EMF: Ran for 318 yards and five touchdowns in a win over Shelby-Rising City.
Trenton Cielocha, Columbus Scotus: Threw three touchdowns and went 4-for-4 on extra points in a win over Aquinas.
Michael Nisly, Centennial: Ran for 249 yards and two touchdowns against Grand Island CC.
Hunter Foral, Papillion-La Vista: Made 10 tackles, two for a loss, against Omaha Westside.
Softball
Sydney Walz, Lincoln East: Two homers, one double and seven RBIs against Columbus.
Makenna Scribner, Lincoln Southeast: Struck out 11 in a complete-game shutout against North Platte.
Hannah Keith, Ashland-Greenwood: Struck out 12 and allowed one run against Yutan/Mead.
Addi Mowinkel, Milford: Four hits and five RBIs against Centennial.
Riley Schmidt, Crete: Three hits, including a double, and five RBIs against York.
Hannah Allen, Columbus Lakeview: 14 strikeouts against Aquinas and 13 against Blue River.
Sidney Smart, Wahoo: Went a combined 5-for-9 with five RBIs, two homers and four runs scored in two games Tuesday.
Kynzee McFadden, Raymond Central: Threw a four-inning no-hitter and hit a grand slam against Logan View/Scribner-Snyder.
Alex Johnson, Ralston: Two homers and six RBIs against Fairbury.
Tenley Kozal, Waverly: Homer and four RBIs against Elkhorn North.
McKenna Becher, Norris: Three hits and four RBIs against Waverly.
Jaeleigh Darnell, Auburn: Went 4-for-4 with five RBIs against Southern/Diller-Odell.
Leslie Ramos, Grand Island: Four hits, three RBIs and three runs scored against Lincoln Northeast.
Mattie Pohl, York: Three hits, including a double and triple, and four RBIs against Boone Central.
Amber Kosmicki, St. Paul: Three runs, four RBIs and four runs scored against Blue River.
Shaylynn Campbell, Yutan/Mead: 12 strikeouts against Elkhorn North; 11 strikeouts vs. Cass.
Volleyball
Bailey Helzer and Adi Rennerfeldt, Oakland-Craig: Helzer 34 kills and 21 digs against Wisner-Pilger; Rennerfeldt 58 set assists.
Shaylee Myers, Lincoln Southwest: 30 kills, 22 digs and five aces against Omaha Westside.
Kylie Weeks and Madi Woodin, Elkhorn South: Weeks 27 kills and 18 digs against Papillion-La Vista; Woodin 54 set assists.
Anna Sis and Samantha Riggs, Papillion-La Vista: Sis 27 kills and 10 digs against Elkhorn South; Riggs 36 digs.
Bekka Allick, Waverly: 22 kills, 11 digs and four blocks against Elkhorn North.
Sydney Jelinek and Ella Waters, Norris: Combined for 41 kills against Waverly.
Jadyn Meiergerd, West Point-Beemer: 28 kills and 18 digs against Tekamah-Herman.
Ella Wragge, Crofton: 24 kills and 15 digs against O'Neill.
Sophia Haas, Guardian Angels CC: 20 kills and 24 digs against Wayne.
Ellie Dougherty, Omaha Mercy: 17 kills and 13 digs against Plattsmouth.
Greta Bolognini, Parkview Christian: 16 kills and 16 digs against Friend.
Kya Scott, Broken Bow: 15 kills and 24 digs against North Platte St. Pat's.