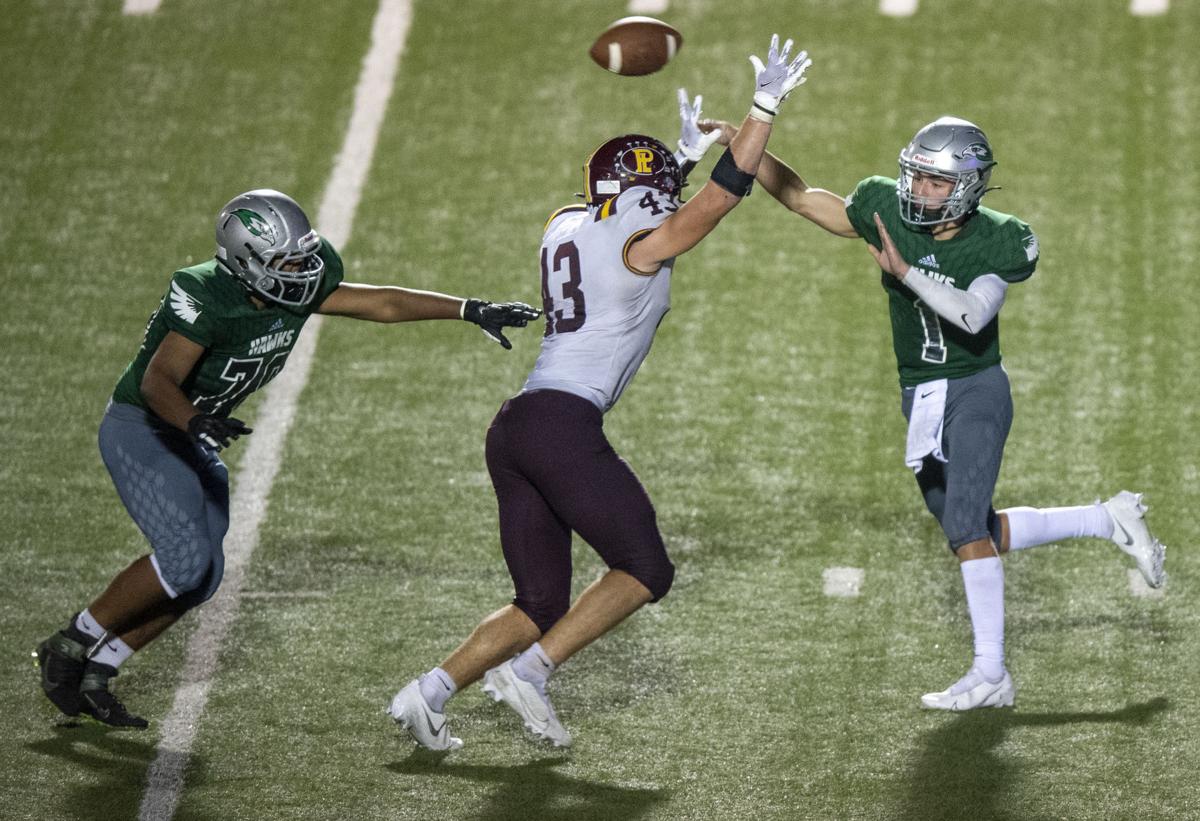 A look at some notable performances from around the state.
Football
Heinrich Haarberg, Kearney Catholic: The Husker quarterback recruit was 14-of-19 through the air for 175 yards and rushed for 134 yards and 2 touchdowns in a win over previous No. 1 Adams Central.
Hunter Haughton, Johnson County Central: Accounted for 484 all-purpose yards, 5 TDs and 5 two-point conversions in a win over HTRS. Completed 5 of 8 passes for 87 yards and a TD, caught 2 passes for 133 yards, rushed for 196 yards and 3 scores, led the team in tackles with 13 and intercepted 2 passes, one of which was returned 68 yards for a TD.
Mack Owens, Aurora: Rushed for 159 yards and 4 TDs in win over previous No. 1 Hastings.
Blair running back Dex Larsen & offensive line of Wyatt Ogle, Lance Lume, Cole Truhlsen, Braden Hanson and Nolan Ulrich: Larsen rushed for 250 yards on 23 carries and a school-record 6 touchdowns in a win over Omaha Gross.
Matthew Schuster, Ashland-Greenwood: 267 yards on 19 carries and 4 touchdowns in win over Wahoo.
Collin Fritton, Lincoln Southwest: Completed 24 of 43 passes for 324 yards and 3 TDs in win over Papillion-La Vista.
Jake Stoner, Fillmore Central: Rushed for 279 yards and 4 touchdowns in victory against Wood River/Shelton.
Kale Bird, Bennington: Threw for 219 yards and a TD, and rushed for 180 more and 2 more TDs in win over Elkhorn.
Luke Johannsen and Keagan Johnson, Bellevue West: In a win over Millard West, Johannsen threw for 256 yards and 5 touchdowns, and Johnson caught 4 passes for 176 yards and 2 TDs.
Carter Seim & Isaac Noyd, Cross County: Combined for 267 yards on 21 carries and in win over East Butler.
Avante Dickerson, Omaha Westside: Rushed for 187 yards on 10 carries and 3 TDs, and caught 2 passes for 65 yards and another score, in a win over Norfolk.
Volleyball
Sophie Fitch, Kendyl Brummond and Madison Schimmin, Doniphan-Trumbull: Fitch had 32 kills against Wood River, Brummund had 49 digs and Shimmin had 56 set assists.
Kylen Sealock, Lincoln Pius X: 18 kills and 12 digs against Kearney.
Channatee Robles, Norfolk Catholic: 23 kills and 18 digs against Battle Creek.
Abby Wolfe, Elkhorn: 20 kills and 12 digs against Norris.
Gina McGowen, Lourdes CC: 19 kills against Johnson-Brock.
Brenna Schmidt, Elmwood-Murdock: 25 kills and 6 blocks against Sterling.
Whitney Lauenstein, Waverly: 20 kills and 10 digs against Bennington; 26 kills against Elkhorn; 23 kills and 17 digs against Elkhorn North.
Maddie Bahm, Lincoln Northeast: 17 kills and 11 digs against Lincoln North Star.
Masa Scheierman, York: 18 kills against Milford.
Bela Lichti, Fillmore Central: 46 set assists against Sandy Creek.
Karli Heidemann, Diller-Odell: 18 kills against HTRS.
Softball
Alexis Wiggins, Norris: A combined 28 strikeouts in 2 games against Beatrice.
Lexi Mach, Crete: 9 hits and 8 RBIs in 3 games against Wahoo.
Tayelor Butler, Hastings SC: 5 home runs in 2 games against Freeman, including a 4-for-4 showing with 7 RBIs in the second contest.
Kayla Fisher, Guardian Angels CC: 2 homers and 8 RBIs against O'Neill.
Sydney Walz, Lincoln East: 3-for-4 including a grand slam against Millard South.
Grace Hamling, Seward: 3 homers in 2 games against Scottsbluff.
Lyndsey Roth, Lincoln North Star: 2 homers, a double and 6 runs batted in against Lincoln Pius X.
Mary Chvatal, Bishop Neumann: 3-for-4 with 2 RBIs and 3 runs scored.
Get in the game with our Prep Sports Newsletter
Sent weekly directly to your inbox!