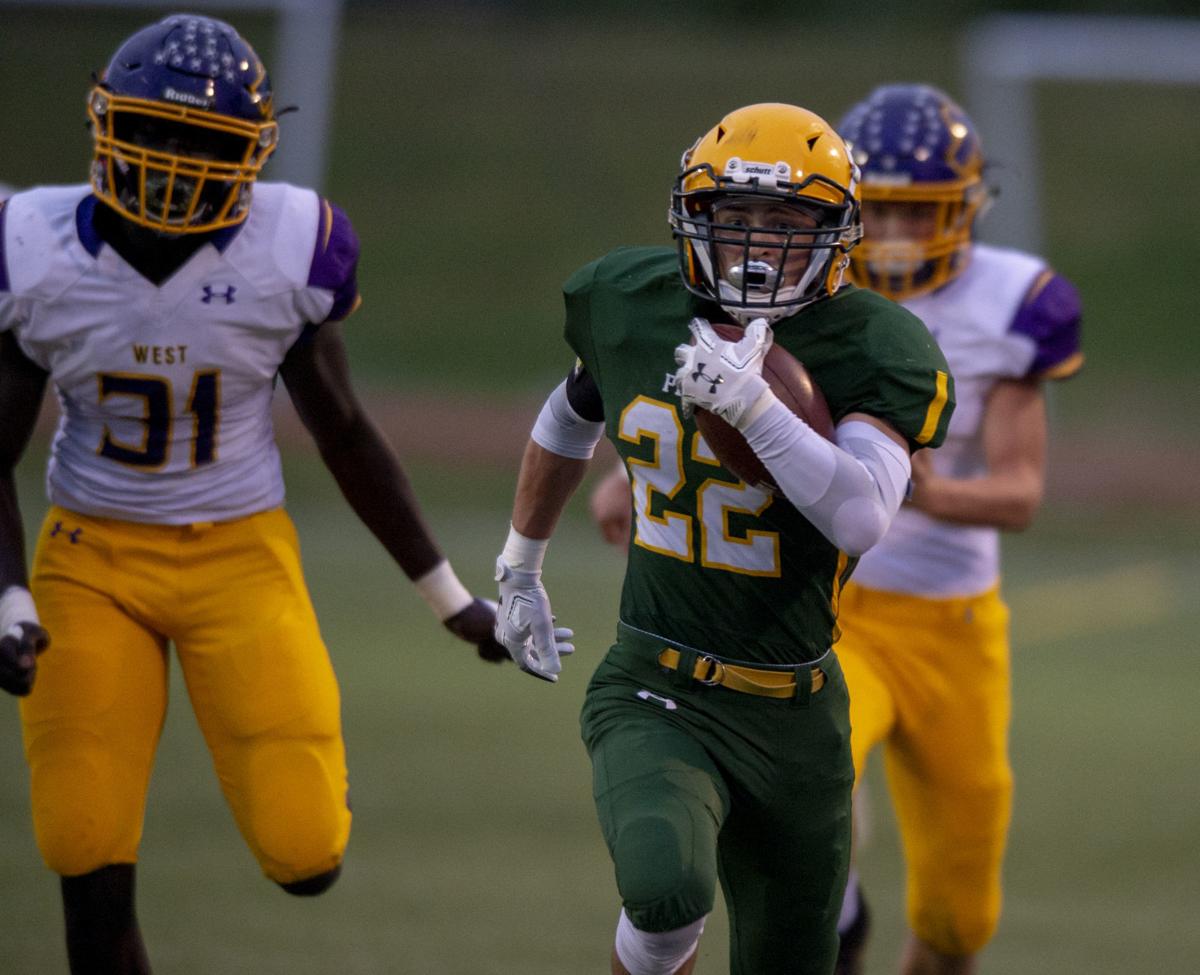 Snow was falling and accumulating on the FieldTurf surface at Aldrich Field as Lincoln Pius X's football practice concluded Monday.
It was wet and cold, nothing like the searing heat that the high school teams faced when fall camp opened in mid-August.
Just the way Jon Andreasen and his Thunderbolt teammates want it.
"I'd rather be out here in the snow than be indoors today because that would mean our season is over," he said.
Andreasen, a senior running back and defensive back, is a big reason why the Thunderbolts (4-5) are in the Class A playoffs for the fourth straight season and sixth straight postseason appearance after making the Class B field in 2014 and '15.
In what turned out to be the win that clinched the District 2 runner-up spot and an automatic berth into the playoffs, Andreasen sparked a Pius X comeback from a 14-0 third-quarter deficit with touchdown runs of 80 and 68 yards as the Thunderbolts defeated Norfolk 21-14 on Oct. 18.
Pius X kept that momentum going with a 42-6 win at Omaha South last Friday, giving the Thunderbolts a 3-1 record in their last four games going into their first-round game at No. 2 Millard West (8 p.m. kickoff Friday at Millard South's Buell Stadium).
Andreasen's runs right now are the signature plays of the Pius X season. He's hoping the Thunderbolts can create new memories in the playoffs.
You have free articles remaining.
"Hopefully this week we can make some things happen offensively and defensively," said Andreasen, a 5-foot-11, 170-pounder who leads the team in rushing (444 yards, seven touchdowns) while also catching 10 passes for 124 yards and a score, and registering 42 tackles defensively. He's also blocked two kicks this season.
"For us, it's a matter of preparing, working hard in practice this week, getting in the right mindset, then going out and executing on Friday night," added Andreasen, who is being recruited by Morningside and Benedictine.
It's been an up-and-down journey to the playoffs for the Bolts. They've played one of the toughest schedules in Class A with three of their losses coming to No. 1 Bellevue West (42-0), No. 3 Millard South (42-3) and No. 5 Lincoln Southeast (42-6).
Sandwiched in between the setback at Millard South was a season-opening 23-0 setback to playoff qualifier Lincoln East and a 28-14 loss to Gretna that left Pius X 0-3.
Youth and inexperience on both the offensive and defensive fronts made it difficult early. Their progression through the season has been evident the past two weeks.
"Our line has kept getting better and better every week," Andreasen said. "They've become a lot more physical and aggressive. They've figured things out."
Pius X coach Ryan Kearney says the difficult schedule could've wore his team down mentally, "but our guys have been engaged at every single practice this season and have always given maximum effort.
"The good thing is, we're used to playing really good football teams, and Millard West certainly falls into that category," Kearney said. "We won't see anything Friday night that we haven't seen earlier this season. We've got to do things at a high level, and if we do that, we'll be in a position to be successful."
Millard West (9-0) is battle-tested as well with wins over seven playoff teams, including No. 3 Millard South, No. 4 Omaha Burke, No. 6 Grand Island and No. 8 Kearney.