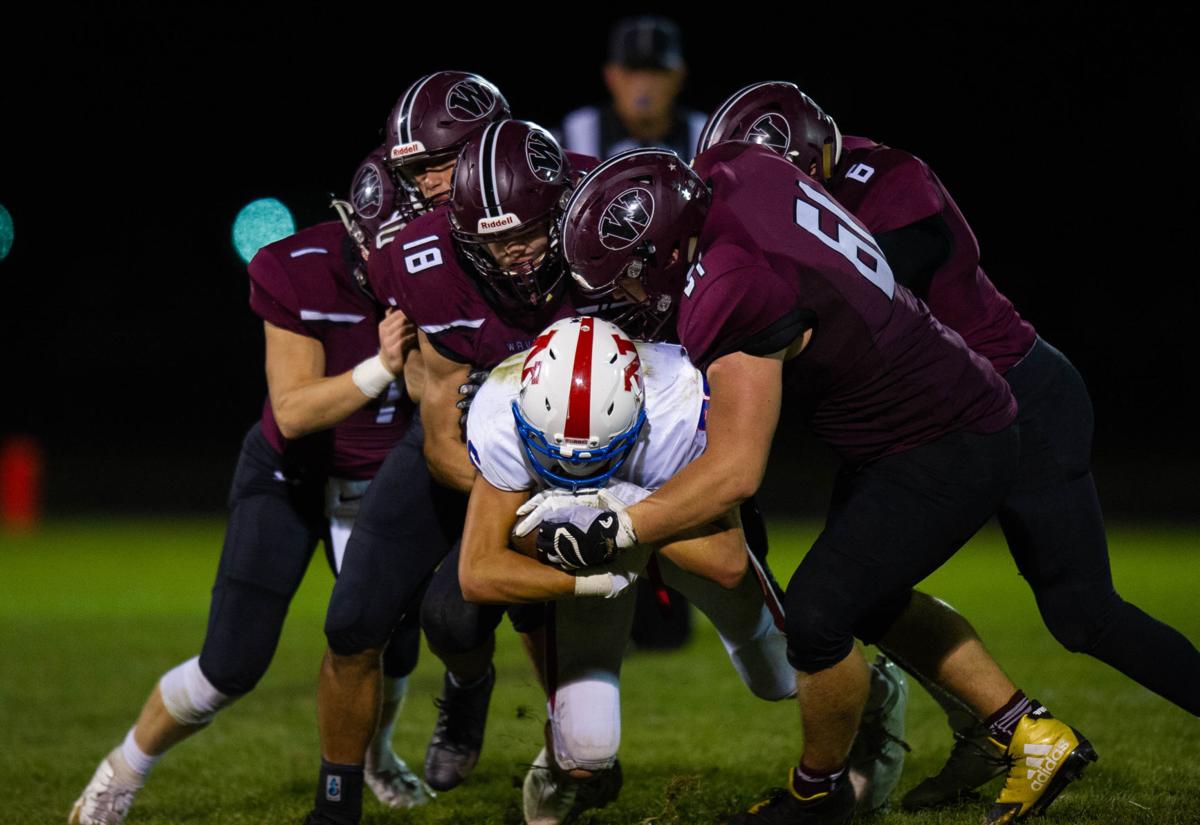 When Matthew Medill was younger, he played almost every sport imaginable: basketball, wrestling, swimming, baseball, gymnastics, tennis and golf, just to name a few.
The Norris senior finally got around to football as an eighth grader, a decision that Titan opponents this fall may wish he hadn't made.
Medill has moved into statewide elite level in a short amount of time. The college recruiting of the 6-foot-4, 210-pound linebacker/receiver took off despite the COVID-19 lockdown this spring. He finally became a Division I recruit with his commitment to South Dakota last month.
His family moved into the Norris School District from south Lincoln when he was in eighth grade, and Medill said he played football "to make friends since I was at a new school."
"I never planned to play in high school, but they (his friends) talked me into it and here I am now," he added.
Medill turned into a force as an outside linebacker in the seven games he played as a junior last season. He registered 49 tackles, intercepted a pair of passes and also recovered a pair of fumbles.
As a wide receiver, Medill also is part of perhaps the tallest receiving group in Class B with 6-5 Miami (Ohio) tight end recruit James Carnie and 6-5 Nebraska baseball recruit CJ Hood.
Norris coach Ty Twarling expects a full season of production from Medill this fall.
"He's an absolute freak on the football field with the quickness and length he has, and his hard work in the weight room is beginning to show now, as well," Twarling said. "If we get to play this fall, it's going to be fun seeing what he can do."
Medill's other high school sport is track, and with COVID-19 canceling spring sports in Nebraska, he missed an opportunity to make an impact. As a sophomore in 2019, Medill finished fourth in the Class B boys high jump by going 6 feet, 5 inches at state. He was also a state qualifier in the long jump.
Norris was a state championship team contender in track last season, "and we were really starting to put it together, then the (coronavirus) hit," Medill said. "But you kind of go from one season to another and I immediately turned my attention to football when things got called off."
For Medill, that meant daily workouts at Titan Gym in Hickman, increasing both strength and agility this spring. South Dakota used the downtime to focus its recruiting efforts on Medill, which ended up paying off.
"They put a lot of time into recruiting me," Medill said. "I asked guys about the recruiting process and they told me, 'Go where you're wanted and go where you fit in.' South Dakota was number one in both of those categories."
Medill isn't the first member of his family to receive a Division I college scholarship. His older sister, Kathleen, was an all-state middle blocker on the Lincoln Pius X volleyball team and a state champion high jumper, too. She went on to compete in both sports at Air Force and will focus on track as a senior next spring.
His father, Steve Medill, was a five-time All-Southern Conference hurdler at The Citadel.
"Our parents told both me and my sister that if you want to play sports in college, go for it. If not, there's no shame in being a student and start working on your career," Matthew Medill said. "My sister taught me that you have to stay humble, keep working hard and always try to improve. You may be the best at the level you are now, but once you get to the next level, you're back on the bottom, so you've got to prepare yourself for that."