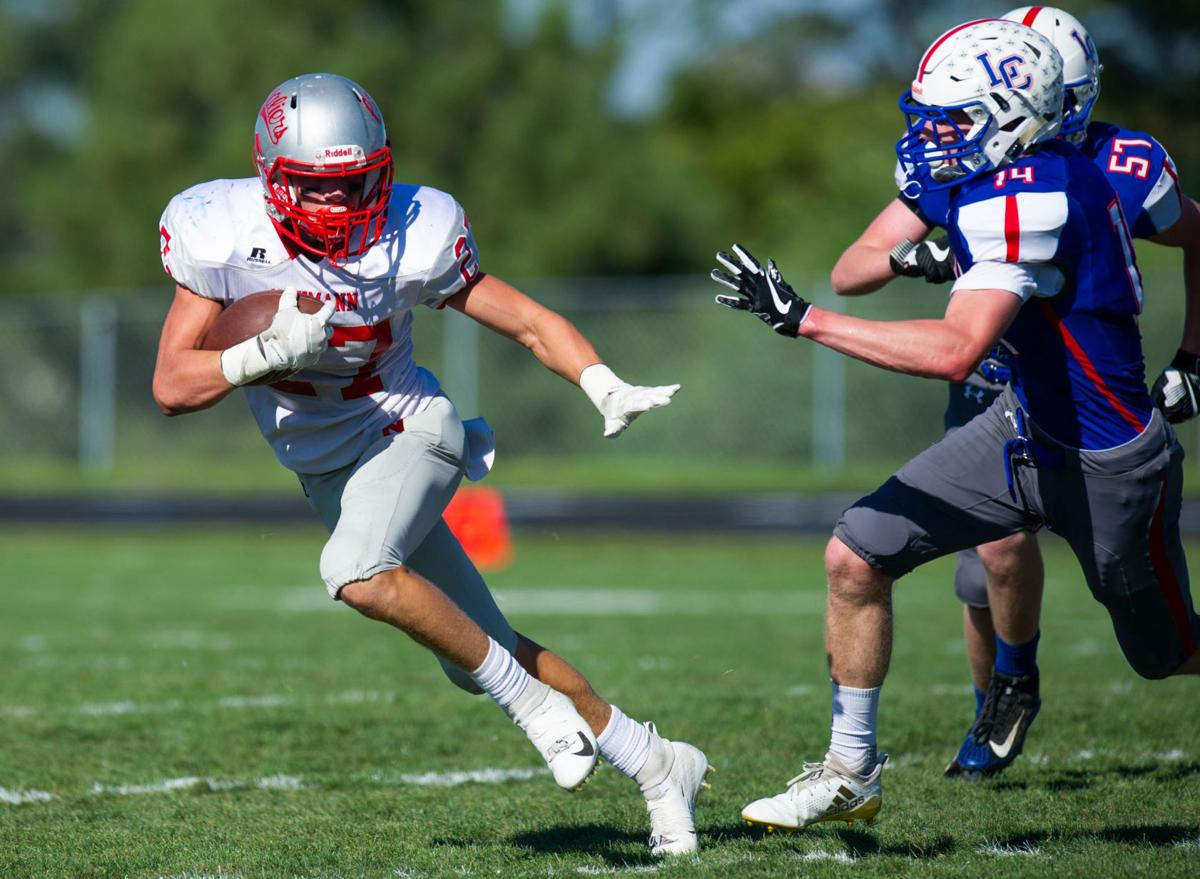 There might be a new head football coach on the sidelines at Bishop Neumann, but things haven't changed much on the field for the Class C-1 No. 7 Cavaliers.
In Doug Lanik's first game at the helm after 17 seasons as a Neumann assistant under retired Nebraska High School Sports Hall of Fame coach Tim Turman, the Cavaliers used their familiar triple option, punishing ground game and stingy defense from the past to win at Boys Town 42-14 in the opener Friday night.
"We've made some minor changes, but we kept the basic philosophies offensively and defensively that we've had here for years," said Lanik, whose football coaching résumé includes a mix of college and high school experience — three seasons as the head coach at Waverly, 10 years as the offensive coordinator at Midland and four seasons as an assistant at Peru State.
"Having almost all the coaches back from last season, they know what needs to be done and the players know what needs to be done," added Lanik, who continues to work with the running backs, quarterbacks and defensive backs in addition to his head coaching duties. "There was no reason to make major changes."
That made senior Taylen Pospisil's transition from wide receiver to quarterback much smoother. Pospisil missed last season because of an ACL tear and played wide receiver as a sophomore in 2017.
"Coach (Lanik) has brought a lot of good leadership and being an assistant as long as he was, he knows the offense," said the 5-foot-10, 160-pound Pospisil, who was 7-of-10 passing for 74 yards and rushed for 77 yards on 16 attempts in the opener.
"We're the same team we've always been, we still run the same stuff, the same defenses."
In his last season, Turman guided Neumann to a semifinal finish in the playoffs and a 9-3 record. Neumann made 25 state playoff appearances in Turman's 39 season as head coach, won two state titles and took home five state runner-up trophies. He finished with a career record of 307-59-2.
You have free articles remaining.
One of the stalwarts of last year's team has taken an even bigger role this fall.
It appears David Lilly is ready not only to take over as Neumann's go-to back, but also become the face of the defense. The 6-foot, 185-pound senior rushed for 114 yards on 16 carries and scored three touchdowns as the fullback, caught a pass for 45 yards, registered 11 tackles from his middle linebacker spot and returned a kickoff for the touchdown.
Lilly and Pospisil led a rushing attack that produced 242 yards.
"David's a tough kid who studies a lot of film," Lanik said of Lilly. "He led us in tackles, led us in rushing and returned a kickoff for a touchdown. He does a little bit of everything for us and he never comes off the field."
Neumann graduated Super-State lineman Caden Johnson (now at South Dakota State) but brought back two starters up front in seniors Dalton Bartek (5-11, 265) and Jon Matulka (6-0, 205) as well as senior tight end Trey Miller (6-2, 210). Lanik has been pleased with the development of seniors Robert Hegeman and John Klement and junior Will Kavan to fill the three open spots.
"They did a good job controlling the line scrimmage for the first time out," Lanik said. "We think they'll improve as the season goes on."
Neumann returns two other starters on defense besides Lilly, Bartek and Miller with linebacker Jarrett Kmiecik and defensive back Spencer Wiese.
The Cavaliers, who host Lincoln Lutheran on Friday, face a challenging district slate later in the season with games against No. 2 Wahoo, No. 9 Columbus Scotus and No. 10 Columbus Lakeview. Lilly said the way last season finished and the difficult district schedule has provided plenty of motivation for this year's team.
"We remember losing on that cold night in Ord (in the playoff semifinals) and it's really motivated us for this season," Lilly said. "Getting back to that point has been on our minds."