Nebraska gridiron coaching greats
Seven of the top 10 coaches on the all-time victory list are still hard at work developing players and molding teams they hope can produce a state championship, a group led by Norfolk Catholic's Jeff Bellar who has a state-record 349 coaching wins.
Bellar, Carl Tesmer of Hastings St. Cecilia, Mark Wortman of Elkhorn, Fred Petito of Millard North, Tim Turman of Bishop Neumann, Doug Goltz of Falls City Sacred Heart and Ron Mimick of Aquinas are the focus of the 2018 Lincoln Journal Star's high school preview.
Profiles by Ron Powell and photos by Francis Gardler
Bellar's 'stepping stone job' vaults him to the top of career wins list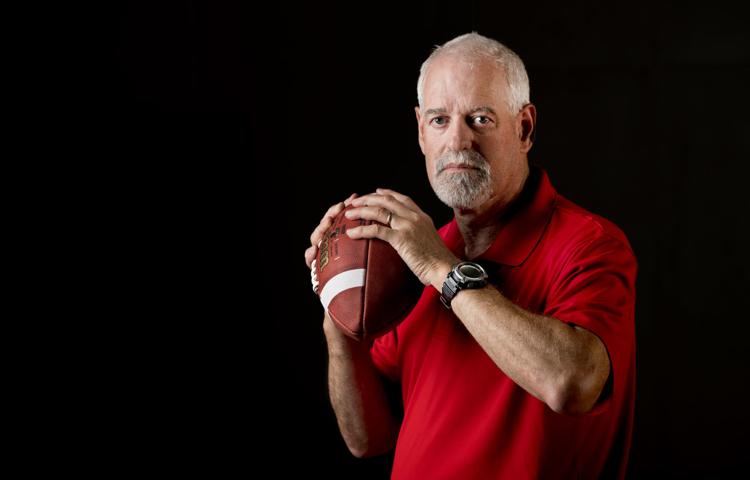 State playoff appearances: 33
State titles: 9 (C-1, 1991; C-1, '98; C-1, '99; C-1, 2004; C-1, '05; C-1, '10; C-1, '11; C-1, '12; C-1, '17).
State runner-up: 5 (C-2, 1987; C-1, '93; C-2, '96; C-1, 2009; C-1, '15)
When Jeff Bellar took the Norfolk Catholic head football coaching position in 1985, he thought he would use it as a stepping stone to a larger school.
Ten years later, he did just that, moving across town to become the Norfolk High School football coach. Bellar led the Panthers to a 7-4 season in 1995, guiding them to the Class A state playoff semifinals one year after Norfolk won the state title.
Bellar, however, went back to Norfolk Catholic the next year, resuming his role as principal and football coach. He's been there ever since.
"I had a tremendous experience over there, but what happened in terms of going back to Norfolk Catholic had nothing to do with football. It was more about what I was doing during the day," said Bellar, the state high school football career leader in coaching victories with a record of 349-64.
"I thought I would be more involved with strength and weight training classes and I was doing more curriculum PE, and I didn't want to continue that over a long period of time," he added. "The administration side opened back up at Catholic, so I went back to that."
Counting the year he was at Norfolk, Bellar's teams have qualified for the playoffs 31 straight seasons. He's guided the Knights to a state-record nine state titles and five runner-up finishes, including an undefeated (13-0) Class C-1 state championship last season. The 58-year-old Bellar has had six teams go unbeaten.
Last fall he surpassed retired Creighton Prep coach Tom Jaworski (343-92) at the top of the career victory list, an accomplishment that never really hit Bellar until after the season.
"You don't think about it when it's going on because you're immersed in the season trying to get ready for the next game," Bellar said. "After the season, I was able to reflect a little on things. All of them on that list (of coaching victories) are tremendous football coaches and tremendous people. It's a very humbling honor to be part of that group. I've been blessed to coach a lot of really good football players through the years, great kids that have been a joy to work with."
One of those coaches on that list is retired Battle Creek coach Bob Schnitzler, who stepped down in 2000 with a career mark of 293-89-7, which is eighth all-time. The Norfolk Catholic-Battle Creek rivalry is one of the most intense in the state, and it was magnified even more in the 1980s and 90s when both schools were contending for state titles.
"Coach Schnitzler was before his time in terms of year-round strength training, he was doing it before anyone else was," Bellar said. "I got to be good friends with him, and he was someone I looked up to and tried to learn as much as possible from."
Bellar, a Wayne State graduate and Walthill native, began his career coaching eight-man football at Lebanon Beaver Valley, guiding them to the only playoff appearance in school history in 1983. In addition to football coach at Norfolk Catholic, Bellar has also been principal the last 28 years, a role he will vacate this fall to become the Knights' activities director.
"It will be different for me, I've never been AD before," Bellar said. "The athletic side is something I've always enjoyed, so I think it will be a positive thing for me."
Bellar says coaching at Norfolk Catholic "is a very good situation" because of the parent support the school receives.
"Their involvement is just right," he said. "The parents steer their sons in the right direction, then they let myself and the other coaches coach them. They provide the kind of support that is conducive to their sons being the best they can be."
Tesmer found the right fit at St.Cecilia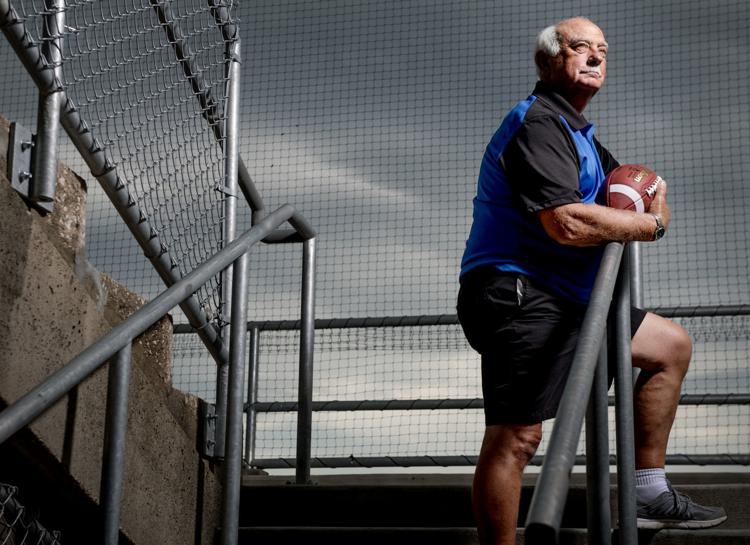 State playoff appearances: 30 (Grand Island CC 7, Hastings SC 23)
State titles: 3 (C-1, 2000; C-1, '09; C-2, '10)
State runner-up: 4 (B, 1975; C-1, '79; B, '83 at GICC); (C2, '95 at Hastings SC)
Carl Tesmer was an assistant football coach at Grand Island when the head coaching position opened up at Hastings St. Cecilia in 1991.
He was two years removed from a 15-year stint as the Grand Island Central Catholic head coach, and Tesmer thought it might be time once again to head up a program.
"When I came here, I told my wife Deb, 'I'll try it for a couple years and see if it works out.' That was 27 years ago," Tesmer said. "You settle in, and eight years are gone, then it's 20. Then it's, 'Hey, I coached your dad.'"
Tesmer's head coaching career began at GICC in 1974, the year before the Nebraska School Activities Association instituted the state championship playoff system. This fall will be his 47th season coaching football, counting his junior high coaching years when he first graduated from Kearney State (now Nebraska-Kearney).
Tesmer continued to live in Grand Island after taking the St. Cecilia job, and he makes the 35-minute commute every day. He says it's been worth every mile his vehicles have piled up through the years.
"This has been a great place to coach and teach," said the 70-year-old Tesmer, who has taught history in the past, but is handling more of the physical education and weight training classes at St. Cecilia this year.
"You coach kids, you develop personal relationships with them and those things carry on after their high school years," added Tesmer, who has had two former players go on to play collegiately at Nebraska and reach the NFL — John Parrella and current Miami Dolphin offensive tackle Zach Sterup. "I've been to eight or 10 weddings involving former players already and we've got three more later this summer."
Tesmer says his wife and four adult children — daughters Trudy, Tracy and Tarah and son Tyler (who played for dad at St. Cecilia) — are the reasons he's been able to coach as long as he has.
"I have a very understanding wife, and the support I get from her and the children keeps you going," said Tesmer, who has a 236-56 record at St. Cecilia. "You always have a love for the game, but the wear and tear and stress can definitely bring down your energy level. They've (the family) helped keep that (the energy) up for me.
"These days, I take it one season at a time," he added. "After the season, you try to evaluate yourself whether you're doing a good job or not. At this point, I don't know how many more (seasons) I've got."
The Bluehawks appear to have the pieces to improve on last year's 4-5 record with seven starters back on offense and six more returning on defense.
"We have good numbers and I'm happy with the kids we have," Tesmer said. "We've got some experience, we've got some younger kids, we'll try to put it all together.
"If we get off to a good start, look out."
Wortman passed on college job and never looked back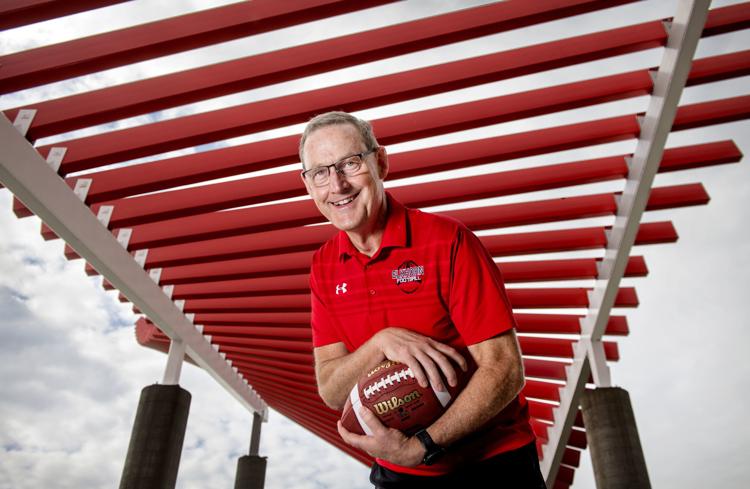 State playoff appearances: 30
State titles: 5 (B, 1989; B, '92; B, '96; B, '99; B, 2011)
State runner-up: 5 (B, 1987; B, '91; B, 2006; B, '10; B, '14)
Mark Wortman had a decision to make in the spring of 1980.
He had spent the 1979-80 school year as a graduate assistant coach with the Nebraska-Omaha football team, and it seemed his decision to leave Littleton (Colorado) Heritage High School — where he had been an assistant football coach for four years previous to that — was going to pay off.
Mavericks head coach Sandy Buda offered him the full-time defensive backs assistant job, the same time Wortman was also considering an offer to be the head coach at Elkhorn, then a rural Class B school.
"I had always thought I might want to get into college coaching someday, but being away from high school coaching for a year, I missed it, " Wortman said.
"I'd never really heard of Elkhorn, but they told me just drive west out of town on Dodge Street and you'll run into it," he added. "I drove down Dodge Street and I've been here ever since."
Wortman, a Lexington native, took the high school job in suburban Denver after graduating from Northern Colorado where he played college football. It turned out to be a great training ground for his time in Elkhorn as it transformed and blossomed into a growing suburban high school, much like Heritage was in the late 1970s.
Elkhorn played its home games the first 10 years at the middle school before building a stadium at the high school campus. It was a rural setting to the east when the stadium first opened, but gradually homes and businesses began popping up, a few each year.
Now it's almost completely an urban backdrop looking out from stands on the west side.
"Now there's a lake out there with houses around, it's kind of cool setting on a football Friday night as the sun is setting," said Wortman, who began teaching at Elkhorn the year the existing high school building opened.
Ever since, Wortman has taught American History and coached a ground-based style of football that has dominated Class B for four decades. And he still approaches each season with the same vigor and enthusiasm as he did in the fall of 1980.
"Every year I look forward to getting back on the football field and back in the classroom teaching American History," said the 65-year-old Wortman, who has guided the Antlers to four undefeated state championships. "If people didn't ask when I was going to retire, it wouldn't cross my mind. There are so many new kids coming up every year. I look at the freshmen coming in and I think they need some help, they need some coaching, so my focus switches to this group."
"It hasn't gotten old yet. There will be a time when it hits me, but right now, it hasn't," he added. "There's enough new things, different schedules, different rules, different players, different coaches, it keeps me going."
Elkhorn moves up into Class A this season for the first time since the 2008-2009 scheduling cycle, the two years before Elkhorn South opened.
"That rejuvenates me and I know our kids and the community are excited about it, too," he said.
Chicago native Petito found what he wanted in west Omaha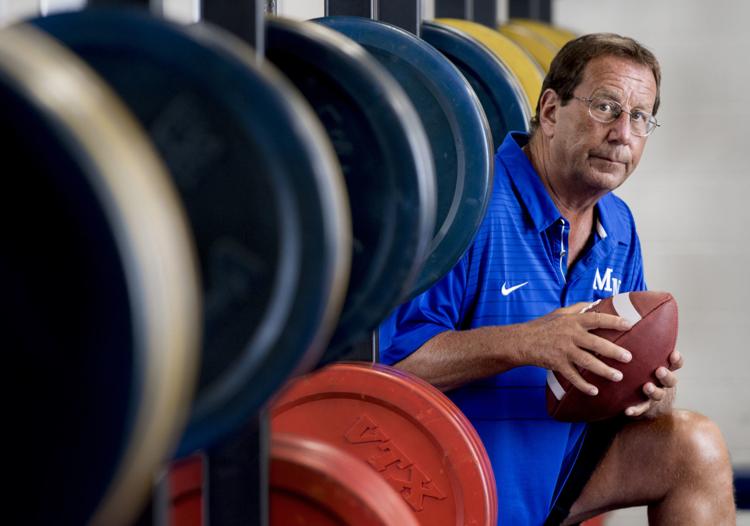 State titles: 5 (A, 2003; A, '05; A, '12; A, '15)
State runner-up: 3 (A, 2002; A, '04; A, '07)
Going into his 35th season as Millard North's head football coach, it would seem like that this is the only job Fred Petito ever wanted in his career.
Coming out of Mount Carmel High School on the south side of Chicago in 1970, Petito thought he was going to be a Chicago cop.
Then Petito was recruited to play football at Hastings College, and that was the start of a journey that would eventually make him one of the most successful high school football coaches in state history.
He spent two years as an assistant football coach at Hastings St. Cecilia, then three years in Bowling Green, Kentucky, as an assistant before moving to Omaha to work at Omaha Cathedral in 1979 and '80.
One of his former teammates at Hastings College, Scott Koch, was already in administration in the Millard School System and suggested looking into jobs there, especially with a new high school scheduled to open.
Petito obviously has found a home.
"I guess I decided this was a good place, west Omaha," Petito said. "I had some opportunities to move, I almost took a job in Victoria, Texas, in 1989 or 90, but I said, 'No.' The competition is extremely good around here, the young people are invested in the program. I wanted to see what we could do."
What the Mustangs have done is qualify for the playoffs 22 of the last 23 years, win five Class A state titles and take runner-up three more times. They've been the most consistent Class A program in the state during that stretch with teams that play physical up front on both sides of the ball in a quarterback-based option attack that has been difficult for opponents to stop.
"We're going to get on the balls our feet and we're going to attack you," Petito said. "We'll get into sets that will spread the field and then let the quarterback make reads at the line of scrimmage. Our quarterback has to be a pretty good guy. He gets you out of dead plays and he gets you where you need to be. He has to be a threat."
One of the products of that option game was Eric Crouch, the 2001 Heisman Trophy winning quarterback from Nebraska.
"That was quite a trip coaching him," Petito said about coaching Crouch in the mid-90s. He also had Seth Olsen, a former All-American offensive lineman at Iowa who played four seasons in the NFL.
"When Eric got to Nebraska, we altered our coaches' meetings on Saturday so we could watch him," he added.
At 66, Petito still runs 2½ to 4 miles per day and has not cut his schedule back at all as a physical education teacher at the school.
"I still enjoy being around the kids and working with them," Petito said. "We started 10 sophomores last year, so I'm excited to see what that group can do now as juniors this season. They play with grit and they've grown up. They've always played hard, but now with some experience, they're also playing smart."
Goltz likes coaching football, basketball — and his record proves it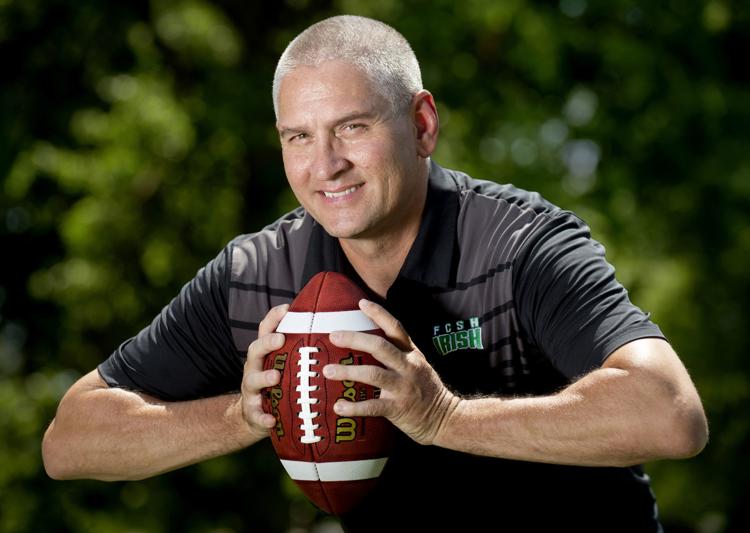 State titles: 8 (D-2, 1989; D-2, '90; D-2, '92; D-2, '93; D-2, '94; D-2, 2013; D-2, 2016)
Doug Goltz sounds more like one of his Falls City Sacred Heart athletes when you ask him which sport he likes coaching more — football or basketball.
His record in both sports is jaw-dropping. In the fall, the Irish football teams have gone 298-51 in 31 seasons with eight state titles, all in Class D-2, eight-man. Sacred Heart had a state-record six straight undefeated state championship teams between 1989 and 1994 while compiling the longest win streak in state history at 87 games.
A pretty impressive run considering Goltz had never coached or played eight-man football when he took over the job two years before the first state title.
The basketball record is 620-172 in 32 seasons after the Irish won their ninth state championship under Goltz this past March.
"Honestly, when it's football season, that's my favorite and when it's basketball season, that's my favorite. And in the spring, I still enjoy coaching track," said Goltz, a Sacred Heart alum who returned to his alma mater for the 1986-1987 school year to teach social studies and coach boys basketball after graduating from Peru State.
"There have been opportunities to go to bigger schools, but it was only in one of those sports," he added. "I really like coaching them both, so I didn't want to give that up."
Goltz has far more than the coaching titles in front of his name at Sacred Heart. He's been the school's principal for 16 years and the athletic director since 1987-88, his first season of coaching the football team.
It's a busy schedule, but his energy level is up to the task.
"I get here between 6 and 6:30 in the morning when no one's here so I can a lot done before school starts," Goltz said. "I'm going 12-plus hours a day on most days, but I have no intention of slowing down. Not right now. We have kids who work hard and work together, and it's fun to be a part of that."
Goltz and his wife, Janice, had three children all go through Sacred Heart – Alicia, Matt (who played basketball for his father) and Maggie, who's a junior on the Concordia women's basketball team.
"Janice has been pretty understanding through all this," Goltz said. "There have been a lot of nights away from home, but she's been real supportive. She still lets me do it because she knows it's my passion."
Goltz said the biggest change he's seen in the years he's been coaching has been the introduction of Hudl as a clearinghouse for game film. No more driving somewhere on Saturday morning to meet the coach of your next opponent to exchange film, now coaches can watch all of their opponents by calling it up on their computers.
"Hudl has changed the way you prepare for games and coaches are a lot more prepared than they used to be," Goltz said. "I don't miss exchanging film, or worse, waiting for a coach to send you a tape through the mail and it arrives the day of the game."
Football coaching a family affair for Turman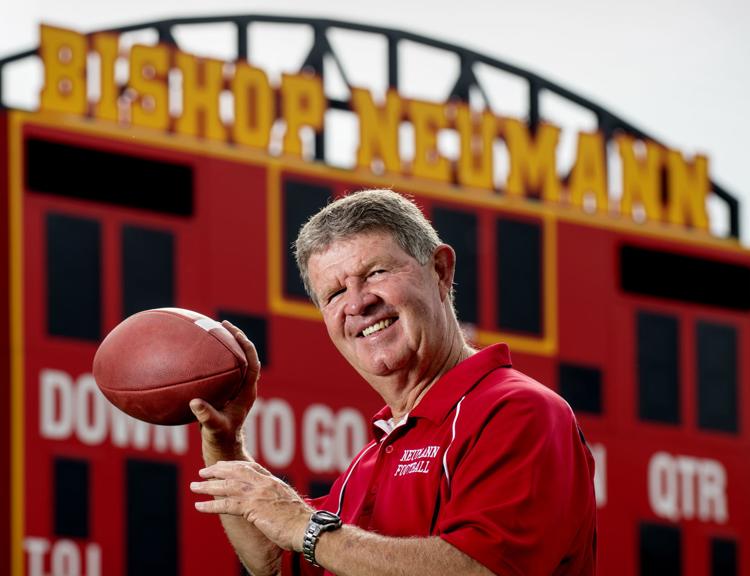 State playoff appearances: 24
State titles: 2 (C-1, 2002; C-1, '03)
State runner-up: 5 (C-1, 1980; C-1, '85; C-1, 2000; C-1, '07; C-1, '16)
Most football coaches measure their tenures in years.
Tim Turman does it by generations.
Turman coached both of his sons, Matt and Seth, at Bishop Neumann in the early and mid-1990s. Fast forward 20 years, and now the 69-year-old is guiding the Cavaliers to victories with grandsons manning the quarterback spots.
Two years ago Noah Vedral, now a quarterback at Nebraska after transferring from Central Florida, was a Super-Stater on Neumann's Class C-1 state runner-up team in 2016. Now his younger brother Eli is a senior and entering his second season as the starting signal-caller.
"It's been pretty special to coach my sons, and now my grandsons," Turman said. "When Noah got into high school, I thought I'd coach him a year or two, and that turned into four. And now Eli's almost done."
A third grandson, Ezra Vedral, will be an eighth grader this year.
"This is probably my window to retire," said Turman, who has six adult children and 15 grandchildren. "At some point, it will be time to pack up and follow the grandkids. It will either be soon or four or five years down the road. If it's up to my wife (Dianne), it will be soon."
Turman not only has had the satisfaction of coaching his sons, but also see them go into the coaching profession themselves. Matt is the head coach at Omaha Skutt where he's led the SkyHawks to three Class B state championships and three runner-up finishes. Seth is an assistant coach at Millard West.
"It's been nice," Turman said.
This will be Turman's 46th season as a head football coach. After he graduated from Chadron State in 1970, he spent one year teaching at a K-8 school on the Pine Ridge Indian Reservation. Then he coached four years at Fairmont, went back to Chadron State to get his masters degree in the 1976-77 school year and was the David City coach for three years before taking the Neumann position in 1980.
One of the players he coached at Fairmont was Derrie Nelson, a Nebraska walk-on defensive end who became an All-American and played three years for the San Diego Chargers in the NFL.
"He was an incredible player," Turman said of Nelson. "I was pretty young then and Derrie was kind of obstinate. We ended up in each other's face a few times. He was a great kid, one of the toughest kids I've ever coached.
"Derrie always told me he couldn't wait until I had kids, that he'd become a coach and run their butts off," Turman added laughing. "He always thought we did a little too much running."
Turman admits he didn't think he'd still be coaching at Neumann in 2018 after taking the job 38 years earlier.
"I liked the school, I liked the people and the Catholic education was great for my kids," said Turman, who retired from his industrial arts teaching position two years ago. "The years just started running together, then our kids got active and it was hard to move then. I just really liked the situation we had here."
Coaching football just a small part of Mimick's duties at Aquinas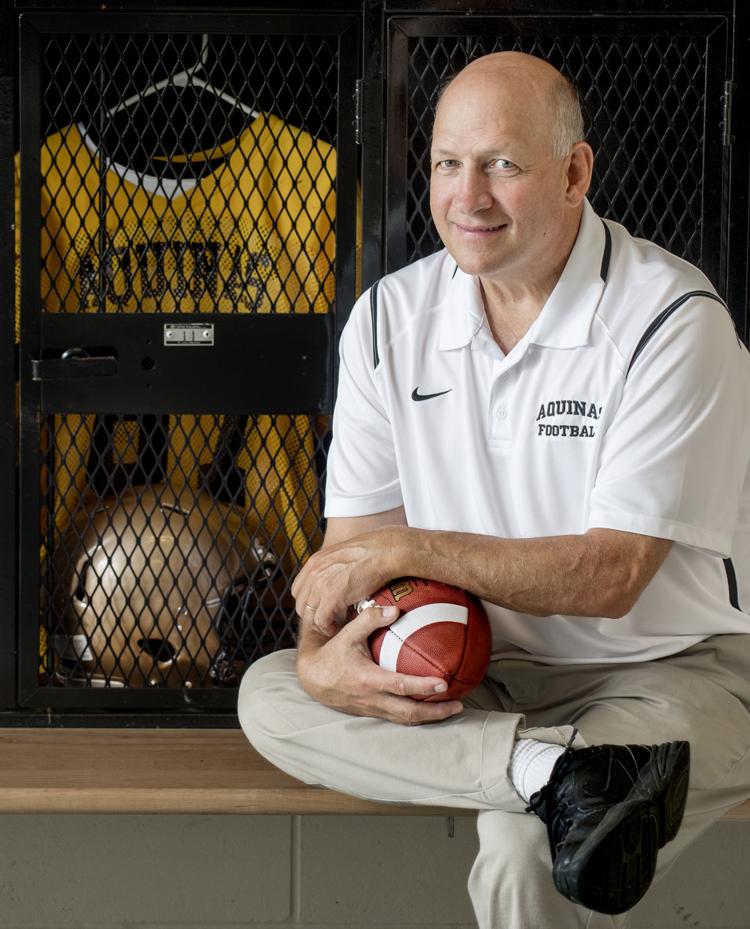 Playoff appearances: 25 (23 at Aquinas)
State titles: 7 (C-1, 1993; C-1, '94; C-1, '97; C-2, 2011; C-2, '14; C-2, '15)
State runner-up: 2 (C-1, 1992; C-2, 2013)
Ron Mimick wears a lot of hats at Aquinas being an American history and physical education teacher, the school's activities director and head coach for both football and boys track.
It's that varied and busy schedule, however, that makes the limited time he can spend on football all that more enjoyable.
"The good thing about being busy is that football is new for me, it's refreshing," Mimick said. "I don't spend as much time at it as a lot of other coaches do, so football is more like a hobby for me, it's not a job."
When things slow down in the summer, that's when Mimick can focus a little more on being football coach. He tries to work ahead as much as he can, planning and preparing for the upcoming season.
"During the school year, if I run across some kind of formation or play that I like, I'll throw it in one of my drawers in the my desk, then in the summer I'll get all of those things out that I've saved and see if it's anything worth incorporating into our program," Mimick said.
Mimick spent the decade of the 1980s as head football coach at four different schools — Stuart, Parkston (South Dakota), Hastings St. Cecilia and Hartington Cedar Catholic — before settling in at Aquinas.
"That happens to a lot of coaches where you bounce around a little in the beginning, then you find a place you're comfortable with," said the 60-year old Mimick, whose wife, Catherine, is a music teacher at Aquinas. "This has become a really good place. Good school, good culture, good people."
He wanted to stay long enough for his two grown children, Melanie and Matthew, to go through the school and graduate. He's had opportunities to move to larger schools and had an offer to become the head coach at Grand Island 16 years ago.
"They didn't have a Catholic grade school in town for my kids," said Mimick, whose son was an all-state player under his father at Aquinas. "Since then, I had six or seven larger schools call, but I was comfortable here. I wanted by kids to go through Aquinas, and once they were done, I was too old to move."
The camaraderie he's developed with his assistant coaches is also something that keeps him in David City. Ken and Marv Pelan were middle school volunteer coaches when Mimick arrived in 1990. They were promoted to the high school program and have been part of Mimick's staff ever since.
Mimick said Tony Smith, the defensive coordinator, has been an assistant for more than 20 years.
"That continuity really helps," Mimick said. "You just trust them and you turn it over to them. They've been a big part of our success here."