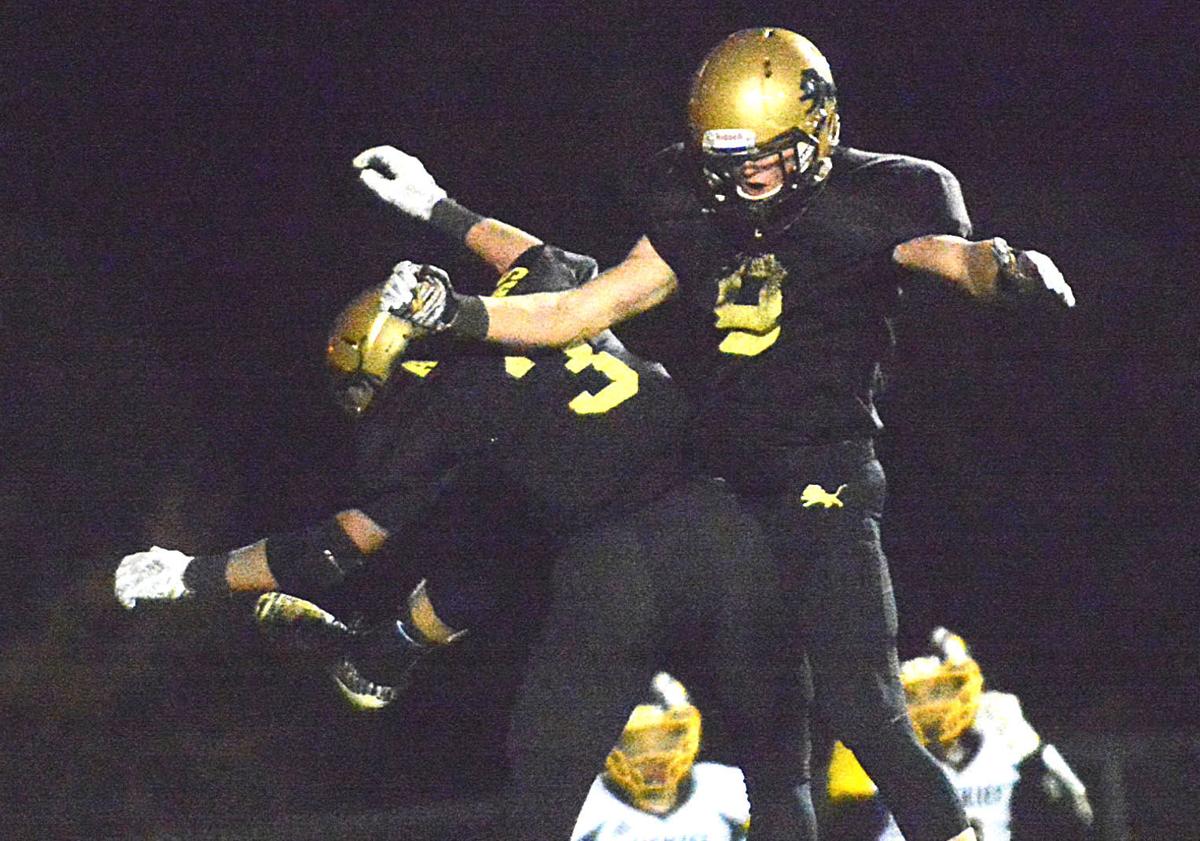 There's a certain status symbol that goes with being the starting quarterback on a state championship-contending football team.
Aquinas' Kyle Napier doesn't care about that. He just wants to win football games and contribute the best way he can.
That's why he had no problem with his move to halfback late last season as Caleb Thege slid into the quarterback spot. In the Monarchs' 41-6 win over Shelby-Rising City in the final regular season game, Napier went off for 116 yards rushing on 12 carries and three touchdowns and caught a 35-yard scoring pass from Thege.
"I'd rather play halfback, so yes, I'm OK with it," said Napier, a 5-foot-10, 180-pound senior who was an all-state defensive back last season. "Caleb is a really good quarterback, and at halfback, I can just go out and play and not have to think about what I'm doing."
Aquinas coach Ron Mimick says Napier will be the featured back in the Monarchs' wing-T offense that brings back eight starters from an 8-3 team that reached the Class C-2 quarterfinals. Another halfback, senior Keegan Lavicky (5-11, 170), was an honorable mention all-Centennial Conference selection last season.
"Kyle is one of the most athletic kids we've had," said Mimick, who has guided the Monarchs to seven state championships during his 30 years at the helm. "Personality and skill-set wise, it just worked better having him at halfback where he can use his natural instincts and abilities.
"Kyle's got some pop and explosiveness," Mimick added. "We've got five running backs who run the ball well, but he'll carry the ball the most."
The second-ranked Monarchs, who have nine starters back on defense, will be in the hunt for their first state title since 2015 behind their experience and physical talent on the offensive and defensive lines. Four return as all-conference players from a year ago: senior tight end Rylan Chromy (6-3, 190), senior linemen Nolan Eller (5-11, 170) and Josh Uhrmacher (6-1, 205) and junior lineman Rowdy Truksa (6-1, 200).
Aquinas also brings back senior Brett Kobza (5-11, 185), who started as a sophomore up front before missing last season with an injury. Three other linemen — juniors Riley Miller (6-1, 190) and Paul Buresh (5-11, 180) and senior Russell Brezina (6-0, 195) — were honorable mention all-conference a year ago.
"We've got some depth up there," Mimick said, referring to his offensive and defensive fronts. "We have six or seven kids who are 6-foot or 6-1 and right around 200 pounds who are strong and athletic. They have potential."
Combine that with Mimick's assessment that "our backs are further along than at this time last year," it's easy to see why the veteran coach has a cautiously optimistic view of his team going forward.
"If we can stay injury-free, I think we're going to be in the mix at the end of the season," Mimick said.
Aquinas has two of its three starting linebackers back in Eller and Kobza, while Napier and Thege provide experience in the secondary.
Napier and the other nine seniors were seventh-graders the last time Aquinas took home a state title, in 2015. His older brother, Lane, an All-America linebacker at Concordia, played on that title squad, and Kyle would like to have a gold medal of his own to show off to his brother.
"This is what the senior class has been looking forward to since grade school and middle school," Kyle Napier said. "A lot of us have been starting since our sophomore year, so we have a lot experience. We feel like we have the team to get it done this year."
Aquinas will be tested early with games against rated teams in four of the first five weeks. The Monarchs open at No. 8 Bishop Neumann on Friday before travelling to No. 5 Centennial on Sept. 4. They host C-1 No. 9 Columbus Scotus on Sept. 11, then go to defending C-2 state champion and preseason No. 1 Oakland-Craig on Sept. 25.