Enjoy it while it lasts, high school football fans. Players like Noah Walters don't come around too often.
On Thursday and Friday nights, Seacrest Field might as well be the set for the Noah Walters show. After a stellar 28-touchdown season as a junior, the Lincoln East quarterback has simply been unstoppable, equaling that mark in just six games.
The only blemish on Lincoln East's record, a 32-28 loss to Papillion-La Vista South, still involved a 300-yard, four-touchdown game from Walters. Since then, he threw five passing touchdowns against Norfolk, six scores against Millard North and five touchdowns against Lincoln Southeast.
The No. 10 Millard West Wildcats, having been tested against some of the other top offenses in Class A, became Walters' most recent victim on Thursday at Seacrest Field. He torched them for over 350 passing yards and six touchdowns during a commanding 41-10 Spartan victory.
Dozens of toga-clad Lincoln East students were already standing in the student section an hour before the kickoff, and it's safe to say they are big fans of Walters.
"Extremely hard working." "Easy to talk to." "Best quarterback in the state." That's how students described their star quarterback.
Walters was all of that and more once again.
Seeking to push the pace, the Spartans (5-1) routinely ran plays after ticking down 10-15 seconds of the play clock. Three of Walters' touchdown passes came on drives that lasted less than a minute, including the opening 15-yard touchdown pass to Luke Greisen. Cooper Erikson also caught a trio of touchdown passes, with AJ Seizys and Kamdyn Roebke hauling in scores as well.
Walters has now thrown 28 touchdown passes during his second year leading a dynamic, high-scoring offense. Do I need to remind you that he's still uncommitted?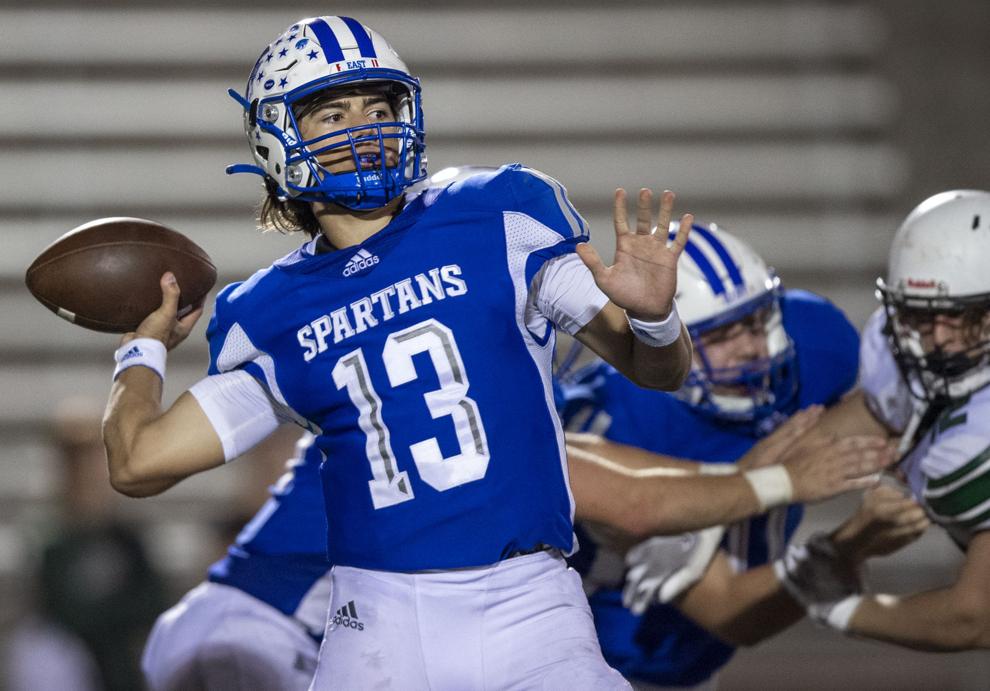 Lincoln East coach John Gingery has seen his fair share of talented players during his 26 years at the helm of the Spartan program. He, too, can't believe that his star quarterback hasn't landed at a top college yet.
"He's doing great things; the kid's a great player," Gingery said. "Some people think he's too short, but I tell them the kid's got heart and you can't measure that. He's lighting them up and I'm glad he's on my team."
I made sure to see what Katie Walters, Noah's mom, made of the action from her spot during the games as a sideline photographer.
"It's more fun being down here on the sideline to see him and all the boys," she said. "He's a laid-back and easy-going kid, and I'm so happy for him."
So, what's the secret behind the big numbers?
To start with, Walters has tremendous arm strength and is easily capable of launching passes 40 yards down the field. Four of his touchdown passes went for 40 yards or more, but he's just as capable throwing inside the numbers, because he gets the ball there in a hurry, and with precision.
Plus, the senior quarterback has built up an innate understanding of how to pick apart opposing defenses. Last week, junior Malachi Coleman hauled in a 79-yard touchdown catch that began with a simple 15-yard pass over the middle of the field.
What made it even more impressive was that because Walters identified the space in the middle of the field, he told Coleman to run a skinny post. It was the first play of the game, and Walters was already making adjustments.
The Spartans aimed to push the pace against Millard West (2-4), and with Walters at his usual strength, it worked to great success. Erikson was the biggest beneficiary as he crossed the 200-yard mark while hauling in three touchdown passes, a testament to the duo's strength.
"We've been playing together since freshman year, so we have the same mindset and see defenses the same way; it's just a good connection we've got going," Erikson said.
Starting quarterbacks also have to be good leaders, and Walters most certainly is. When your team's best player touches the ball on every offensive play, that inspires confidence, a trait oozing from every throw.
A downfield shot falls an inch away from a 60-yard touchdown? Walters will shrug and do it again. Smacked on a scramble down the field? Walters pops back up and adjusts his pads.
That's called focus, something easier said than done when there are hundreds of fans expecting your best every night. Still, the Walters show hasn't disappointed yet.
It's time to start considering whether this is the best-ever season from a Lincoln quarterback. Lincoln High's Cedric Case put together an incredible 2017 campaign with 3,253 passing yards, 35 touchdowns and just four interceptions. Walters is on track to surpass all those figures and could be in contention for several Class A records as well.
Through six games, Walters has over 2,000 passing yards and 28 touchdowns, a historic pace to be sure. The Spartans have one guaranteed home game left on their schedule, Oct. 15 against Lincoln Northeast.
If you haven't been seen Walters in person yet, there's your chance. In a few years' time, you won't want to regret missing the Noah Walters show.
LINCOLN EAST 41, MILLARD WEST 10
| | | | | | | | |
| --- | --- | --- | --- | --- | --- | --- | --- |
| Millard West |   | 7 | 3  | 0  | 0  | -- | 10  |
| Lincoln East |   | 14  | 20  | 7  | 0  | -- | 41  |
LE--Greisen 15 pass from Walters (Gorr kick)
MW--Pederson 1 run (Meraz kick)
LE--Erikson 51 pass from Walters (Gorr kick)
LE--Erikson 54 pass from Walters (Gorr kick)
LE—Seizys 41 pass from Walters (Gorr kick)
LE--Roebke 10 pass from Walters (kick failed)
LE--Erikson 57 pass from Walters (Gorr kick)