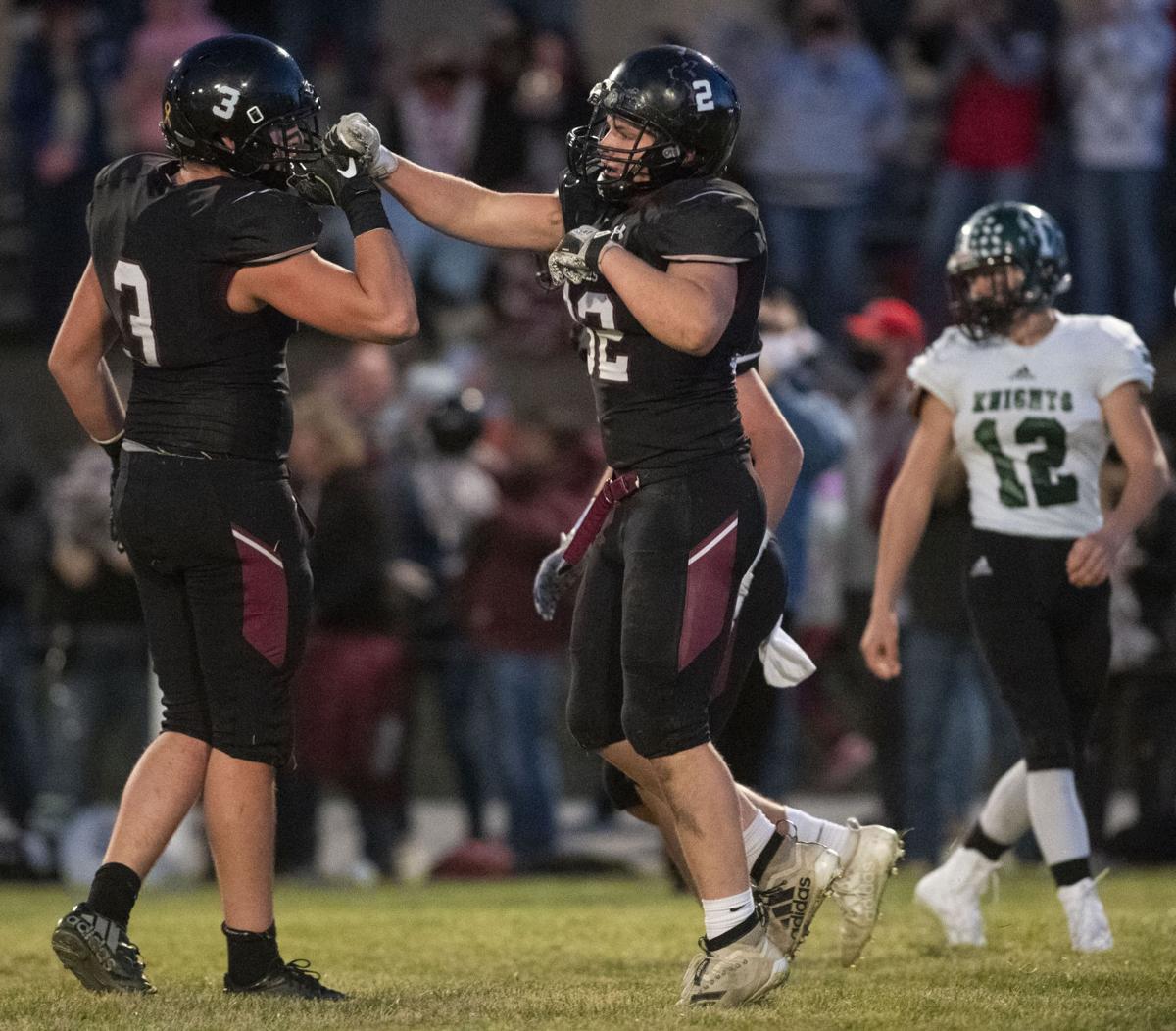 Well, here we are. Through the twists and turns, the COVID-19 cancellations and the question marks, the state of Nebraska makes it through the high school football season.
There are seven games on tap. Yes, by now you know none of them will be at Memorial Stadium. What exactly has been normal this year? We're in the 11th month. Why start now?
More than ever, we hope our coverage serves as a tool for those unable to attend games due to virus concerns — or any other reason. Our team is spread out across the state line, from Pierce to Omaha to Shickley. 
From the press box
9:45 p.m. Our last champion of the night: Omaha Westside claims the Class A crown. Time to party like it's 1982.
9:31 p.m. Elkhorn South battling to the final whistle. They're within two scores:
9:16 p.m. McCool Junction wins the six-man title, defeating Sterling 70-20. Owen McDonald, take a bow.
9:04 p.m. Sounds like we have a special moment alert in Kearney:
4:39 left and McCool Junction sends all the seniors out on the field, takes a penalty so they can celebrate in style. Mustangs lead Sterling 70-20 #nebpreps.

— Tim Gray (@TGrayjspsports) November 21, 2020
8:58 p.m. That one stings if you're an Elkhorn South follower. Omaha Westside wastes little time building upon its lead, nabbing a 34-14 advantage with 7:18 left in the third.
8:51 p.m. 1...2...3...4 touchdowns for Cole Payton — his latest gives Omaha Westside a coveted two-touchdown lead.
8:38 p.m. Owen McDonald is on record watch for McCool Junction. His eight touchdowns tie a state single-game record, and he's already notched the single-game yards record.
8:26 p.m. Victory formation in Elkhorn. Antlers win the Class B crown behind a dominant second-half performance.
8:20 p.m. Cole Payton to Koby Bretz. The hard way. Look at Payton eluding a sure sack to find the Husker commit in the back of the end zone right before halftime.
8:17 p.m. Whew. McCool Junction leads Sterling 62-14 at halftime in the six-man contest.
8:14 p.m. Storm tie it up. It's 14-14 in the Class A showdown:
8:04 p.m. Aurora still fighting. Ethan Shaw's short TD run cuts Elkhorn's lead to 42-19 with six minutes left in the Class B contest.
8 p.m. Meanwhile in Kearney... the Mustangs are firing on all cylinders, you could say.
7:55 p.m. Warriors back on top over in the Class A game:
7:54 p.m. Hat trick alert in Elkhorn:
Gutschow runs for his third TD of the night, Elkhorn takes a 42-13 lead over Aurora, early fourth quarter #nebpreps

— Ben Jones (@benjones150) November 21, 2020
7:43 p.m. How about the camera work by our guy Nate Thomas? Slo-mo on Elkhorn South's game-tying touchdown. Originally ruled incomplete. What's your take?
7:40 p.m. Elkhorn has it going on. Aiden Young goes 47 yards to give the Antlers a comfortable 35-13 lead in the Class B final.
7:38 p.m. We've got a final in Burwell. Dundy County Stratton wins 42-36 in double overtime. Big time game in Class D-1.
7:35 p.m. Blink once, and you miss it. McCool Junction's offense is firing:
Sterlings Boldt answers on the Jets next offensive play. McCool Junction 30, Sterling 14. #nebpreps

— Tim Gray (@TGrayjspsports) November 21, 2020
7:34 p.m. Omaha Westside breaks the ice in Class A. QB Cole Payton keeps it himself for the TD:
7:33 p.m. Update in Elkhorn, where the Antlers are starting to distance themselves from Aurora: 
Gutschow hits Gragert on a fade rout on 4th down for a TD. Elkhorn takes a 28-13 lead over a Aurora, 8:15 left 3Q #nebpreps

— Ben Jones (@benjones150) November 21, 2020
7:29 p.m. We'll need at least two overtimes in Burwell to settle a Class D-1 winner:
7:20 p.m. Husker football beat Parker Gabriel sighting at the Class A game. Doing a little scouting on the recruiting trail, maybe? 
7:18 p.m. It's almost time for the Class A showdown:
7:18 p.m. Sandhills/Thedford not going down easy:
7:07 p.m. Pierce extends its lead to two possessions with Garret Meier's 33-yard touchdown grab. Just under six minutes left i the third quarter.
7:06 p.m. We have the first of what is expected to be many points in the six-man final in Kearney:
D-6: Sterling with a scramble and score on 4th down with a 30-yard pass to Buss. 8-0 Jets with 9:15 left in qtr 1. #nebpreps

— Tim Gray (@TGrayjspsports) November 21, 2020
7:01 p.m. BDS making a move: 
7:00 p.m. Adams Central trims Pierce's lead with a field goal, trails 14-10 with 8:15 left in the third quarter.
6:59 p.m. Aurora and Elkhorn are tied 13-13 at halftime.
6:50 p.m. It's tight in Shickley:
6:45 p.m. We are through three quarters in Burwell: 
6:45 p.m. Class B is heating up. Elkhorn's Aiden Young takes a kickoff to the house. Elkhorn and Aurora tied 13-13.
6:43 p.m. Aurora strikes back to take a 13-6 lead in the first half. Mack Owens in for a 3-yard score. 
6:36 p.m. Halftime in Pierce:
C1: Pierce 14, Adams Central 7, half.

Fumbles by AC in Pierce territory (one near end zone) on last 2 drives of half. #nebpreps

— Clark Grell (@LJSSportsGrell) November 21, 2020
6:36 p.m. Elkhorn ties it up:
6:27 p.m. We're through 12 minutes in Elkhorn. Aurora leads 6-0 in the Class B clash.
6:15 p.m. Aurora caps a 17-yard drive with a touchdown to lead Elkhorn 6-0 in the Class B final. Ethan Shaw's 16-yard run sealed the deal.
6:12 p.m.: Halftime in Shickley. Sandhills/Thedford leads BDS, 20-14.
6:11 p.m. Pierce back on top behind a 28-yard TD pass. Pierce leads Adams Central, 14-7, early in the second quarter.
6:02 p.m. After a pair of early scores, Adams Central and Pierce trade defensive stops. 7-7 at the end of one quarter in the Class C-1 game.
5:56 p.m. We're going to halftime in Burwell:
Dundy County-Stratton 14, Burwell 6, half. Serbando Diaz 72 yards rushing with 1 TD for DCS. Caleb Busch 84 yards for Burwell. #nebpreps

— Dale Miller (@dalemiller) November 20, 2020
5:44 p.m. Ben Jones has boots on the ground in Elkhorn, the site of the Class B contest between Elkhorn and Aurora.
5:41 p.m. How about that for an answer? Adams Central's Tyler Sletchka reels in a 80-yard TD to tie up Pierce, 7-7, in the first.
5:40 p.m. Sandhills/Thedford reels off a 56-yard touchdown run to claim a 12-8 lead against BDS in the second quarter.
5:36 p.m. That didn't take long. Pierce needs only six plays to take a 7-0 lead against Adams Central. Taylor Race ran for a 48-yard score.
5:31 p.m. That's a wrap in Class C-2. Ord defeats Archbishop Bergan 28-7 to win its first-ever state title.  
5:29 p.m. Clark Grell sets the scene in Pierce, the site of the Class C-1 battle.
5:26 p.m. End of 1Q in Burwell:
5:25 p.m. End of 1Q in Shickley: 
5:18 p.m. Sandhills/Thedford strikes first in the Class D-2 game on a 55-yard run, taking an early 6-0 lead over BDS in the opening period.
4:49 p.m. You didn't think unbeaten, top-rated Archbishop Bergan would go down without a fight, right? Knights are on the board in Jarett Boggs' 1-yard score on fourth-and-goal. Ord up 21-7 in the fourth quarter. 
4:18 p.m. We're going to halftime. 
C-2 HALFTIME: A dominant first half has Ord up 21-0 on Archbishop Bergan in the C-2 title game.

Bergan's 6 drives: Downs, downs, INT, punt, INT, punt.

Ord led by Tommy Stevens with 74 rushing yards so far. #nebpreps

— Luke Mullin (@lmullin7) November 20, 2020
4:07 p.m. Another interception, another touchdown. Ord's Garret Kluthe comes away with a takeaway, and Zachary Smith caps the drive with a 19-yard rushing TD.
3:58 p.m. Pick-six. Ord rolling to a 14-0 lead.
C-2 FB: After Ord fumbles at the Bergan goal line, #6 Quinton Ries comes up with a big pick-six.

Ord now leads Archbishop Bergan 14-0, 5:04 Q2. #nebpreps

— Luke Mullin (@lmullin7) November 20, 2020
3:48 p.m. After a scoreless opening period, Ord strikes first with a 9-yard touchdown pass from Zachary Smith to Quinton Ries to take a 7-0 lead against Archbishop Bergan early in the second quarter.
3:16 p.m. We've got our first kickoff of the day. Ord begins with the ball, taking on Archbishop Bergan in Fremont.
Tales of the tape