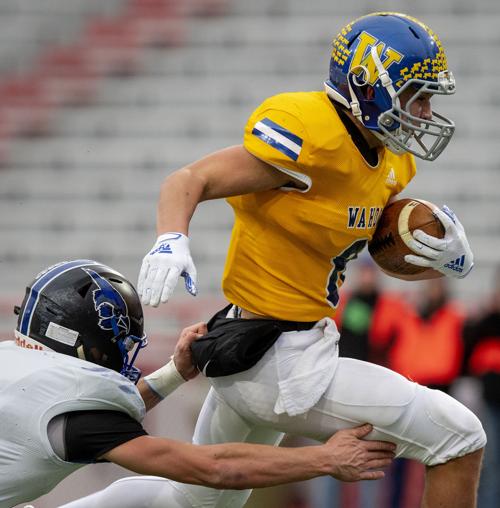 There's no doubt that Grant Kolterman can lead by example.
A year ago as a junior linebacker on Wahoo's 13-0 Class C-1 state championship team, Kolterman registered 119 tackles (second on the team), 18 stops behind the line of scrimmage, caused and recovered four fumbles, intercepted a pass, had a tackle for a safety, blocked two kicks and scored a defensive touchdown.
All of that added up to an all-state season for the 5-foot-11, 210-pounder.
As one of just four players back with starting experience for the top-ranked Warriors, the physical leadership will be just part of what's required from Kolterman if Wahoo wants to make another championship run.
"I've got to be a lot more of a leader and speak out," said Kolterman, who played the past two years under the wing of his all-state older brother, Sam, in 2018 and another all-stater, Kole Bordovsky, last season. Sam Kolterman was on an NAIA national championship team last season at Morningside.
"I've got to keep everybody positive and everybody together."
It's been the pattern in recent years that Wahoo graduates a large, successful and productive senior class, only to have a new group of players emerge from the shadows and keep the program among the elite in C-1.
Kolterman is one of just two senior starters back on a defense that shut out Pierce 38-0 in the state championship game and surrendered an average of just four points per game a year ago.
Cooper Hancock, a starter at wide receiver and safety, also made major contributions on both sides of the ball as a junior last fall. The 5-9, 175-pound Hancock was the Warriors' leading receiver with 29 catches for 259 yards and a touchdown while making 30 tackles and intercepting three passes on defense.
"I think we can be just as good defensively this year. We're just going to be built a little differently," Kolterman said. "We're going to be a little more diverse. We've got more speed, maybe not as much power as last year."
Coach Chad Fox said Hancock could also see time as a wildcat quarterback and possibly running back as the Warriors will try to put the ball in his hands in as many advantageous situations as possible.
"I lead more by example than vocally," Hancock said. "To be honest, I have to step up more and make sure everyone is doing their part."
Wahoo brings back two starters in the offensive line in seniors Brody Specht (6-1, 225) and Justin Nuckolls (6-3, 210). And while Super-State running back Trevor Luben graduated and is a walk-on freshman at Nebraska, his backup, junior Colin Ludvik (5-7, 170), rushed for 963 yards last season and 14 touchdowns.
Kolterman will quite often be the lead blocker for Ludvik from his fullback position, while Hancock will be doing the same on the perimeter.
"I love blocking for him," Hancock said of Ludvik. "In practice multiple times, I've hit a block and then watched him run by. You give him just a little time and he can break it. He's fast."
Wahoo has been in the playoffs 13 of the past 14 seasons and reached the C-1 semifinals in both 2017 and '18 before winning the state championship last year. It's a record of achievement that's made the Warriors a target of everyone they play.
"There's big pressure," Kolterman said. "Everyone's out there to get us, instead of the other way around the last few years."
After dealing with a spring when school and sports both shut down because of COVID-19 and a late start in the weight room and summer team camp because of the pandemic, Fox sees a deeper appreciation for the game from his team that might not be there otherwise.
"They're not going to take for granted getting on the field Friday night (at home against No. 9 Columbus Scotus) and playing," Fox said. "There's been adjustments they've had to make at practice and adjustments in the locker room, and they've been pretty good at adhering to all those things. I think they're thankful for any opportunity they get to play."