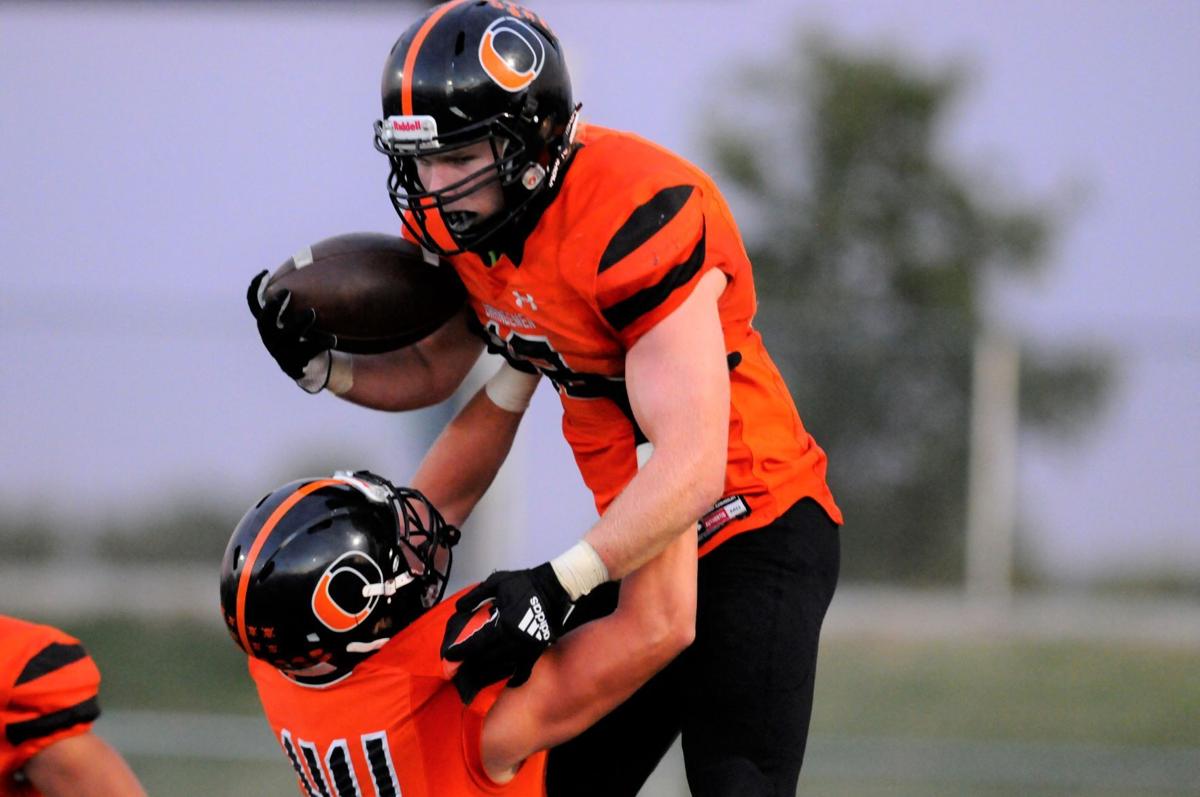 BEATRICE — No matter the sport, the Beatrice Orangemen just keep on winning.
An unexpected run to a state title in boys basketball last winter gave way to another state title in baseball during the spring, leaving Beatrice's returning football players eager to improve from a four-win season in 2020.
It turns out the winning ways translate to football, too. In front of a packed home crowd Friday night, Class B No. 9 Beatrice dominated the second half of a 35-21 win over No. 7 Norris that improved its season record to 5-0.
Beatrice junior Tucker Timmerman was a member of both those state-title teams last season, and he knows how much the undefeated start means to the community.
"We won a state championship and went into the baseball season hot, and it's just a culture here in Beatrice," Timmerman said. "We all support each other, we had an awesome crowd here and there's nothing like it. Beatrice has been known for football and it's great to finally get it back."
The Orangemen started the game fast when running back Deegan Nelson broke off a 59-yard rush touchdown, and Elliot Jurgens soon followed with another rushing touchdown that put Beatrice up 14-0. Norris (2-3) quarterback Cooper Hausmann got his team back in the game with a pair of passing touchdowns to Cooper Cerny and Micah Langston, and the two teams went into halftime tied 14-all.
After a relatively even first half, the second half was all Beatrice, mostly because the Orangemen kept the ball in their possession. A seven-minute touchdown drive to open the second half put Beatrice back in the lead, and a big fumble recovery from Dominic Salazar meant the Orangemen could continue leaning on their rushing attack.
Beatrice's next touchdown drive took the game into the fourth quarter, Hausmann drove Norris down the field for a touchdown in under 45 seconds and Beatrice's next drive took all of eight minutes. Roughly, Norris may have possessed the ball for just three minutes in the second half, compared with 21 minutes for Beatrice.
"That's something we're trying to build as our identity," Beatrice head coach Jeff Kezeor said. "It's been something Beatrice has done in the past, and we want to get back to it."
The Orangemen ran for a total of 353 rushing yards with Nelson scoring three rushing touchdowns to lead the winning effort.
"The line does a great job on every play; they just kick butt up front and make big holes for our running back Deegan Nelson," Timmerman said.
The Titans missed one of their key offensive weapons, Kale Consbruck, who is recovering from an arm injury, but Hausmann still turned in another strong performance. The senior quarterback threw for 208 yards and three touchdowns, but Beatrice's game plan kept the ball out of his hands for most of the second half.
"They have some great players, Hausmann is one of several, and we knew they were going to get big plays, so we went into this game wanting to bend but not break," Kezeor said.
The Titans three losses have come to undefeated opponents, with another difficult game against Plattsmouth up next week.
Beatrice's players took plenty of time to soak in the big win after the game because they won't be home for another two weeks, with road trips to Waverly and Plattsmouth on the way.
But, with the success of last year's teams and the belief that comes with five straight wins to open the season, the Orangemen are seeking to keep their winning ways going across every sport.
"I can't even explain it, nothing beats it and it's just the best feeling," said Nelson about the undefeated start.