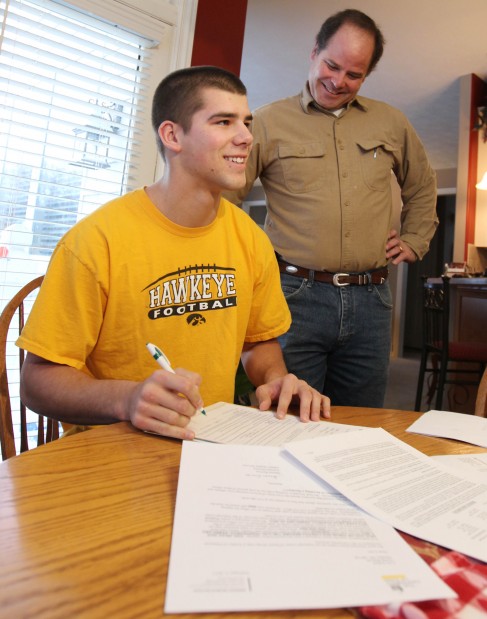 OMAHA -- Having a snow day from Millard North High School on Wednesday, Cole Fisher figured he would wake up and sign his letter of intent to play football at Iowa without fanfare from his home.
Then a couple of reporters stopped by to document the moment.
Sorry, kid. When your dad played at Nebraska , and your brother, Sean, is currently a Husker, and you're headed to a school that figures to become a Big Ten Conference rival for NU, you don't get to low-key this.
"It's another step in the process. I didn't realize it was that big a deal," Cole said before recalling how some of his Millard North teammates and friends have ribbed him for wanting to become a Hawkeye. "Being Nebraska fans, they liked to talk smack. It's all in fun right now."
A standout free safety for the Mustangs, Cole was offered a scholarship by Iowa late in his junior season, and after returning from major knee surgery after getting injured playing basketball, he committed to the Hawkeyes at the end of July. His decision came shortly after Nebraska announced it was leaving the Big 12 for the Big Ten starting with the 2011-12 academic year.
Though the Huskers never offered Cole a scholarship, Nebraska fans now are more likely to follow his career since the two programs are in the same Big Ten division and scheduled to square off in the regular-season finale.
Cole might even get a couple chances to beat his brother. Sean, who missed last season with a leg injury after starting six games in 2009, will be a fourth-year junior for the Huskers.
"I think it's going to be really cool to play against him," Cole said.
You have free articles remaining.
As a freshman, the younger Fisher played on Millard North's junior varsity team, but he suited up for varsity games. Since Sean also played free safety, Cole said his brother essentially got to coach him in practice.
And when it came time for little brother to decide on a college?
"He was just, 'Do what's best for you,'" Cole said.
Now, he hopes to add to the list of recent Millard North graduates, like Adam Shada, Seth Olsen and Jeff Tarpinian, who have made big contributions for the Hawkeyes.
"The first time I went to a game was the first time I'd been to Iowa City," he said. "I just had a great time. I didn't know it'd be so crazy on game day. I knew it was crazy in Lincoln, but this was just as wild."
Sean Fisher's rehab is going well
Nebraska linebacker Sean Fisher, who missed all of last season after suffering a leg injury in preseason camp, is well on his way to making a full recovery.
That bit of information comes from Fisher's younger brother, Cole, who on Wednesday signed a letter of intent with Iowa. Cole Fisher said his brother's rehabilitation "seems pretty good," noting how at late-season practices he'd been able to jog every day.
Cole added that he thought his brother had received clearance to participate in some football-related activities.
In 2009, Sean Fisher earned freshman all-Big 12 honors while making 35 tackles and starting six of 14 games.