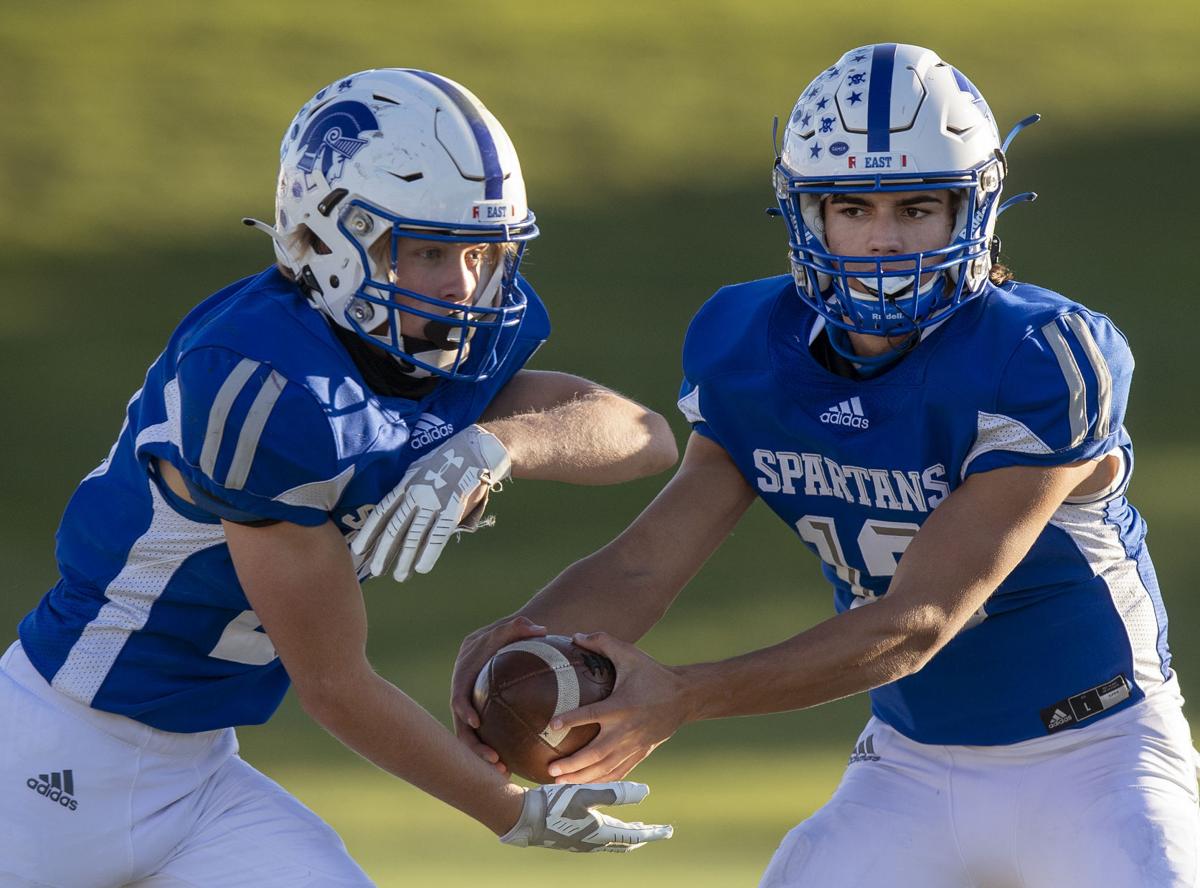 It's easy to make the No. 8 Lincoln East quarterfinal playoff football game at No. 2 Omaha Westside (7 p.m. Friday) a matchup of the top two quarterbacks in Class A — Westside's Cole Payton and the Spartans' Noah Walters.
But for Walters, his concern isn't about Payton, a second-team Super-Stater a year ago who is committed to North Dakota State. Instead, it's a Warrior secondary that includes two Power Five college recruits — first-team Super-State cornerback Avante Dickerson (Minnesota) and Koby Bretz (Nebraska).
They will certainly test a Spartan (7-2) passing game sparked by Walters, a junior who has passed for 2,281 yards and 25 touchdowns this season.
"I'm more excited to play against that defense because I know they have a lot of talent, and I think I'll find out a lot about myself and our offense going against those guys," Walters said. "I think I can compete with them. As long as I do my part and the ball gets there on time in the right spot, I think we'll be good."
Walters broke the school single-game passing record three of the first four weeks of the season with performances of 319, 409 and 450 yards. The last three games, however, Walters has thrown for 109, 107 and 139 yards as the East running game has started to pick up the pace.
In the 42-0 win over North Platte in the first round last week, Walters led a ground game that picked up 240 yards. Walters finished with 109 on 10 carries, including a 50-yarder.
"Our offensive line is really starting to play well, and I think all the repetitions in practice the whole season has made a difference," Walters said. "I know we relied on our pass game early in the season, but as long as we have confidence in both the run and pass, we're a really good team."
Payton, a 6-foot-3, 205-pound left-hander, has completed 63% of his passes for 1,287 yards and 19 touchdowns this fall. He's also been a factor running the ball with power for the 9-0 Warriors, picking up 661 yards on the ground and 10 TDs.
He passed for 90 yards and two TDs and ran for 108 on 10 carries in the 45-3 first round win over Grand Island last week.
"We'll have to gang tackle him and stay in our gaps because he's a hard guy to bring down," East coach John Gingery said of Payton. "Westside has great skill kids, he gets the ball in their hands and lets those kids try to make plays.
"We'll have to be sound in our coverages and hopefully get some pressure on him," Gingery added. "It will be a challenge."