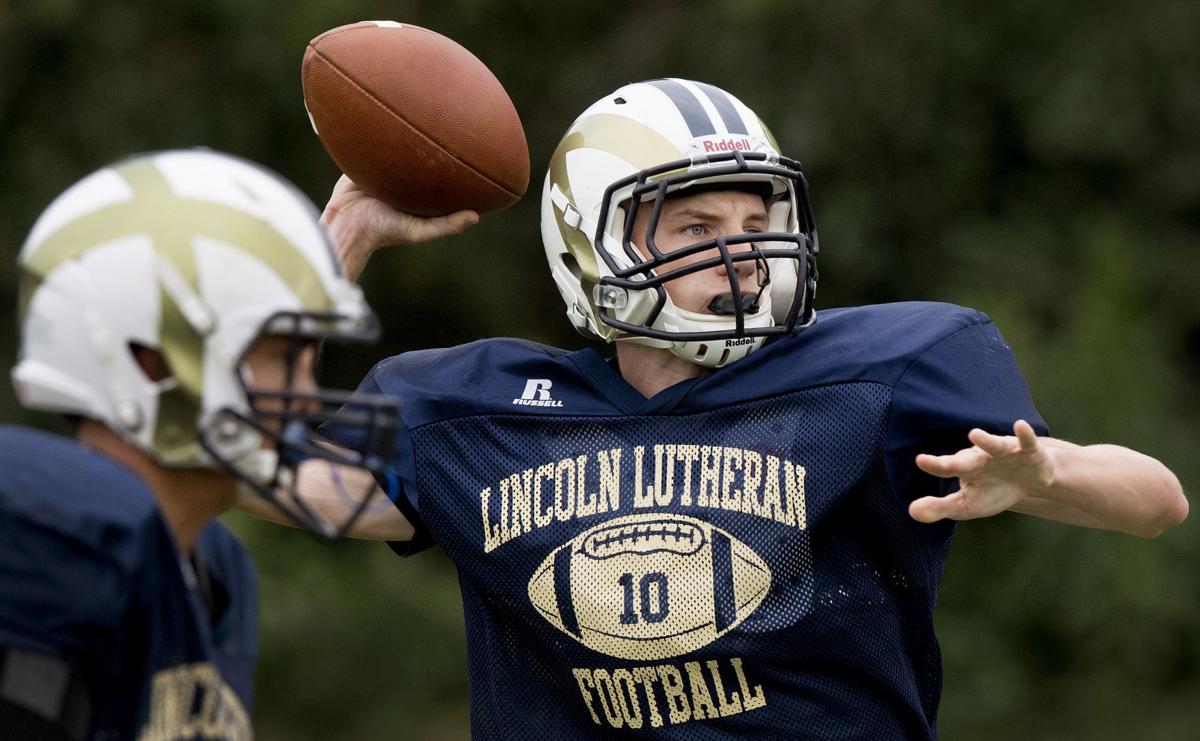 The way Lincoln Lutheran football coach Greg Nelson sees it, you can never have enough quarterbacks.
In 2017, the Warriors lost starter Zach Clausen in the opener, and Cole Schaedel moved from wide receiver to quarterback and guided Lutheran to a semifinal finish in the Class C-2 playoffs.
Last season, James Admiraal completed 16 of 17 passes for 356 yards and seven touchdowns in the season-opening win over Omaha Concordia, then was lost for the season with a broken collarbone early in the third quarter of the Warriors' loss to Bishop Neumann in Week 2.
Josh Duitsman stepped in as a freshman and threw for 1,166 yards and 14 TDs in nine games, helping Lutheran go 7-3, win the district title and reach the Class C-1 playoffs. But the Warriors also lost Cayden Bergt, their Wildcat back at quarterback, in Week 7, leaving Duitsman on his own in the final three games.
Both Admiraal, a 6-foot, 155-pound senior, and the 6-foot, 185-pound sophomore Duitsman are vying for the starting quarterback spot this fall along with talented freshman Garret Hoefs (6-2, 170).
"I've never gone through a season using just one quarterback, so all three have to be ready to play," Nelson said. "Last year we had to scramble to figure out our backup plan because we didn't want to throw Josh into the fire as a freshman.
"They all have to compete for it (the starting quarterback job), that's what we're using the first two weeks of practice for," Nelson added. "James is a senior, he knows what we want to do, but he's also got work to do. Josh has gotten bigger, his arm has gotten stronger, and I'm anxious to see what Garret can do on the varsity level."
The two who aren't playing quarterback will be on the field as either a running back or receiver. All three figure to have significant roles defensively as Admiraal will likely be a starting cornerback and Duitsman and Hoefs will be the safeties.
"None of them will be standing on the sidelines on Friday nights," Nelson said. "They have to be involved in some way, shape or form."
Their top targets right now look like senior wide receiver Ethan Zager (6-1, 155) and junior tight end Josh Puelz (6-4, 190). Zager leads an experienced group at linebacker as seniors Dalton Paxton (6-3, 200) and Colten Waldo (5-9, 175) are also returning starters at that spot.
Lutheran also brings back a pair of starting offensive linemen in Paxton and Wyatt Marr, a 6-5, 235-pound junior who also was on the defensive front a year ago.
"I feel confident we can be a good passing team again," Admiraal said. "We have everything it takes, we're just a bit younger this year. But they've shown they can step up and be good players."
Back-to-back postseason appearances, despite key injuries, have raised both the confidence and expectation levels for the Warriors. A second-place showing last month at the South Dakota State team camp has also provided momentum coming into the season.
"By the third day we were competing at a really high level against larger schools (at South Dakota State), and a lot of that was through the air," Nelson said. "I'm super pumped about how we responded to adversity last year, and hopefully some of that will carry over into this season."