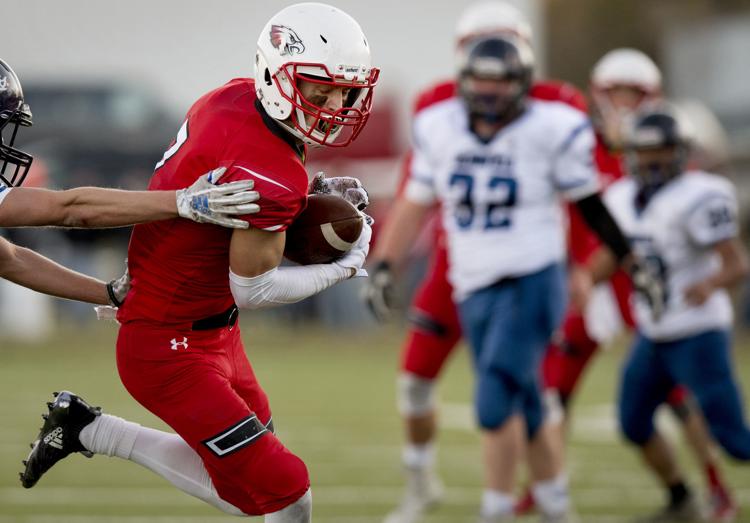 The defending champions
Only one starter remains from Johnson-Brock's 13-0 state title team after the Eagles graduated four all-staters, and a fifth, junior Kaden Glynn, transferred to Beatrice over the summer. That lone starter, however, is all-stater Ty Hahn, an FBS-level college recruit who may do a little bit of everything for a young Eagles team that will improve as the season goes on.
Other teams to watch
Bloomfield (10-1, D-2 state quarterfinals, No. 7 final ranking): The Bees are a perennial power and they should continue to be a contender this season with four offensive starters and three defensive regulars back. Senior QB Braden Eisenhauer is a dual-threat QB with just over 1,700 yards of total offense last season.
Clarkson/Leigh (5-4, D-2 state second round, unranked): With five starters back on both sides of the ball, the Patriots are experienced, but with just one of those regulars being a senior, it's still a young team. Junior star RB Tommy McEvoy, however, is gone for the season with an ACL injury suffered in late July.
Falls City Sacred Heart (9-2, D-2 state quarterfinals, No. 3 final ranking): Six starters are back on both sides of the ball, a group that includes all-stater Del Casteel and standouts Jake Hoy, Branson Darveau, Sloan Leonard and Tyler Witt.
Humphrey St. Francis (11-1, D-2 state semifinals, No. 2 final ranking): Might be the preseason favorite with seven offensive and six defensive starters back, a group led by returning all-staters Trevor Pfeifer and Dylan Wemhoff and running back Taylor Wemhoff (1,353 yards last season).
Kenesaw (10-1, D-2 state quarterfinals, No. 8 final ranking): The Blue Devils have experience in every area with four starters returning on offense and five on defense. The headliners will be senior QB/DE Wyatt Hansen (6-3, 175) and sophomore TE/LB Tyson Denkert (5-10, 175).
Lawrence-Nelson (8-4, D-2 state semifinals, No. 5 final ranking): Among the four starters back is senior all-stater Kyle Golay, perhaps the best interior lineman in D-2.
Players to watch
WR/S Ty Hahn, Johnson-Brock, 6-2, 190, sr.: The two-time all-stater hauled in 62 passes for 1,165 yards and 23 TDs last season; also makes his mark as a safety on defense.
QB/S Trevor Pfeifer, Humphrey St. Francis, 6-2, 210, sr.: A dual threat three-year starter who has improved each season. Expect big things from the senior this year.
You have free articles remaining.
Keep reading for FREE!
Enjoy more articles by signing up or logging in. No credit card required.
OG/NG Dylan Wemhoff, Humphrey St. Francis, 6-1, 260, sr.: Probably the most dominant lineman in D-2 this season. Battled injuries all last season, so his production could go up dramatically this fall if he stays healthy.
RB/LB Del Casteel, Falls City Sacred Heart, 6-0, 195, jr.: The physical linebacker registered 79 tackles with 15 for losses a year ago as a sophomore. Played the last three games of the season with a broken hand.
OL/DL Kyle Golay, Lawrence-Nelson, 6-2, 270, sr.: Besides clearing the way for the Raiders' offensive attack, Golay made 75 tackles defensively, 13 behind the line and 10 sacks.
OL/DL Clayton Hassett, Mullen, 6-2, 230, sr.: Made 125 tackles for the Broncos, last year's state runner-up. Hassett is the lone offensive returning starter.
Games to watch
A30: Elmwood-Murdock at Johnson-Brock, Clarkson/Leigh at Howells-Dodge, Elm Creek at Overton.
S6: Falls City SH at Lawrence-Nelson, Overton at Kenesaw, Dundy Co.-Stratton at Wauneta-Palisade.
S13: Humphrey SF at Clarkson/Leigh, Anselmo-Merna at Sandhills-Thedford.
S20: Johnson-Brock at Lawrence-Nelson.
O4: Kenesaw at Lawrence-Nelson.
O10: Mullen at Sandhills/Thedford.
O11: Randolph at Bloomfield.
O18: Humphrey SF at Riverside.
O24: Johnson-Brock at Falls City SH, Hartington-Newcastle at Bloomfield.