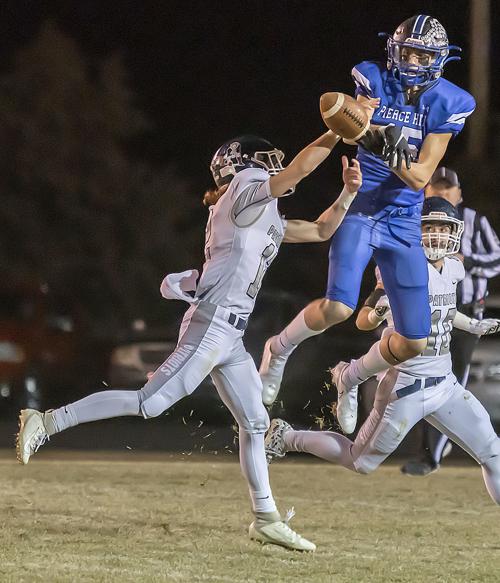 PIERCE — It's one of the first things you'll spot here when you approach town from the east side — a white billboard-like sign showcasing Pierce's athletic accomplishments.
They'll soon be sketching another, and they won't have to go too far to add it.
Hosting a rare state championship football game, No. 1 Pierce returned to the top of Class C-1 with a 28-19 victory against No. 6 Adams Central on Friday night at Pierce High School.
The Bluejays (12-0) won their fourth state title, and first since 2008, behind a balanced offensive attack. Senior Tyler Race, on a toss play, caught the left edge and jetted 48 yards for a touchdown on the sixth play of the game. Then Pierce made plays in the second half with the arm of sophomore Abram Scholting.
"We wanted to show that we could still play even though we lost a ton of seniors (from last year)," said Scholting, who threw three touchdown passes, including two in the second half. "We just wanted to come out here and prove everyone wrong and finish it off right."
When it was over, the Pierce players rushed the field and fireworks pelted the sky just outside the field. The Bluejays had flipped the script after losing 38-0 to Wahoo in last year's state championship game at Memorial Stadium.
"It definitely fueled us," said Race, who finished with 129 yards on 19 carries. "A big loss like that always hurt but made us feel hungry to come back this summer and try to make something happen, which we did this year."
Pierce had to replace most of last year's starting lineup, but they had seniors ready for their turns and a pair of sophomore game-changers in Scholting and 6-foot-5 tight end/wideout Ben Brahmer.
Both shined Friday night against Adams Central, and their chemistry — Brahmer said they were born five days a part and have been best friends ever since — showed on a play that put the Bluejays in control in the third quarter.
Scholting scrambled on a broken pass play and spotted Brahmer coming across the field near the end zone. Scholting fired the ball and Brahmer cut in front of a defender to catch it for a touchdown, giving the Bluejays a 28-10 lead.
"I saw Ben … the height advantage, so I threw it up to him he went and made the play and made an amazing play," said Scholting, who completed 13 of 23 passes for 249 yards.
Adams Central (10-3) immediately answered on Slade Smiths' 69-yard touchdown, and the Patriots had opportunities to cut even more into the deficit.
But Scholting and Brahmer, who had six catches for 95 yards, each came up with fourth-quarter interceptions.
"They are two special players," said Pierce coach Mark Brahmer, Ben's father. "Abram Scholting, I'll make a push for him, he's an all-state level quarterback. He's really special and as he gets stronger and faster and more experience he's going to be the best one in the state, as long as he stays healthy."
Pierce has always been known for its power running game. But with Scholting taking over at quarterback, Coach Brahmer opened up the playbook, and the offense took off.
"Yeah, nobody saw that coming and it took us to another level and made us a diverse team," Ben Brahmer said.
Coach Brahmer said he liked how his team came together this year. A big difference from last year: The Bluejays stayed healthy throughout the entire year.
"We've been the bridesmaid many times," Coach Brahmer said. "I've played that role quite a bit, so it's nice to be the No. 1 here. To go through this year and all the stuff that's happen in our country, our state, not knowing if we were going to have a season, God really has blessed us."
Cam Foster threw for 321 yards and two touchdowns to lead the Patriots, who were appearing in their first state final.
Adams Central fumbled twice in Pierce territory in the second quarter, including a fumble recovered by Pierce in the end zone.
PIERCE 28, ADAMS CENTRAL 19
| | | | | | | | |
| --- | --- | --- | --- | --- | --- | --- | --- |
| Adams Central |   | 7  | 0  | 10  | 2  | -- | 19  |
| Pierce |   | 7  | 7  | 14  | 0  | -- | 28  |
PIE--Race 48 run (Roth kick)
AC--Slechta 80 pass from Foster (Slechta kick)
PIE--Moeller 28 pass from Scholting (Roth kick)
PIE--Meier 33 pass from Scholting (Roth kick)
PIE--Brahmer 38 pass from Scholting (Roth kick)
AC--S. Smith 69 pass from Foster (Slechta kick)
| | | |
| --- | --- | --- |
|   | AC | PIE |
| First down | 13  | 11 |
| Rushes-yards | 28-108  | 37-156  |
| Passing yards | 321  | 249  |
| Passing | 12-28-2  | 13-23-2  |
| Fumbles-lost | 3-2  | 3-0  |
| Penalties-yards | 2-16  | 10-79  |
RUSHING--AC, Foster 7-41, Huyser 4-4, Collins 9-47, S. Smith 1-(minus) 4, O. Smith 7-20; PIE, Kruntorad 9-30, Race 19-129, Scholting 5-(minus) 18, Brahmer 1-6, Oestreich 3-9.
PASSING--AC, Foster 12-28-2 321; PIE, Scholting 13-23-2 249.
RECEIVING--AC, Slechta 3-137, S. Smith 6-149, Collins 1-(minus) 1, Huyser 2-36; PIE, Meier 2-42, Brahmer 6-95, Kruntorad 2-5, Moeller 2-57.