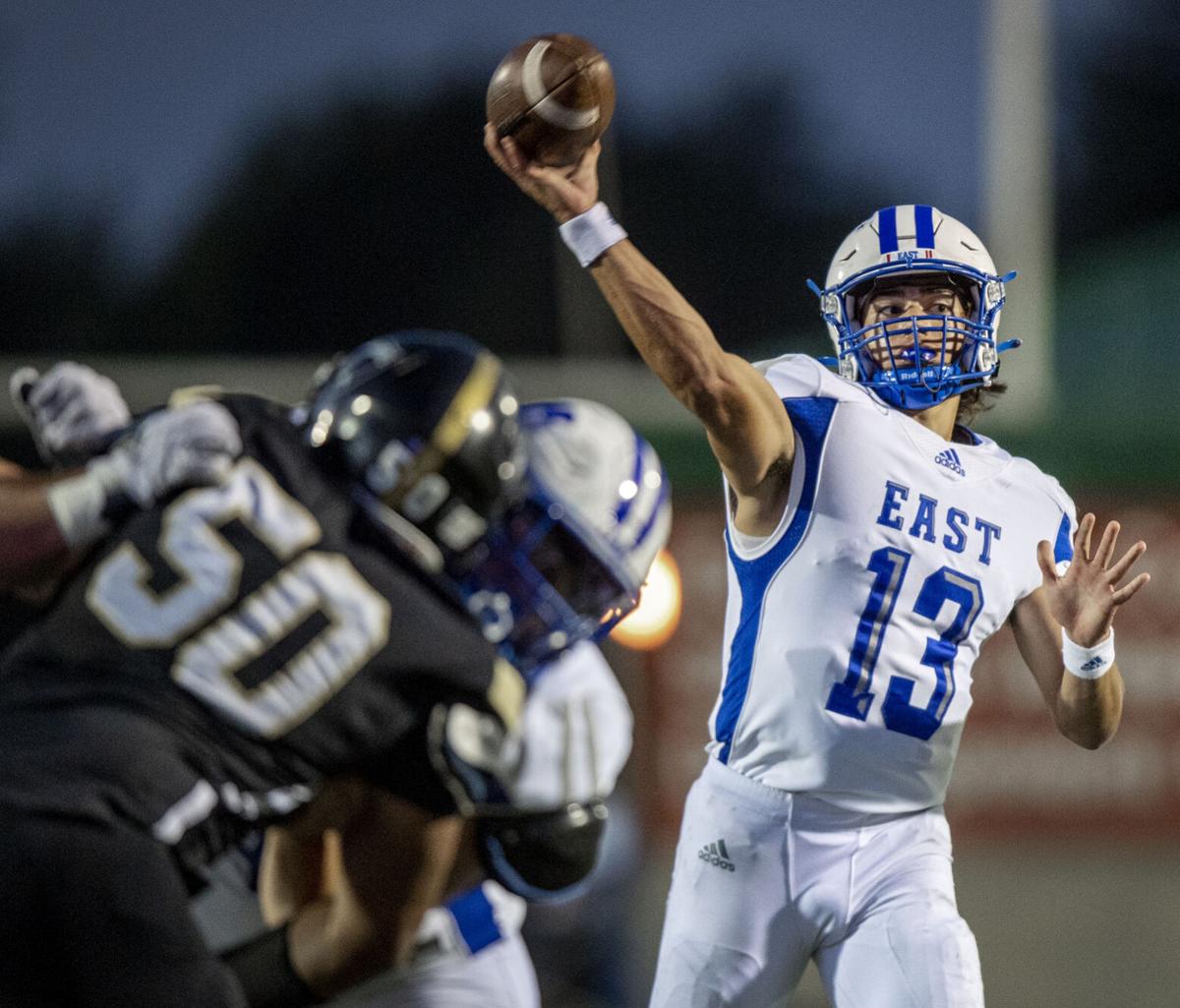 The Class A football playoffs begin Friday, and with eight matchups to follow around the state, here's the key information to know:
Game of the week
No. 10 Lincoln East (6-3) at No. 6 Gretna (8-1), 6 p.m.
The two leading passers in Class A will meet in this exciting first-round clash between Lincoln East's Noah Walters and Gretna's Zane Flores. The Spartans fell flat in their toughest game of the regular season, losing 52-7 to No. 4 Creighton Prep in Week 9, but the single-season Class A passing record is within reach for Walters this week. Gretna's only loss is to No. 5 Elkhorn South, and the Dragons have a well-rounded team with playmakers at wide receiver, linebacker and defensive back. Expect some serious scoring in this matchup.
Other matchups
(Note: Journal Star rankings are used instead of playoff seeds)
Omaha North (4-5) at No. 1 Millard South (9-0), 7 p.m.
No. 8 Columbus (7-2) at No. 9 North Platte (6-3), 7 p.m.
Kearney (4-5) vs. No. 5 Elkhorn South (8-1), 7 p.m., Elkhorn High
Papillion-La Vista (4-5) at No. 2 Bellevue West (8-1), 7 p.m.
Grand Island (6-3) vs. No. 4 Creighton Prep (7-2), 7:30 p.m., Burke Stadium
Lincoln Southeast (5-4) at No. 7 Omaha Burke (7-2), 4 p.m.
Papillion-La Vista South (4-5) at No. 3 Omaha Westside (9-0), 7 p.m.
Players to watch
Gage Stenger, Millard South: One of the state's best linebackers a season ago, Stenger has transformed Millard South into a title favorite as the team's starting quarterback. A Nebraska football commit, Stenger has totaled over 1,500 yards of offense and 22 touchdowns in seven games while turning the ball over just once. He also sat out Millard South's final two regular-season games due to injury.
LJ Richardson, Bellevue West: The Thunderbirds have dynamic game-changers at every offensive position, and Richardson might be the best of the bunch. The Wyoming commit is Class A's leading rusher this season with 1,537 rushing yards and 27 touchdowns.
Ernest Hausmann, Columbus: As Columbus' on-field leader, Hausmann almost never misses a play. His 68 tackles are the second-most on the team, and the NU football commit has also totaled 514 receiving yards and eight touchdowns at wide receiver.
Vince Genatone, North Platte: Another dominant two-way player, Genatone leads Class A with 105 tackles this season from his spot at linebacker. A dynamic 6-foot-1 athlete, Genatone has also run for 715 yards and 11 touchdowns.
Jake Appleget, Lincoln Southeast: If the Knights are going to make a strong playoff push, it all starts with their senior leader. A Nebraska football commit, Appleget has scored 10 total touchdowns on offense while lining up across the field, and his 64 tackles place him among the team's best.
High school football Week 9 is in the books. Here's all of the Journal Star's content, in one spot
Week 9! Our team was out around the city and area to uncover all of the stories that came out of Friday night — here's what we got.