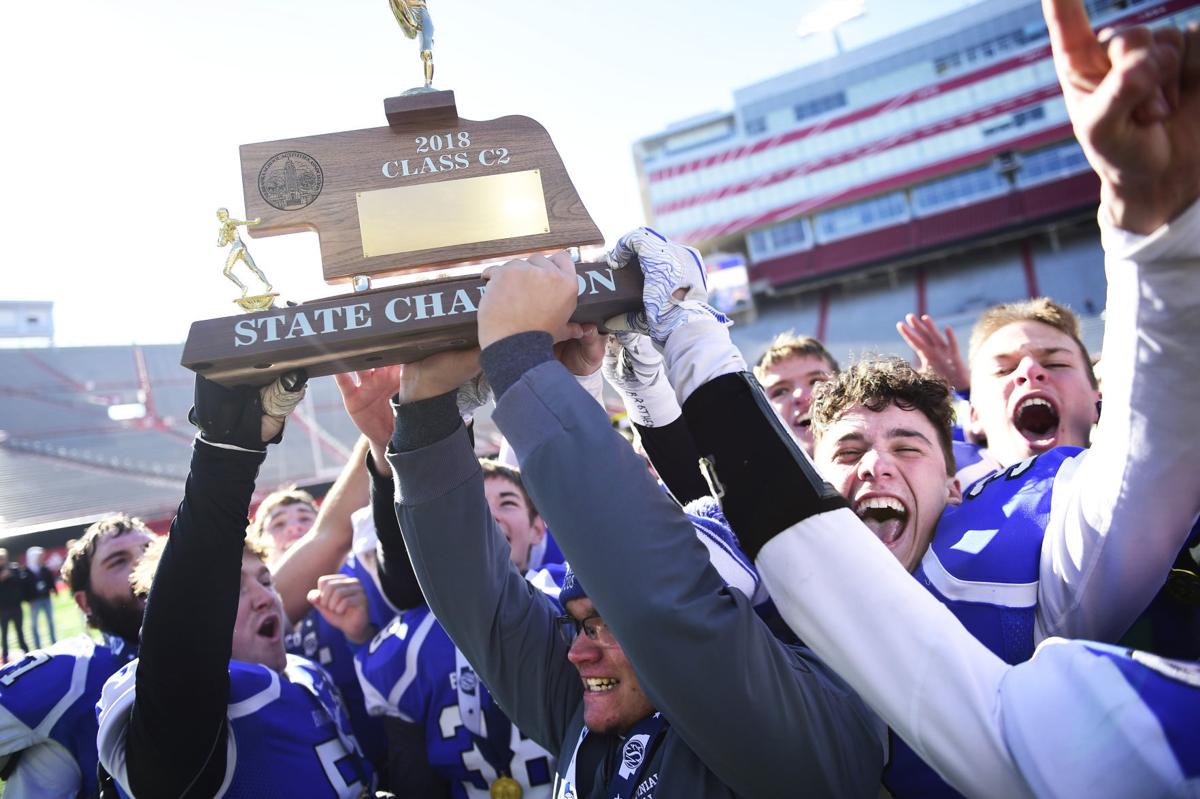 On Friday night, coach Evan Klanecky had to dust off a postgame speech he hasn't had to give in a while to his Centennial football team.
For the first time since the Week 9 of the 2015 season, the Class C-2 No. 9 Broncos lost a regular-season game, their 29-game regular-season win streak snapped in a 15-13 loss to No. 8 Battle Creek. It also ended the defending Class C-2 state champion's 15-game overall winning string as the 2017 state runner-up took home the big trophy last fall by going 13-0 and won the first two games this season.
Klanecky said the message to his young football team since Friday has been to focus on the positive, work on correcting the mistakes and move on to a challenging schedule that includes three games against teams rated above the Broncos — at No. 5 Sutton on Friday, at No. 4 Aquinas on Sept. 27 and an Oct. 11 home contest against No. 7 Shelby-Rising City, a team that beat Battle Creek in the season-opener.
"We did a lot of positive things against Battle Creek, but our sophomores made sophomore mistakes, we had four turnovers and we had a snap go through the back of the end zone," Klanecky said. "Credit Battle Creek, they're a well-coached team that's very physical, just like they are year after year. But we also found some things we can work on."
Centennial (2-1) graduated 19 seniors from a year ago, including four all-staters. With four sophomores starting on the offensive line and junior Cooper Gierhan taking his first snaps as a starting varsity quarterback, Klanecky knew there might be some growing pains early in the season.
The rough patches, however, have been balanced out by the addition of running back/linebacker Davon Brees, a senior transfer from Seward. The 5-foot-10, 195-pound Brees has exploded on the scene with 404 yards rushing and four touchdowns in the first three games, including a 99-yarder. He's also the leading tackler on defense with 36 stops, four of which have been behind the line of scrimmage.
Brees combines strength and speed as well as any player in the state, regardless of class. Brees took second in his weight class at the state powerlifting championships last winter, but also possesses sprinter speed.
You have free articles remaining.
Brees ran back-to-back 4.49 times in the 40-yard dash at the Nebraska Friday Night Lights camp in June, the main reason the Huskers have invited him to their first two home games. Brees ran a :10.68 in the 100 last spring in track and a :22.14 in the 200. He finished second in Class B at state in both events.
Brees' father, Lute, is a Broncos assistant coach
"Davon is like a little missile on both sides of the ball. He's definitely been a game-changer for us," Klanecky said. "His straightaway speed is as good as anyone in the state, he has good inside cut jump moves and he has great hands catching the football out of the backfield or in the slot.
"We're going to try to move him around as much as we can and get him at least 20 touches a game."
Brees said it's been a smooth transition to the Broncos. He's been impressed by the culture in the program and the rapid progress the offensive line has made. The lone senior, right tackle Justin Slawnyk (6-4, 275), is playing football for the first time since his freshman year. The sophomores are center Carson Fehlhafer, guards Sam Payne and Carson Prochaska and left guard Jayden Hartshorn.
"You can tell with the older players that they have a championship attitude in their approach to the game, and that's something I'm excited to be a part of," Brees said. "The guys up front don't have a lot of experience, but they're doing a great job and they continue to get better every week. They're going to be tough for people to handle by the end of the season."
The 6-1, 180-pound Gierhan has big shoes to fill as the successor to all-state quarterback Wyatt Ehlers. Gierhan, who missed all of last season with a foot injury, has completed 24 of 43 passes for 486 yards and six touchdowns and rushed for 71 more yards.
"There's definitely a lot of pressure taking over from someone like Wyatt," Gierhan said of Ehlers, now at Concordia. "It takes a lot of hard work, just trying to soak everything in. He's helped me when I've had questions, and he's told me some tricks to make things easier."