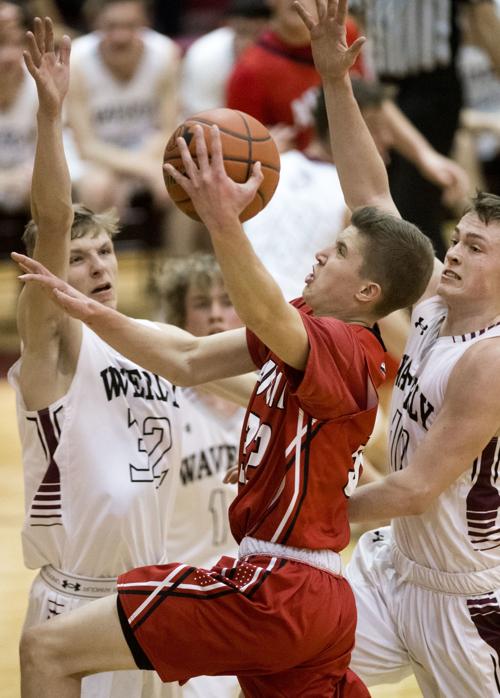 Baylor Scheierman's high school football career — better known the past two years as Air Aurora — almost never got off the ground.
The summer before his freshman year, the 6-foot-6 left-hander was ready to give up football to focus strictly on basketball. That was even before Scheierman had become a quarterback, the position where he would eventually break state records.
"Coach (Kyle) Peterson convinced me to go out, and now, I'm glad he did," said Scheierman, a South Dakota State point guard basketball prospect who signed his national letter of intent with the Jackrabbits on Wednesday.
There was some peer pressure involved as well.
"I remember how mad everyone was when he said he wasn't going to play (football)," said Cy Bullerman, a senior wide receiver who caught two long second-half TD passes to help propel the No. 2 Huskies to a 35-10 semifinal win over Wahoo and land Aurora (12-0) in the Class C-1 state championship game against No. 4 Ord (11-1) at 2:45 p.m. Tuesday in Memorial Stadium.
Peterson remembers using a soft sales approach with Scheierman, who was a wide receiver in middle school. Scheierman checked out equipment in the spring, but was bringing it back the week of Aurora's summer clinic heading into his freshman year.
"I told him that if he missed it and still wanted to play, he knew who to talk to," Peterson said. "I thought if I left him alone and didn't hassle him too much, that he'd miss it. He'd see all his friends were out there playing football and he wouldn't have anybody to shoot baskets with. The rest is history."
You have free articles remaining.
And an illustrious one at that. After throwing for 2,424 yards and 28 TDs a year ago in his first year as a starter, Scheierman has taken it to another level this fall. He's completed 65 percent of his passes for a C-1 and 11-man state record 3,734 yards and 55 touchdowns, another C-1 and 11-man state mark. His 3,974 yards of total offense this season is also an all-class state record.
Not bad considering football takes a back seat to hoops most of the year. Between playing on his high school team and Omaha Sports Academy during the AAU season, the all-state basketball player is on the court from November through the end of July.
"Football is a nice break from it, a chance to do something else I really enjoy with my friends," Scheierman said.
The AAU teams in Nebraska take a break in June to allow their players to be with their high school teams during that time. Scheierman and his group of receivers used that month to lay the groundwork for this season.
"Those kids throw a lot in the spring and summer after weights and spend a lot of time playing 7-on-7," Peterson said. "Our offense is installed before the season starts and we build everything in June. Baylor was really good about getting to what everything we needed him to in June."
The entire varsity basketball team this season is playing football this fall, so the chemistry between receivers and quarterback is constantly growing.
"Baylor throws the same passes in basketball as he does in football," said senior wide receiver Cade Reichardt, a Concordia basketball commit who has 59 catches for 971 yards and 14 touchdowns this season. "We trust Baylor will put it (the ball) in a position that we're the only ones who can get it. You've always got to be ready because if you're open, Baylor will find you."
In addition to Bullerman and Reichardt, Scheierman has two other seniors — 6-4 Jordan Stevenson (54 catches, 816 yards, 13 TDs) and Rylan Willis (37 receptions for 452 yards, six TDs) — who figure prominently in the passing game.
The dominant offensive front of tackles Nick Hutsell, Ryan Marlatt and Trevor Cumpston, guards Brad McDonald and Carter Pursley and center Brandon Otto has been key to Aurora's offensive explosion in its first year in Class C-1.
"A lot of teams in C-1 haven't been ready for our physicality and the tempo we play on offense," Stevenson said.