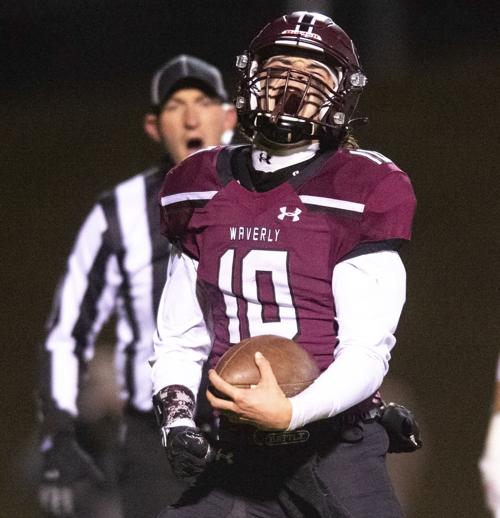 When Cole Murray went down hobbling with an injury in Week 2 of Waverly's season, the Vikings feared the worst.
With pain coming from his lower leg, an Achilles injury could have ended Murray's season and torpedoed the Vikings' playoff hopes. However, an MRI showed that the injury only needed a couple weeks to heal, and Waverly's starting quarterback is now back in action at a critical point in the season.
The Class B No. 5 Vikings currently sit at 3-2 with a brutal four-week district schedule ahead of them, a stretch that might require an experienced quarterback to navigate through. But as injuries tend to do, Murray's absence simply meant more opportunities for other players.
Junior Trey Jackson filled in well at quarterback but the biggest changes came at running back, where junior Preston Harms and sophomore Evan Kastens have seen expanded roles.
"Cole runs the ball a lot for us and not having him, we changed up our game plan a bit to rely on those running backs to carry the ball more," said Waverly coach Reed Manstedt.
After a heart-breaking double-overtime loss to Omaha Skutt, the Vikings suffered another tough defeat one week later when Elkhorn scored a long touchdown run and two-point conversion late in the fourth quarter of a 14-13 win over Waverly.
The Vikings found a new gear, though, over the next two weeks with a 41-34 win over Northwest and 38-7 win over Mount Michael last week. Kastens ran for 150 yards and two touchdowns in that win over Northwest, fullback Eddie Johnson has over 200 rushing yards and three touchdowns over the last two weeks, and players such as Harms and Garrett Jenkins have found success the running the ball as well.
After scoring 57 total points over the first three games, Waverly turned it up a notch by combining for 79 points in its last two games.
"Going into the season we had about five or six guys that felt all could emerge as the guy (at running back)," Manstedt said. "Credit our offensive line, one of the things I think was missing weeks one to three was our rushing game. For us to develop that run game against Grand Island Northwest and really get that thing going was the big difference for us."
Keeping up that same level of success in its rushing attack will be important for Waverly's final four regular-season games, which all come against strong opponents. Waverly ends its season with games against No. 8 Beatrice, No. 3 Plattsmouth, Crete and No. 9 Norris, all opponents which will test the Vikings' defensive strength.
In 2020, Waverly also started its season 3-2 before winning its last four regular-season games by a combined margin of 133-19. Given the strength of the opponents ahead, that level of dominance may be hard to achieve.
But, with Murray back in the fold, the Vikings know their senior quarterback will provide the leadership and calmness they need down the stretch.
"Just watching Beatrice on film, they're big and they're physical, so that's going to be a great game to prep us up for a physical Plattsmouth team as well," Manstedt said. "Crete is much-improved, Norris is a rivalry game, and that quarterback of theirs is as good as anybody in Class B. These last four games aren't a walk in the park by any means."