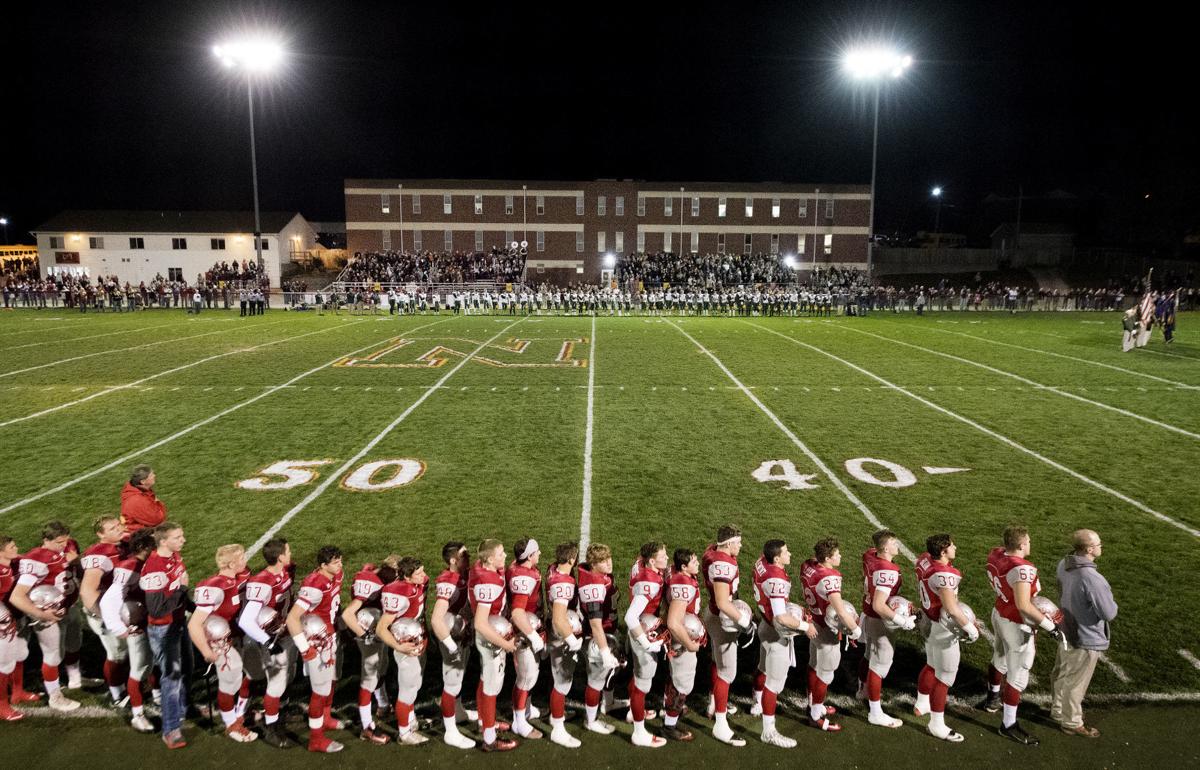 Glen Snodgrass loves the Huskers.
His two boys' bedrooms are "draped in red."
Virtually every player on the York football team he's coached the last six years is a Husker fan, some who dream of playing in Memorial Stadium one day.
But not on Friday nights, when the focus is the blue and gold Dukes and the students, families, friends and other fans who fill York's football stadium, making it the weekly social event in the town 50 miles west of Lincoln.
That makes the Big Ten's new television deal to play six prime-time games annually on Fridays over the next six years disappointing.
"The people in our stands are not just parents, aunts and uncles (of players), they are community members who just want to support our team," Snodgrass said of high school football games in York. "It's a huge deal on Friday nights."
Snodgrass said since the TV deal was announced -- and Nebraska said OK to hosting one Friday night game in a three-season period -- he's heard and read a lot about how it would affect fans. Not so much about high school players and coaches.
Snodgrass hasn't missed a game in 30 years, either in the stands, watching on TV or listening on the radio. But next year, when Nebraska plays its first Friday night game -- Sept. 29 at Illinois -- the coach's attention will likely be focused on another field.
"It might very well be the first Husker game I'm going to miss in 30-plus years," he said.
Every Friday night in the fall, about 150 high school football games unfold on fields across the state, and most coaches aren't thrilled that the Big Ten wants to trample on their turf, said Darin Boysen of the Nebraska Coaches Association.
High school football on Friday nights is special, he said, and moving to another night isn't as easy as it sounds. There's a "trickle" effect when schools move those football games because they interfere with other sports events and school activities. Can dates be changed? Probably, he said, but it's encroaching on tradition.
"High school coaches that have weighed in have said this is the night for high school athletes and we'd like to see that respected," Boysen said.
Jim Tenopir, executive director of the Nebraska School Activities Association, said he figures many high schools will move their games to another night when Nebraska plays on Friday.
"I can't fathom a lot of high schools wanting to continue a Friday ballgame if the Huskers are playing," he said.
Big Ten Commissioner Jim Delany called Tenopir the day before the announcement and Tenopir has had a couple of conversations with NU Athletic Director Shawn Eichorst.
Eichorst pledged to do what he can to help smooth the transition and make sure high schools have enough lead time to prepare, Tenopir said. Some in prep sports circles think a portion of the revenue from Friday games in the Big Ten should somehow help high school sports.
"I'm not going to hold my breath on that one, but it's a possibility," Tenopir said. Getting public service announcements for high school sports or negotiating the use of some university facilities that high schools now pay for are also possibilities, he said.
A downtown dilemma
Messing with high school schedules is only one complication from the Big Ten turning on the Friday night lights.
In Lincoln, Husker fans generated $47.3 million in revenue from food, shopping, transportation, recreation and lodging during home football games in 2013-14, according to a report by Eric Thompson of the University of Nebraska-Lincoln's Bureau of Business Research.
That's nearly $6 million per Saturday home game. But Thompson and Lincoln Chamber of Commerce President Wendy Birdsall said it's hard to know how a Friday night game might change that.
It could mean more fans would spend the night at a hotel, and fans may choose to take a vacation day and get downtown early. It's possible, Thompson said, fans would even like changing it up from the normal Saturday routine.
"There's a part of me that says when people have more options, when there's more variety, that's a good thing," he said.
Birdsall said she figures people who like to shop and eat out in Lincoln will find a way to do that, no matter when the Huskers play.
Those in charge of traffic and parking, however, will likely need a revised game plan.
Presumably fans would start pouring into Lincoln sometime before -- or around the same time -- all the employees who work downtown leave for the day.
"That would be a little interesting," said Lincoln Police Capt. Jason Stille. "But yeah, you know how we are. If they are coming, we make it work."
But fair warning to downtown employees: Getting out of your parking lot could be a bit frustrating.
"That would be one of the challenges," Stille said.
On a football Saturday, fans take 99 percent of the available parking spaces, said Wayne Mixdorf, the city parking manager. People who work downtown rent about 6,000 of the city's 8,000 spaces on a monthly basis. Making those spaces available on a Friday afternoon would be tough.
"I think it would be anywhere from incredibly difficult to unmanageable," Mixdorf said.
"If we don't basically declare a holiday, we're going to be dealing with all the traffic and all the vehicles normally moving in here to downtown when downtown is already occupied."
There is precedence. After the 9/11 attack, the Huskers moved a home game to a Thursday night. They made it work, UNL Parking Director Dan Carpenter said, but he doesn't remember there being time for tailgating. And he remembers the postgame discussion: Let's not do that again.
Drawing a crowd
Lincoln Public Schools already juggles high school games on Thursday and Friday nights, and uses not only Seacrest Field but Beechner Field at Lincoln High -- much closer to downtown.
Having to figure out how to accommodate a Husker game would be tough, said LPS Athletic Director Kathi Wieskamp. This year, LPS played doubleheaders at Seacrest on six Friday nights and there were four games on Thursdays. Attendance dips on Thursdays because there's school the next day and at 4:30 games because people have trouble getting off work.
The fans in the stands -- anywhere from more than 6,000 to about 1,000 -- translate into dollars that support high school athletics across the district. Concession sales at high school games support programs at individual schools, Wieskamp said.
At the other end of the equation, a lot of the workers who sell concessions at Nebraska home games are high school students and the staff members who scan tickets and perform other tasks might be the parents or grandparents of a high school football player.
Because of all the complications, Michigan told the Big Ten it wouldn't participate in a Friday night game, according to reports. Officials from Ohio State and Penn State said they would be open only to road games.
Nebraska, it appears, didn't say "no," so for at least one Friday night home game over the next three years, football fans and restaurant workers and police officers will likely call an audible.
And for the Snodgrass family in York, it likely won't dampen their enthusiasm for the Huskers.
"This won't change the way we feel about Big Red," Glen Snodgrass said. "We know it's coming from the Big Ten."