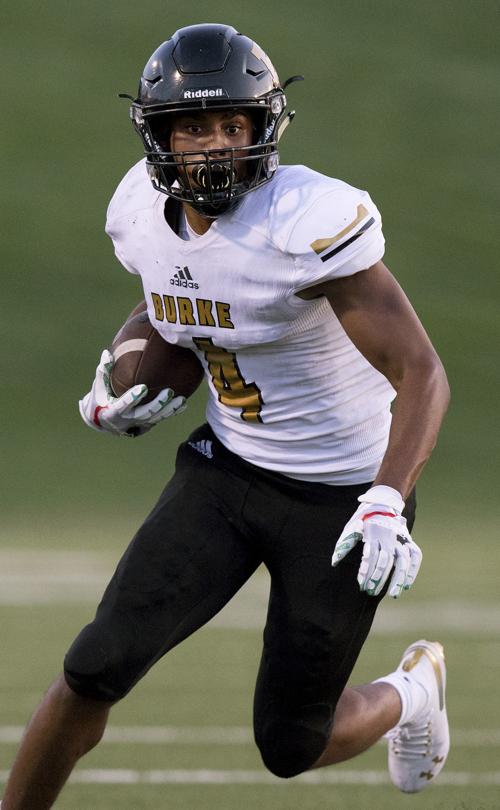 Taking a look at the football playoff matchups in classes A and B.
Class A
No. 9 Elkhorn South (7-3) at No. 2 Millard West (10-0), Millard South's Buell Stadium, 8 p.m.: For the second straight year, the Storm went on the road and knocked off a higher seed in the first round as running back Eli Hustad rushed for 204 yards and quarterback Elliott Brown added 112 in a 23-7 win at Kearney last week. Elkhorn South will find the going a little tougher against a Millard West defense that shut out Lincoln Pius X in the first round.
No. 4 Omaha Burke (9-1) at No. 1 Bellevue West (10-0), 7 p.m.: It's the defending state champion against the No. 1 ranked team. The two most highly recruited players in the state on the same field — Notre Dame recruit and first-team Super-State wide receiver/safety Xavier Watts for Omaha Burke (61 receptions, 1,072 yards, 13 TDs; 61 tackles, three interceptions) and Nebraska wide receiver commit and two-time first-team Super-Stater Zavier Betts for Bellevue West (47 catches, 933 yards, 15 TDs). A pair of 1,000-yard rushers in Bellevue West's Jay Ducker and Burke's Jaylon Roussell and a pair of first-year quarterbacks lighting it up this season in Bellevue West's Nate Glantz (2,407 yards passing, 30 TDs) and Burke's Reid Burke (1,874 yards, 20 TDs) just add to the intrigue.
No. 6 Grand Island (9-1) at No. 3 Millard South (9-1), Buell Stadium, 4 p.m.: A rematch of last year's quarterfinal won by Grand Island 27-24 after Millard South held a 10-point lead in the fourth quarter. The Patriots' 1-2 combination of running back Isaiah Harris (1,676 yards, 26 TDs) and quarterback TJ Urban (995 yards, 12 TDs) running behind big, physical offensive front makes Millard South formidable. The Islanders, led by the senior trio of quarterback Carson Cahoy, running back/linebacker Caleb Francl and wide receiver/defensive back Broc Douglass, appears to be back on track with their 21-point win over Lincoln Southwest in the first round following an upset scare from Lincoln East to end the regular season.
You have free articles remaining.
No. 7 Omaha Westside (8-2) at No. 5 Lincoln Southeast (9-1), Seacrest Field, 7 p.m.: The Warriors are healthier now than they were in week 3 when Southeast won 22-17. One of those back to 100 percent now is Super-State junior running back/defensive back Avante Dickerson, who scored on a 25-yard TD pass and broke a 60-yard run for another score in Westside's 49-13 first-round trouncing of Creighton Prep. QB Cole Payton rushed for 75 yards and threw for another 210 against Prep.
Class B
No. 8 Norris (7-3) at No. 3 Scottsbluff (10-0), 6 p.m. MST: The big question here is the health of Scottsbluff's 6-3, 220-pound all-state quarterback/linebacker Sabastian Harsh, who sat out the Bearcats' 48-6 first round win over Alliance with a knee injury. Coach Jud Hall said earlier in the week he was unsure whether his star, who has rushed for 1,174 yards and 22 TDs and made 48 tackles this season, would play against the Titans. Scottsbluff's Jacob Krul has ran for 1,512 yards this season and 14 scores, working behind an offensive line featuring Northwest Missouri State recruit Sam Clarkson (6-6, 270).
No. 4 Omaha Roncalli (8-2) at No. 5 Northwest (9-1), 7 p.m.: Roncalli has a high-powered offense behind QB Jack Dotzler (2,580 yards passing, 32 TDs), receivers Shane Orr (40 catches, 762 yards, 14 TDs) and Ryan Fenoglio (39 catches, 754 yards, 8 TDs), and top linemen Nolan Gorczyca. Northwest senior quarterback Ran Sanders passed for 198 yards and rushed for 72 more to lead the Vikings past Lexington 34-3 in the first round.
No. 7 Hastings (8-2) at No. 2 Waverly (9-1), 7 p.m.: Waverly's best defense to slow down the Tigers' passing game with junior quarterback Jarrett Synek (2,363 yards, 27 TDs) and the bevy of junior receivers led by Charlie Shoemaker (50 catches, 683 yards, eight TDs) might be its ball control, smash-mouth running game. The Vikings average 351 yards per game on the ground behind the trio of quarterback Mason Nieman (1,049 yards, 11 TDs) and running backs Zane Schawang (948 yards, eight TDs) and Evan Canoyer (611 yards, 17 TDs).
No. 6 Bennington (7-3) at No. 1 Omaha Skutt (10-0), 7 p.m.: Bennington quarterback Nick Bohn gave Skutt fits in the season-opener (won by Skutt 49-28) as he completed 44 of 66 passes for 407 yards and four TDs. That set the tone for the rest of the season as he enters the state quarterfinals with 2,915 yards and 37 TDs. The SkyHawk defense has tightened up late in the season, giving up just nine points in the last three games.