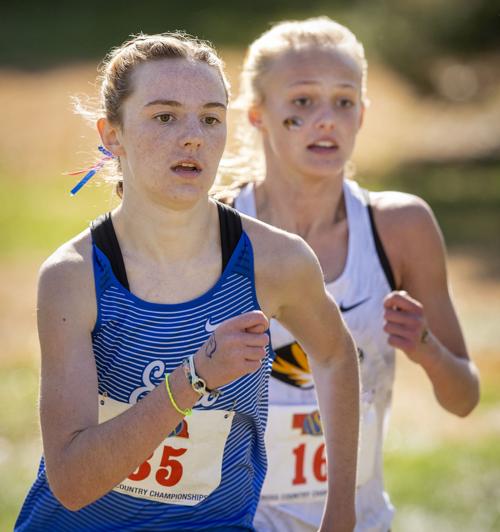 The Lincoln East girls cross country team, winner of the last two Class A state championships, returns enough great runners to make it a three-peat this season.
Spartan coach Brian Kabourek is just hoping the team will get that opportunity, and the season can go off safely during a pandemic.
This year's safety procedures for COVID-19 already have coaches working overtime. The job is more stressful, too, as coaches hope teams can safely make it through the eight-week season.
"I was talking to (Papillion-La Vista South coach Jeremy Haselhorst) and it's amazing that his nightmares are the same nightmares that I've been having, and I think that every coach in every sport has been having, is that we get to district time and all of a sudden through contract tracing, or something like that, your whole varsity group gets quarantined and you don't get a chance to run at districts, and you don't get a chance to go to state," Kabourek said.
The Class A cross country coaches have been passionate about what they can do to help have a season, and have held several meetings online. They discussed topics such as having smaller meets, and how to make the finish area at meets safe.
One meeting lasted about 2½ hours to work on a list of recommendations to send to athletic directors.
"I think that a lot of people were saying, 'OK, let's see if we can get this thing started,' and I think the goal of the coaches that were meeting together was, we want to get started, but we also want to finish it and we want to get to Oct. 23 (state meet)," Kabourek said. "We were looking long term, and not just short term."
During the first few weeks of practice, Kabourek said some of the athletes were anxious that the season was going to get canceled.
"My worst fear is the kids just don't get a chance," Kabourek said. "You want to see how good your team is, but my worst fear is kids just don't get a chance to see how good they can become."
East returns three runners who medaled at state last year: Berlyn Schutz (second), Kylie Muma (fourth) and Jenna Muma (14th). With two other medalists in graduated runners Taylor Searcey and Abi Schmidt, East won state with 39 team points, which was 20 better than runner-up Fremont.
East also returns Izzy Apel and Eve Weber from the state title team.
"We've got five girls coming back (from our top seven) and there are a couple of them that have really improved from last year," Kabourek said. "We got a couple kids that need to get healthy. And I expect a couple of freshmen to vie for varsity spots."
Fremont only had one runner graduate from its state runner-up team.
Schutz had an outstanding first year, winning her first seven races before taking second at state in a photo finish with Elli Dahl from Fremont. Schutz has run well in practices this year, Kabourek said.
Kabourek said it will be interesting to see what effects not having a track season last spring will have on cross country.
"The kids worked out, and I know they kept running after the track season got canceled, but in terms of getting speed workouts in, it wasn't the same," Kaboruek said.
Some of the East runners are dealing with minor injuries, which may be a result of not having a normal offseason training schedule.
East had its first two meets of the season — at Papillion-La Vista South and Millard South — canceled because those meets would be too large with the restrictions this year.
So now the Spartans will start the season on Sept. 3 with a small meet at Pioneers Park with Lincoln Southwest, Papillion-La Vista South and Lincoln High.
Get in the game with our Prep Sports Newsletter
Sent weekly directly to your inbox!