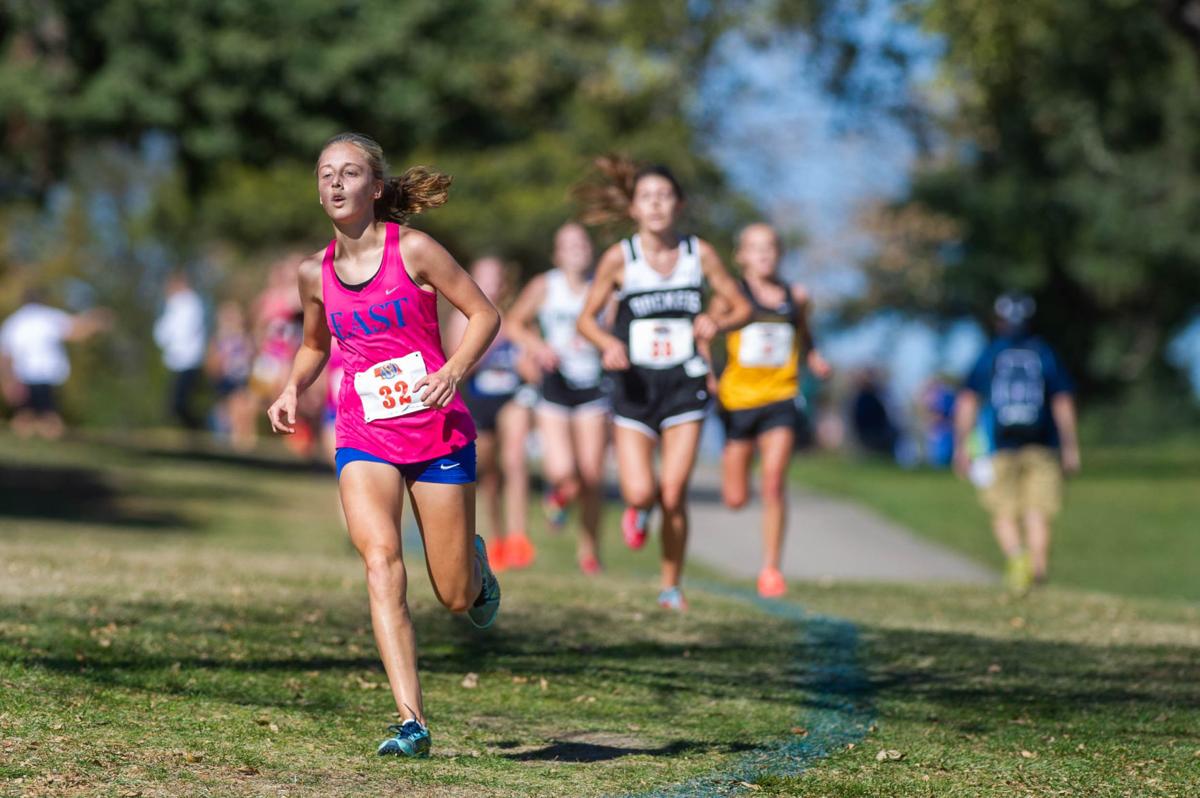 KEARNEY — The first win of the day for the Lincoln East girls cross country team came early, when all seven runners showed up for the team bus and able to race.
Later in the day came a victory several years in the making, with East winning the Class A state championship in a team race so close that the East runners huddled up a few minutes after the race not certain if they'd done enough to win. They had, edging runner-up Fremont 65-71, the closest margin of victory in Class A since 2014.
Just showing up for the bus may sound simple, but things haven't always been simple for East. It has a group of runners that most teams are envious of, but they've also had a few setbacks.
Last year, the Spartans were favorites to win, but Madi Muma was sick the day of state and couldn't run. And East still had a chance to win.
This year at districts, one of East's best runners, Taylor Searcey, was sick. Earlier this season, at the UNK Invite, Abi Schmidt was sick, and Muma didn't run. The coaches have been cautious with Muma because she's collapsed a few times during races. East finished third at UNK. Was the state title that seemed destined for East up for grabs again?
On Friday, East started the race closer to full strength.
"Several coaches came up to me today and said, 'You got everybody here this time,' and fortunately I was able to say yes," said Brian Kabourek, who got his first state title as head coach.
Adversity still came for East on Friday, with Searcey falling during the race. But she got up and finished, and East did just enough.
Sophomore Jenna Muma led the Spartans, finishing in second place, and Schmidt was 10th, passing a runner near the finish to save a team point. Madi Muma not only got across the line, but finished 12th. Senior Abby Volkmer finished 22nd. The big one is your fifth runner. Coaches are anxious until they see that fifth runner cross, and Searcey did, in 28th place.
You have free articles remaining.
"Taylor took a spill at the 2,000 and fell down and probably lost 30 seconds, but then she moved up. That was huge," Kabourek said.
East, which won state in 2012, had finished second or third at state four times in the past five years, including runner-up finishes the past two years.
"Sometimes to be a state champion you got to have it all work right on that one day, and we had a lot go right today," Kabourek said. "We had a lot of things that didn't go right, but we had enough go right."
Kabourek had told the runners after the race to be proud of what they had done, and how they'd persevered. Then the good news came.
"I didn't know. I was really hoping," Jenna Muma said. "We really wanted it, and this year we got it and I'm so happy."
The other girls team champions were Lincoln Pius X (Class B), Holdrege (C) and Ainsworth (D).
Norris junior Samantha Palermo won Class B, and just her second win of the year came as even a surprise to her.
"I wasn't expecting to win, and I don't think anyone else was," Palermo said.
How did she move up in a race where several runners were capable of winning?
"I just kept my pace. I refused to slow down," Palermo said.
Kaylie Crews, a sophomore from Papillion-La Vista South, won Class A, and her time of 18 minutes, 42 seconds also claimed the all-class gold medal. Lucia McKeag from Ogallala won in Class C. In Class D, Rylee Rice of Ainsworth won for a third time, and she'll have a chance for a very rare four-peat next year.
Get in the game with our Prep Sports Newsletter
Sent weekly directly to your inbox!