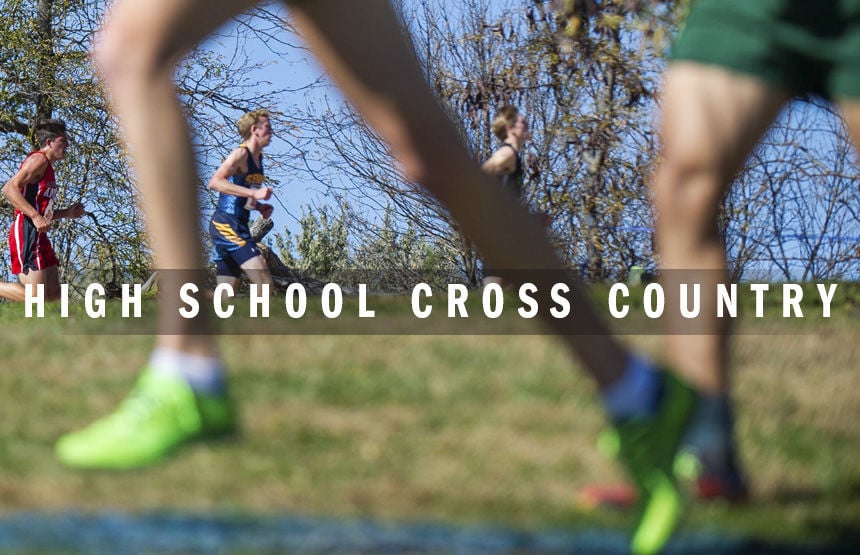 PAPILLION — It wasn't a surprise, but it was still impressive what Lincoln East freshman Berlyn Schutz did in her first high school cross country race on Saturday.
Schutz is already an accomplished runner, winning lots of middle school cross country races and placing at national track meets. Her best time in the 1,600 meters in track (5:01 seconds) is faster than any high school girl in Nebraska ran last season.
Now Schutz is running at the longer 5,000-meter distance and against really good and experienced runners, but that didn't stop her from being the winner on Saturday at the Titan Classic held on the campus of Papillion-La Vista South High School.
About halfway through the 3.1-mile race there was still a lead pack of five runners, but then Schutz surged ahead in convincing fashion to win in 19:00. She was 14 seconds ahead of the second-place finisher, Jenna Muma of Lincoln East.
The winning time was just 7 seconds off the meet record and 33 seconds off the course record. The course record of 18:27 was set by Jeralyn Poe of Lincoln North Star during her junior year in 2013. Poe is a runner who Schutz may eventually be compared with.
Lincoln East coach Brian Kabourek has known for a few years that Schutz would probably run at East because her sister Ani is on the team. On Saturday he got to see Schutz race for the first time for the Spartans.
"What I would liken it to is watching a commercial of a car you really want to buy and then finally getting a chance to test drive it and see," Kabourek said. "I've seen her race, but I haven't had an opportunity to see this type of atmosphere for her. Most of the races I saw her compete in, her and (Kylie Muma) were so far ahead of people."
At most meets Schutz will face good competition and have to give a great effort to win, and that was the case in Saturday's strong field.
You have free articles remaining.
"You had the defending state champion (Kaylie Crews of Papillion-La Vista South) and you had the runner-up in Jenna," Kabourek said. "One of the things I always tell the girls is if you're competing hard against the girls on our team, then you're going to be one of the better girls out there."
Crews, the all-class state champion last year, finished fifth in 19:17.
If Schutz was feeling any pressure in her first meet, it didn't show, Kabourek said.
"She's confident, and I think she likes to race," he said. "I think she gets better the more competition there is. … She's a ninth grade girl. She's goofy, she laughs at weird things, and not much fazes her."
It was a dominating day for East in winning the team title, with all five scoring runners in the top-10, including three freshmen. Jenna Muma finished second, freshman Kylie Muma was fourth, senior Taylor Searcey was sixth and freshman Izzy Apel was ninth.
Kabourek was curious to see how East would do because the Spartans hadn't raced a lot during the four weeks of practice.
"It was nice to see how competitive we were," Kabourek said. "I like the fight and the grit we showed in the last 500 meters."
East, which won state last year and then added all those good freshmen, had a team score of 22, with runner-up Papio South scoring 47.
Lincoln Southwest senior Tyler Boyle looked really strong in winning the boys race by 23 seconds in 16:19, just 9 seconds off the meet record.
"I wanted to run faster, but this is the first week of the season and I'll have opportunities to run faster the rest of the year," Boyle said.
Southwest had five in the top eight to win the team title and was even missing a varsity runner due to injury.