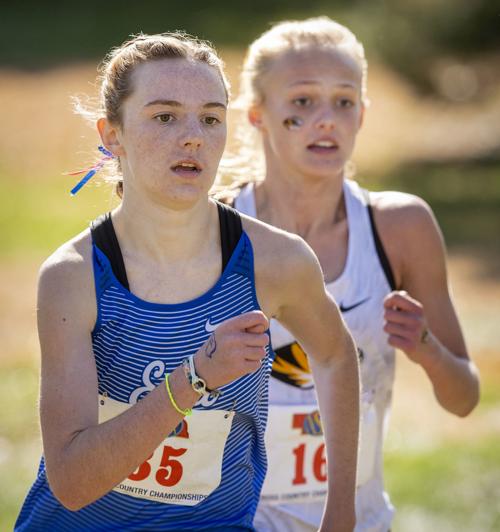 KEARNEY — In the sport of cross country, this was the equivalent of a basketball buzzer-beater.
At the state cross country meet on Friday at Kearney Country Club, there was one of the closest finishes you'll ever see in the sport in the Class A girls race.
Fremont's Elli Dahl was the winner of that race, and by doing so she beat the season-long No. 1 runner in the state, Berlyn Schutz of Lincoln East.
The race came down to the final few feet, with Dahl passing Schutz about 5 yards from the finish line. Schutz saw Dahl coming and lunged for the finish line, but Dahl won.
Dahl's winning time for the 5,000-meter race was 18 minutes, 35.6 seconds. Schutz was timed at 18:36.0.
Schutz had the lead coming around the curve into the finish, but she was fading and Dahl was picking up steam. Schutz looked over her left shoulder and saw Dahl with about 10 yards to go and tried to sprint ahead, but was unable to beat Dahl.
"I picked up my knees and just tried to get faster every step," Dahl said.
Schutz, a freshman who had won all seven of her races this season, still led East to the team championship.
East coach Brian Kabourek praised Dahl for having a great final kick, and said the loss will make Schutz a better runner.
"The thing about championship day in cross country and track is that you got to have it on that day, and when (Schutz) turned the corner you could see that she didn't have much left in the tank and Dahl was gaining quickly," Kabourek said. "That doesn't diminish anything (Schutz) did during the entire year. She learned something today, and I'd rather have her learn that lesson as a freshman."
Dahl is also the all-class champion for having the fastest time in all four classes.
East won back-to-back state titles and its third overall. The Spartans had a remarkable 2-4-9-13-14 finish for a team score of 39. That was 26 points better than last year's championship team.
The Spartans' had five runners finish in the top 15 — freshman Kylie Muma was fourth, senior Taylor Searcey was ninth, senior Abi Schmidt was 13th and junior Jenna Muma was 14th.
For Searcey it was her first state medal. Schmidt earned her fourth, a big accomplishment in Class A girls. She's just the second East runner to win four state medals.
"I thought our seniors really stepped up today," Kabourek said. "The freshmen get a lot of publicity, and rightfully so, but I just thought the seniors came up big today."
East was the No. 1 team, but had been beaten by Fremont early in the season on the same course, and there was pressure to win state again.
Searcey looked at it differently.
"We write each other state notes, and I told them all this is an opportunity, and this isn't pressure," Searcey said. "I think pressure is something that can get to people."
The other team champions were Gering in Class B, Boone Central/Newman Grove in Class C and Ainsworth in Class D.
The city of Hastings had two individual champions, with Chelsey Espinosa from Hastings in Class B and Alayna Vargs from Hastings St. Cecilia in Class D. Conestoga sophomore Danie Parriott won in Class C.
In Class D, Rylee Rice from Ainsworth came up just short of a fourth individual state title when she finished second on Friday.
Behind Lincoln East's girls title and Lincoln Southwest's triumph in the boys division, city schools performed at a high level at the state cr…
Get in the game with our Prep Sports Newsletter
Sent weekly directly to your inbox!