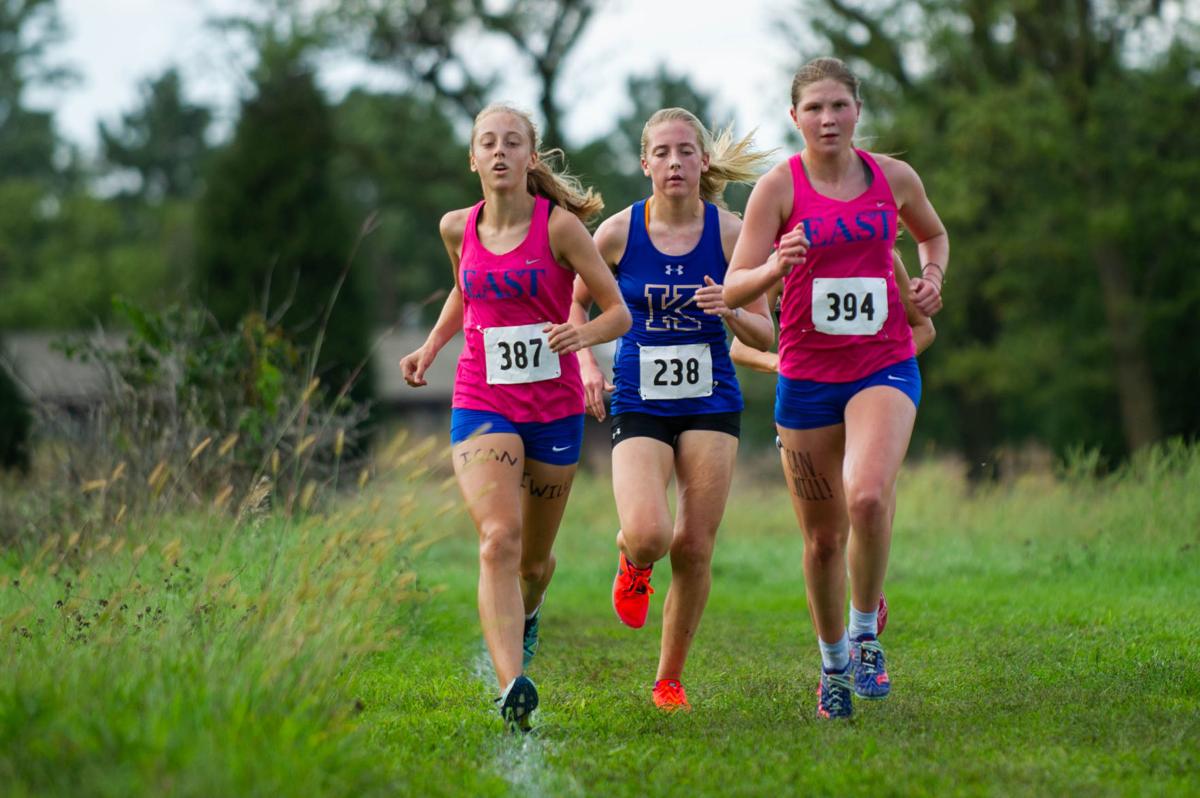 The Lincoln East girls cross country team won the Class A state championship last year, giving the Spartans the top prize after finishing as state runners-up the previous two seasons.
And what many people did not know at the time is that East was probably about to get even better. There were two really good middle school runners in Lincoln and they each had sisters who were already on the East cross country team and were planning to be Spartans in 2019.
Those two middle school runners, Berlyn Schutz and Kylie Muma, are freshmen now and will run their first high school race Saturday at a meet hosted by Papillion-La Vista South.
Everything about what they've already done points to them having quick success at high school meets. In track, they've already run faster than most high school girls, even without having the same level of training as high school runners get with several practices per week and competition to push them.
Schutz is the younger sister of Ani Schutz, who was on the two state runner-up teams and is a senior. In the 1,600 meters at a middle school track meet, Berlyn Schutz ran a time of 5 minutes, 1 second. For perspective, the Lincoln East school record in the 1,600 is 4:59. The fastest time for a high school girl in Nebraska in 2019 was 5:04.32. That was by Jenna Muma, who is now Schutz's teammate.
Ani Schutz also won the middle school state cross country meet last year. This summer at a Junior Olympics national track meet she placed first in the 2,000 steeplechase (7:06), second in the 1,500 (4:37) and fifth in the 3,000 (10:28).
Kylie Muma is the younger sister of Madi and Jenna, who were each on the Spartans' state championship team last year. Jenna Muma finished second at state last year individually and is a junior. Madi Muma finished 12th at state last year as a senior.
Kylie Muma has a best time of 5:07 in the 1,600 meters. After the cross country season last year, there was another meet, the Nebraska Cross Country Festival, a nonsanctioned meet that allows runners from all four classes to run against each other. Jenna Muma won the race, with her eighth-grade sister finishing in second place, less than a second behind.
You have free articles remaining.
After East won state last year, coach Brian Kabourek was relieved to win after coming close before that, and was also looking forward to this year, knowing what was coming.
"We knew they were coming to East, and we knew the talent that they had," Kabourek said.
Kabourek has known about Kylie Muma for several years while coaching her sisters. Madi Muma is a great runner, winning the all-class gold medal in the 800 meters at the state track meet twice. But already as a seventh grader Kylie Muma was showing how good she was, too, when she ran the 1,600 in about 5:10 at a middle school track meet.
"Madi's comment to me was, 'I'm not even the fastest one in my house anymore,'" Kabourek said.
Just earning one of the seven varsity spots will be an accomplishment.
"The competition is getting fierce, and we got two other freshmen that are challenging for varsity positions," Kabourek said.
Berlyn Schutz won the final two time trials East had since practice began, although Jenna Muma and Abbie Schmidt were held back due to illness.
In trying to win state again, East will face tough competition from Fremont, which was the state runner-up last season and had three freshmen in its top five.
And in the first meet of the year East will race against Kaylie Crews, the all-class cross country champion last year from Papillion-La Vista South.