Millard North threw Lincoln Southwest off guard with a 1-3-1 look on defense Thursday night.
But Lincoln Southwest showed it can throw in a defensive wrinkle, too.
The Silver Hawks went zone late, using a strong defensive effort to upend the Class A third-ranked Mustangs 56-45 in the season opener at Southwest High School.
"We played zone and I had no anticipation going zone," Southwest coach Alex Bahe said. "I think you can kind of catch teams like they caught us — I don't know that we were ready for their 1-3-1, so that put us on our heels. I think where we lucked out, they went to that earlier in the game and so we could kind of get comfortable with it. We decided to go to ours late and I think they just ran out of time."
The Silver Hawks got the clutch buckets to complete the comeback after trailing throughout the first half and third quarter. Frazzie Wynn's three-pointer from the top of the key gave Southwest a 43-41 lead midway through the fourth quarter.
Cam Frederick's layup pushed the lead to 47-41, and Wynn drove into the lane for two more to make it 51-43 with 2 minutes remaining.
"Our main goal, the second half, was to start off with a defensive effort," Wynn said. "I think that's what got us going.
Southwest outscored the Mustangs 21-6 in the final quarter.
"I thought we handled (the zone) fine," Millard North coach Tim Cannon said. "We had guys in the spots. We missed shots."
Mayuom Buom led Southwest with 15 points, and Frederick had 14.
"It doesn't matter who you're playing, starting 1-0 is a lot better than starting 0-1," Bahe said. "But what's really special about this one is now we get another chance, another crack at a top-five team (Creighton Prep on Saturday). We've got a chance to get more momentum and make some noise out of the gates."
Sophomore Hunter Sallis, who is receiving Division I interest (NU coach Tim Miles was in the house Thursday night), scored a game-high 18 points for the Mustangs.
Millard North girls 53, Southwest 33
Millard North didn't like how last season ended. It had to like how this one started Thursday night.
The Class A second-ranked Mustangs looked sharp while pulling away for a season-opening win against the No. 3 Silver Hawks. The win came against a Southwest team that knocked Millard North out of last March's state tournament.
"They ended our season, so we were super-hungry to come in and beat them," said junior Nicole Avila-Ambrosi, who finished with a game-high 21 points. "We've been working all preseason, all postseason of last year after state, and it felt great."
The final score will look good on the résumé. But it wasn't the margin of victory that impressed David Diehl.
What impressed the Mustangs' head coach was how his team followed the blueprint. They smothered the Silver Hawks' wing players, closing passing lanes and creating 19 turnovers. Offensively, they moved the ball around, took good shots and got a big performance from Elle Danley.
The senior hit back-to-back three-pointers to open the third quarter to give Millard North a 34-19 lead. The Mustangs never allowed the Silver Hawks to get back into the game.
"At times it seemed like we would get right back into the game and then, boom, boom, we'd have an empty possession, or a turnover and they'd come down and bam, bam, three, three," Southwest coach Jeff Rump said.
Danley finished with 13 points and senior Jayna Green had 10 to go along with Avila-Ambrosi's big night.
Diehl said he didn't call Avila-Ambrosi's number on set plays in the first half, yet the Division I recruit managed to score 10 first-half points.
"When I get the ball, I read the defense," Avila-Ambrosi said. "I don't really need a lot of plays, I just read how they're playing on me and I cross them up or I step back. So I've been learning how to score in so many other ways."
Rump said the Silver Hawks will be able to learn a lot from the film, and added he expected challenges on offense in the opener.
"I liked our effort, I thought we rebounded well," he said. "We just couldn't finish on the offensive end, and that's kind of how we are historically. We start off pretty slow and then try to figure some things out (as the season progresses)."
Jaden Ferguson led Southwest with eight points.
Millard North vs. Lincoln Southwest, 11.29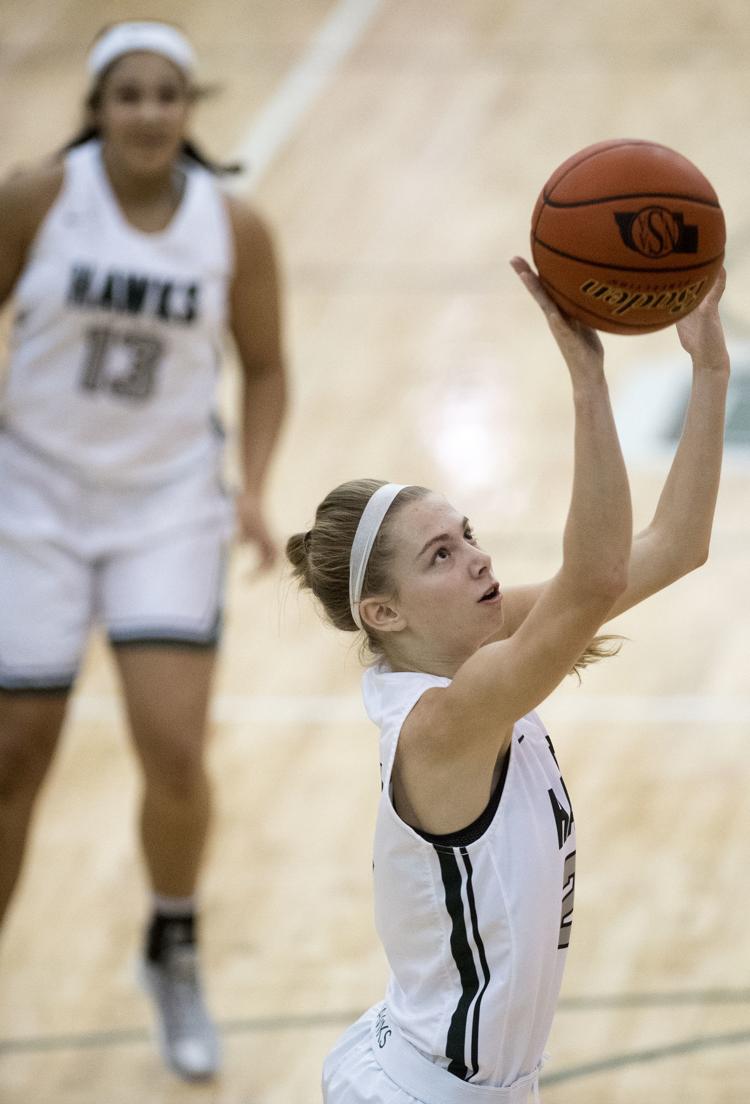 Millard North vs. Lincoln Southwest, 11.29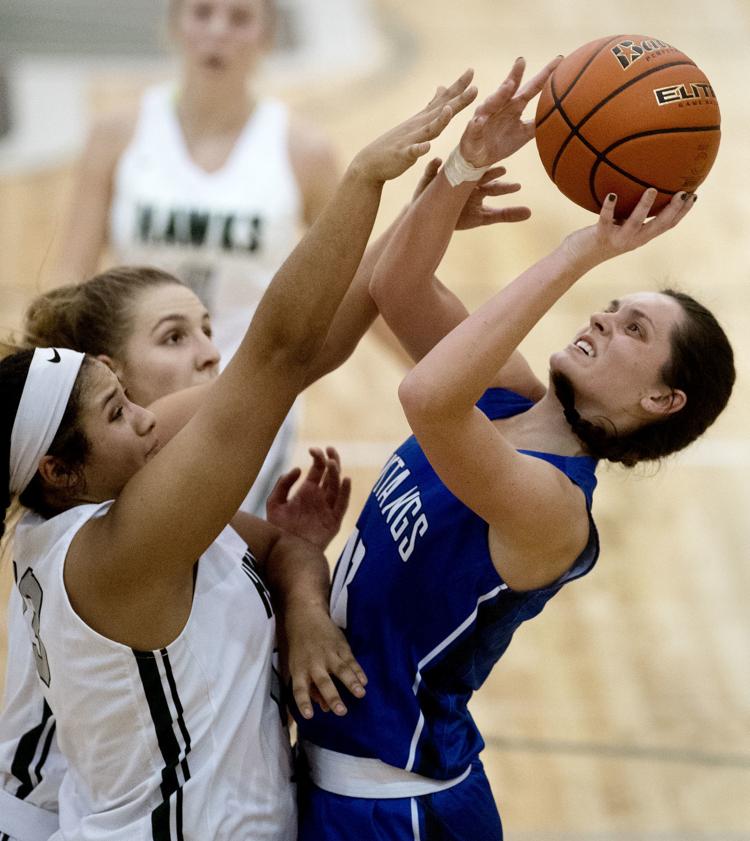 Millard North vs. Lincoln Southwest, 11.29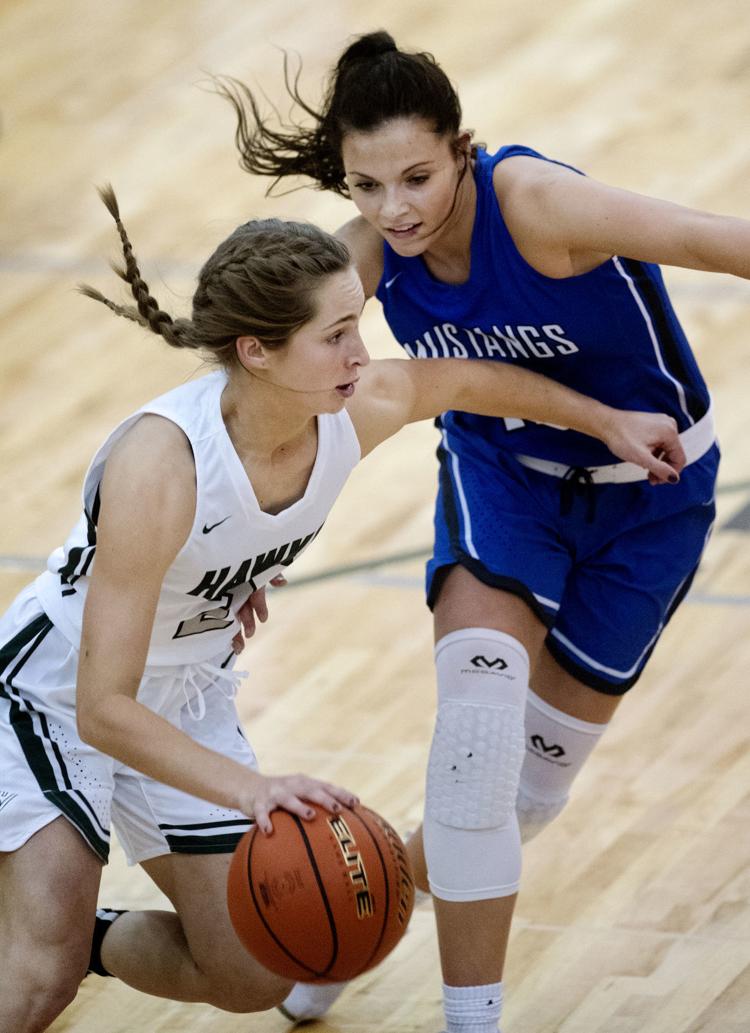 Millard North vs. Lincoln Southwest, 11.29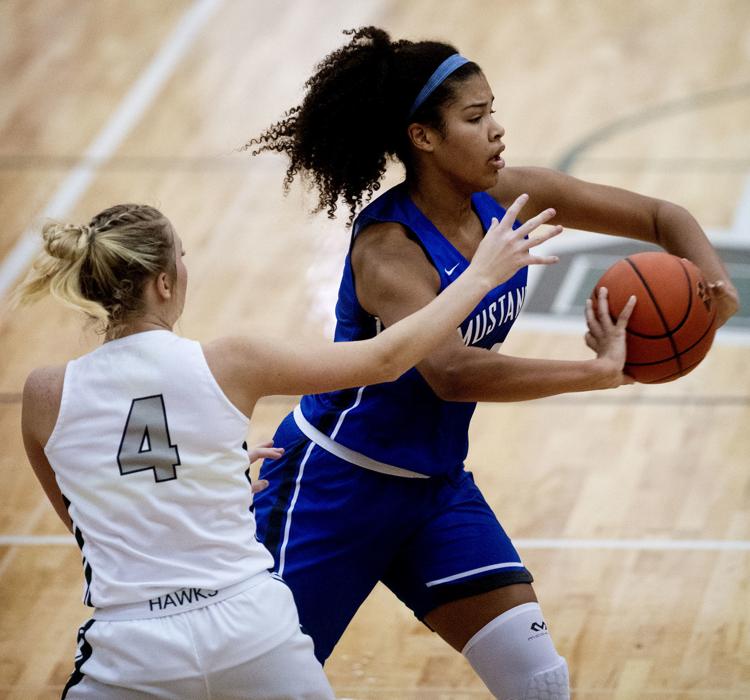 Millard North vs. Lincoln Southwest, 11.29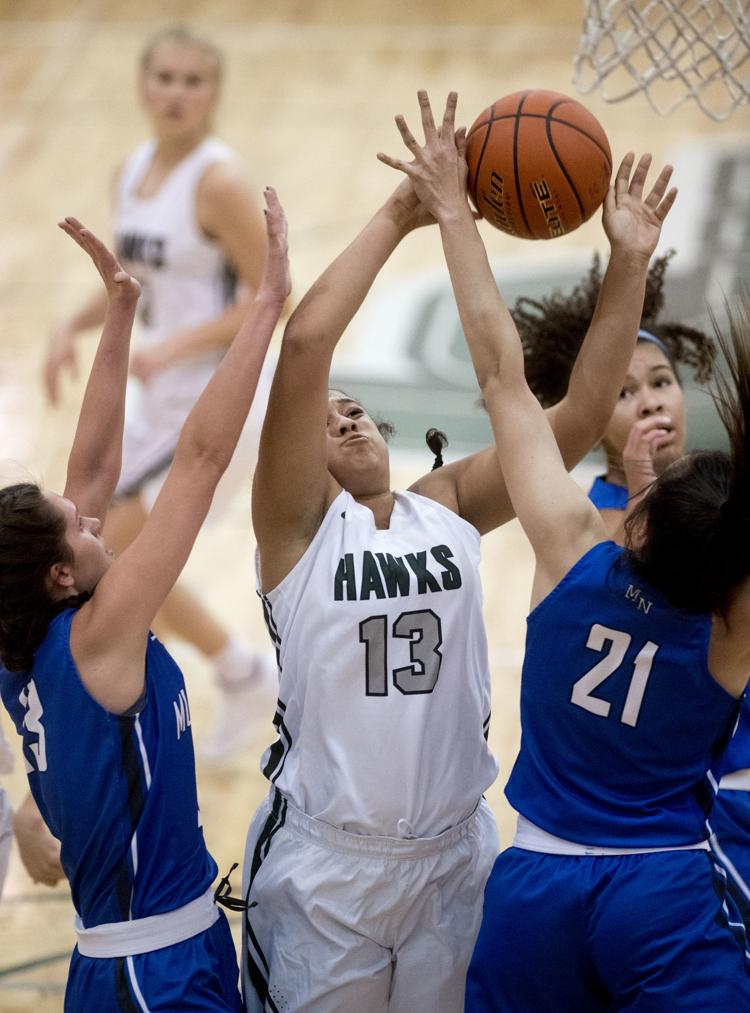 Millard North vs. Lincoln Southwest, 11.29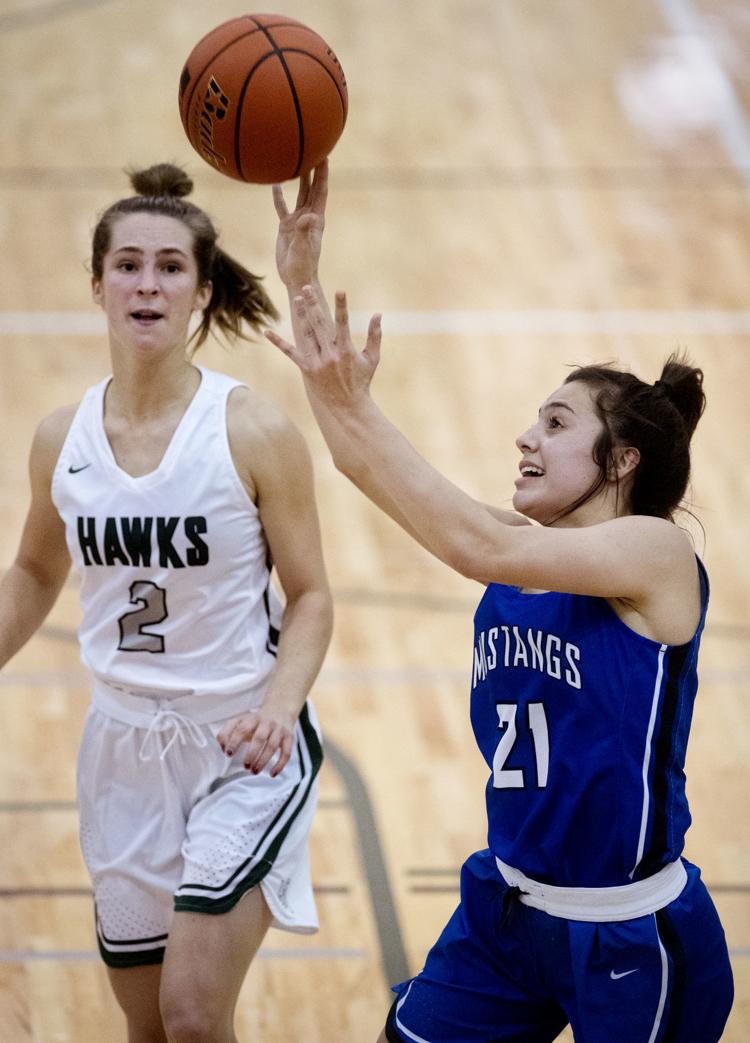 Millard North vs. Lincoln Southwest, 11.29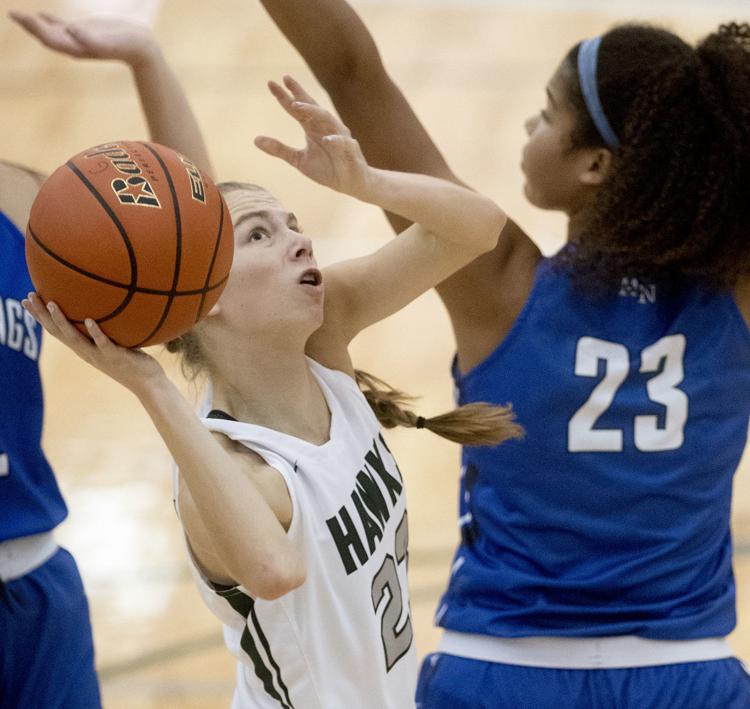 Millard North vs. Lincoln Southwest, 11.29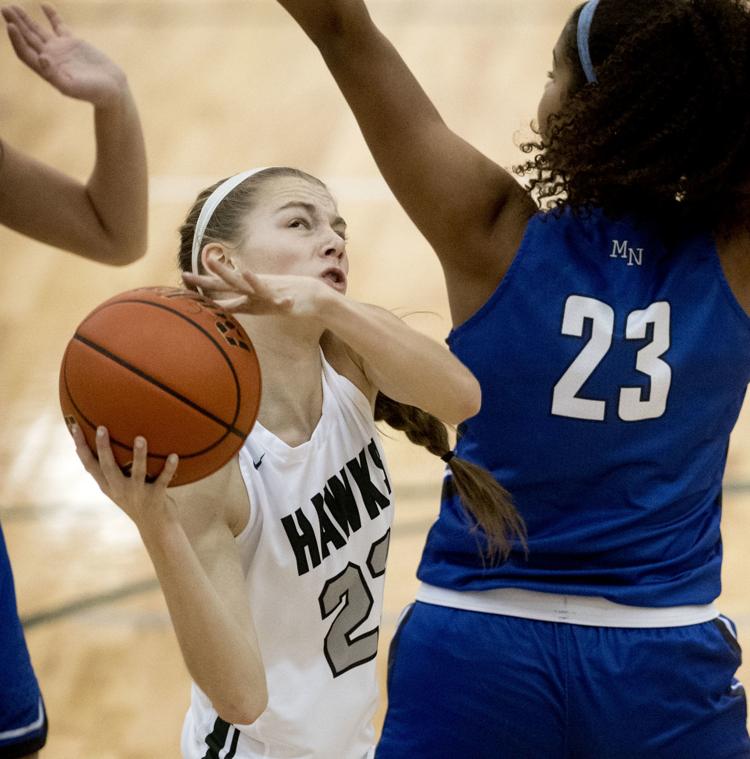 Millard North vs. Lincoln Southwest, 11.29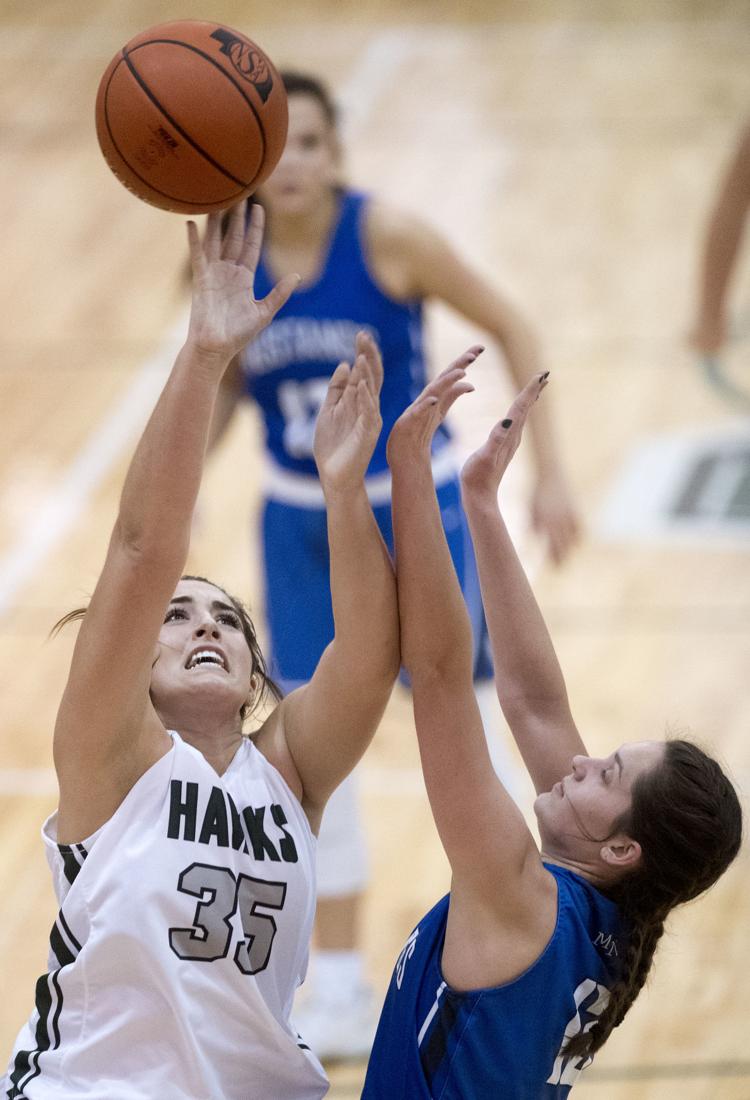 Millard North vs. Lincoln Southwest, 11.29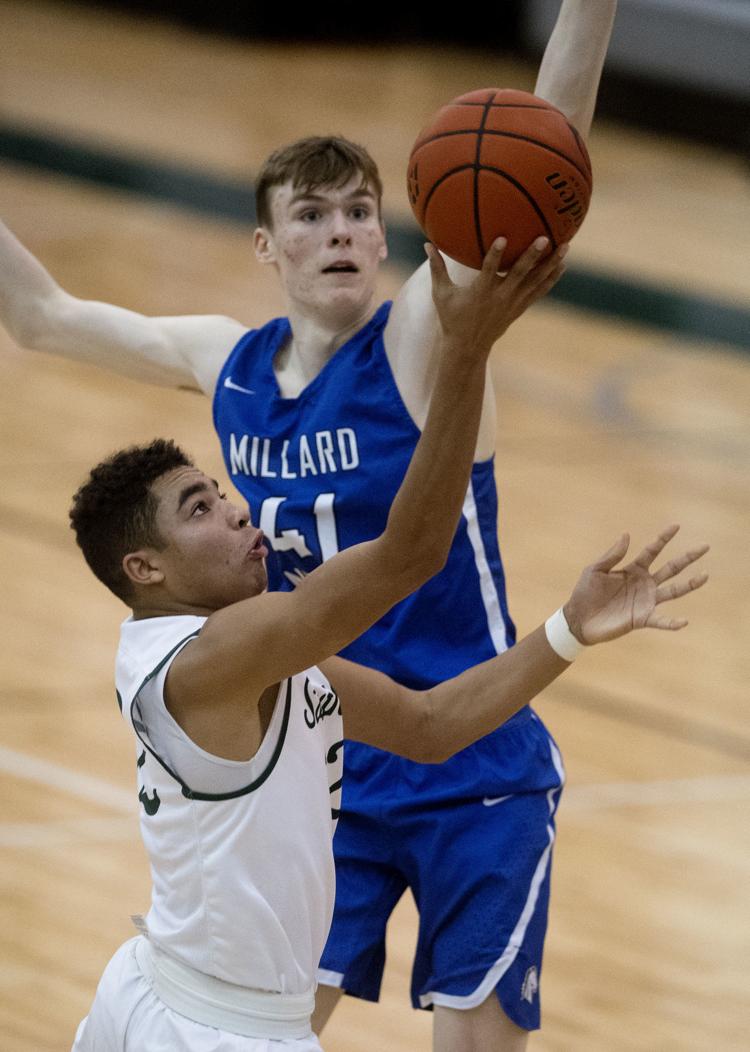 Millard North vs. Lincoln Southwest, 11.29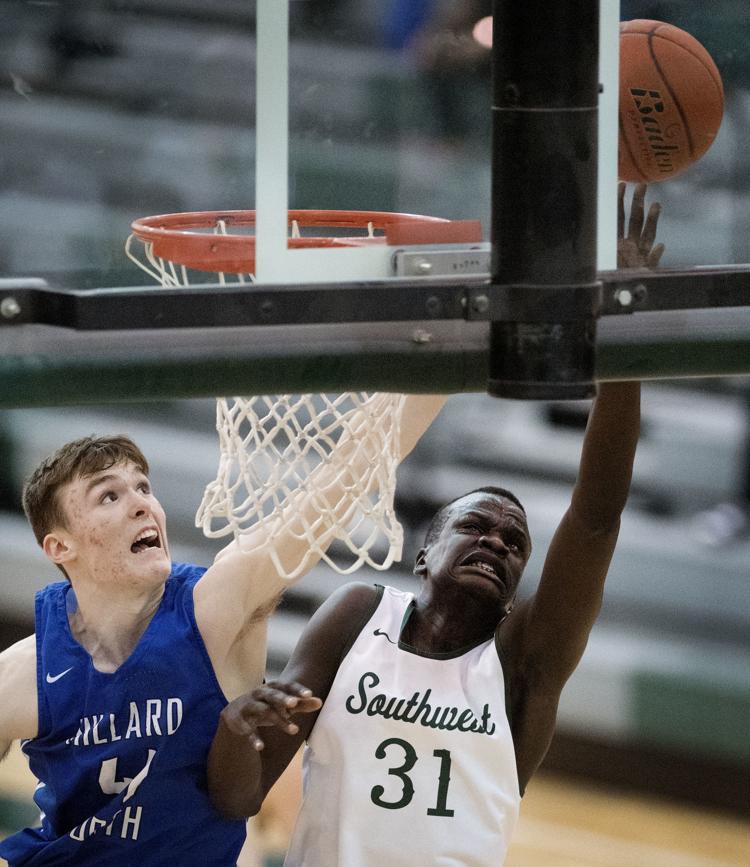 Millard North vs. Lincoln Southwest, 11.29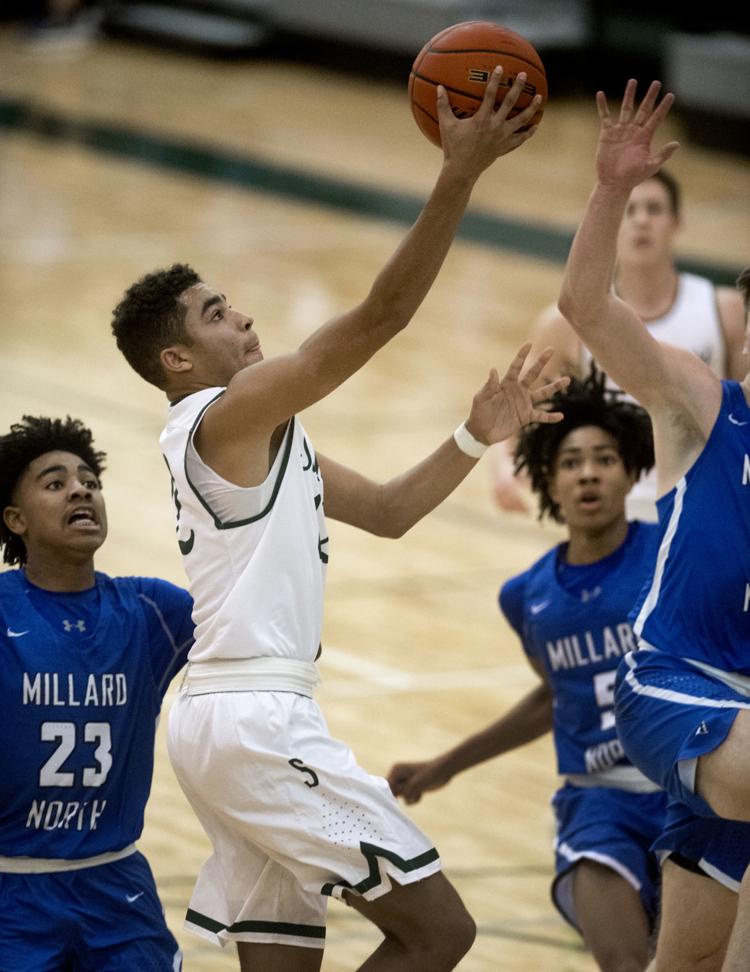 Millard North vs. Lincoln Southwest, 11.29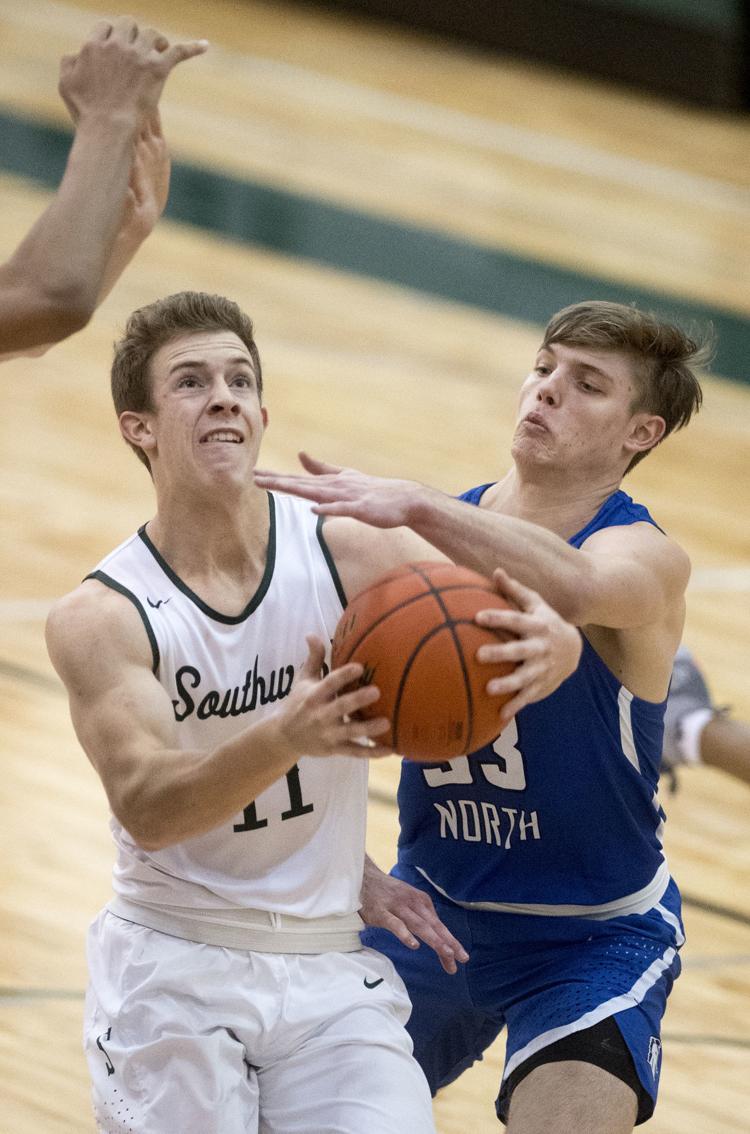 Millard North vs. Lincoln Southwest, 11.29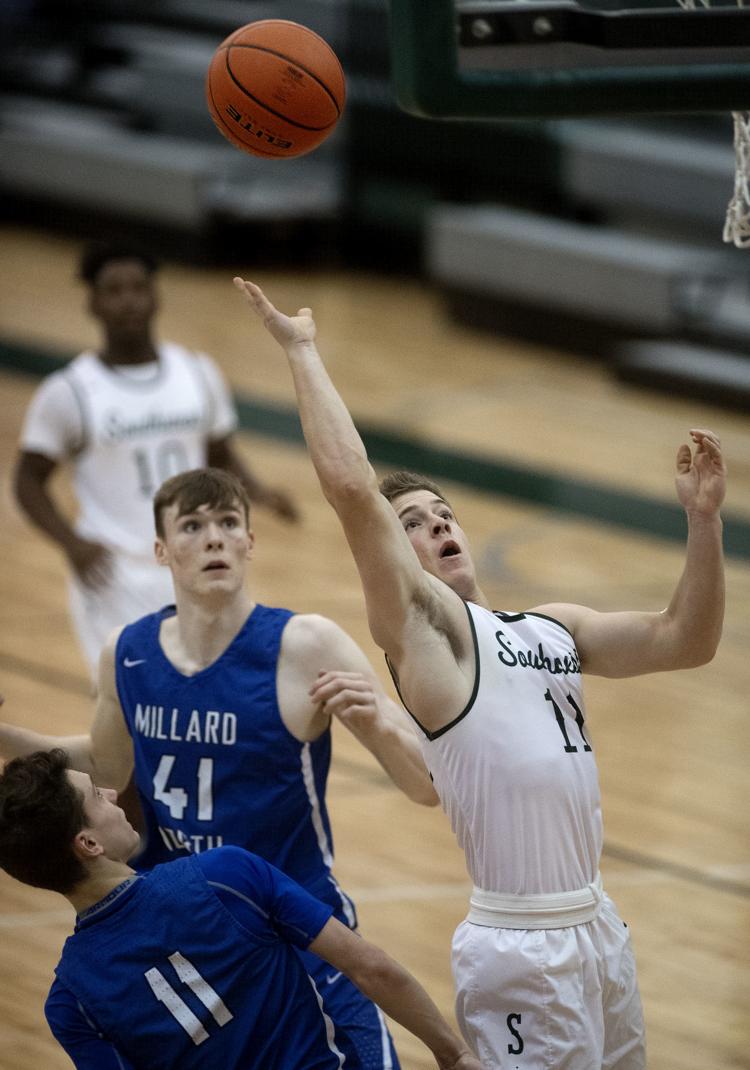 Millard North vs. Lincoln Southwest, 11.29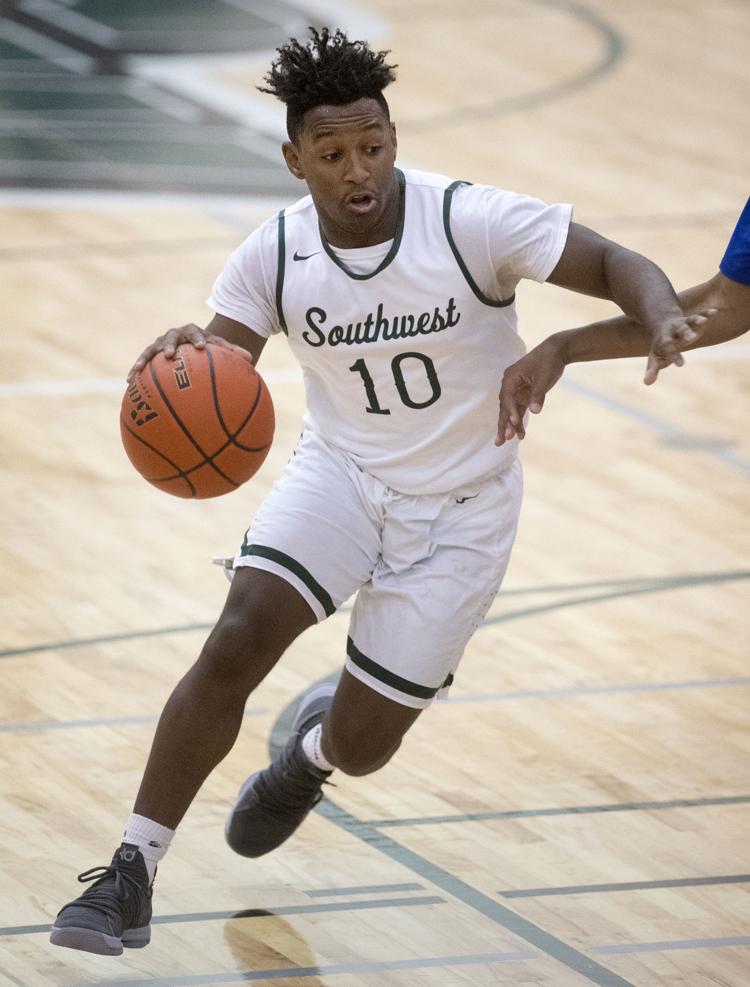 CLASS A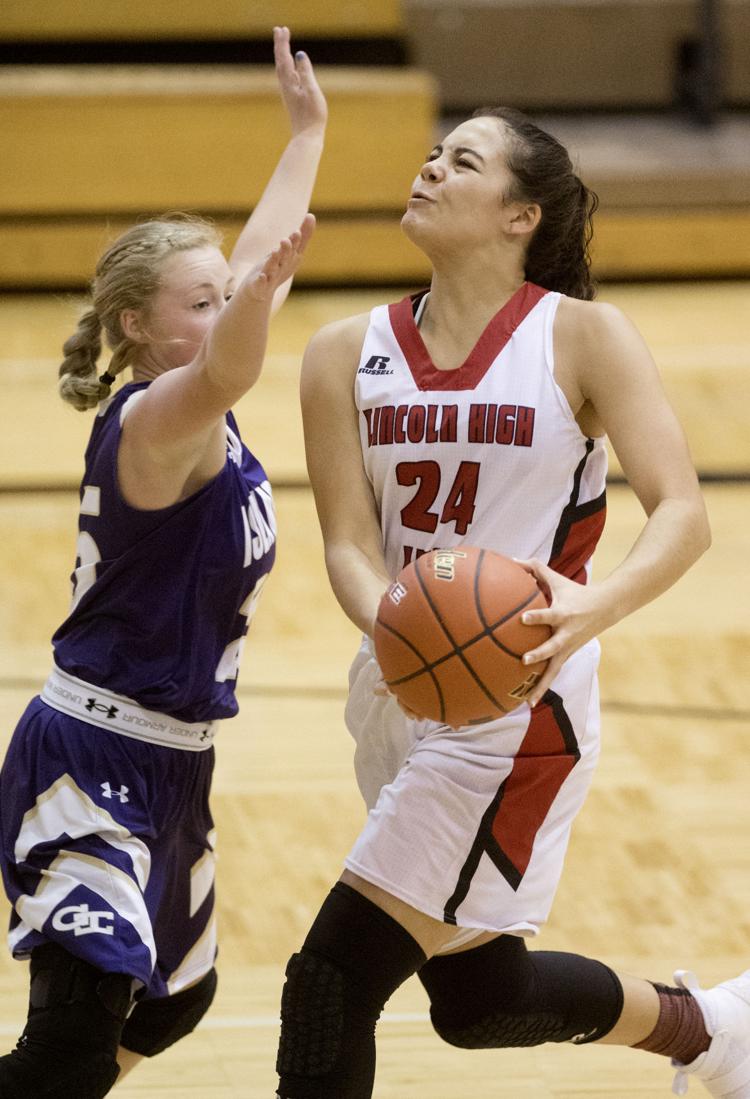 Team ('17-18) | RS
1. Millard South (25-3) | 5
2. Millard North (23-3) | 4
3. Lincoln Southwest (18-9) | 4
4. Lincoln Northeast (16-9) | 4
5. Lincoln High (16-10) | 3
6. Omaha Westside (28-3) | 4
7. Millard West (13-11) | 5
8. Lincoln Pius X (15-10) | 4
9. Papillion-La Vista (18-8) | 3
10. Omaha Benson (13-9) | NA
RS — Returning starters
Contenders: Bellevue West, Fremont, Lincoln East, Omaha Marian.
Case for No. 1: Slowing down Millard South's Maddie Krull and Jayme Horan, two Division I recruits, will not be an easy task for any team. The two players had big sophomore seasons and followed with huge summers on the club scene. The Patriots will need to overcome the loss of starting point guard Bailey Urban to a knee injury. The depth -- and motivation after back-to-back runner-up finishes -- is there for Millard South.
Ready to contend: Millard North returns almost its entire rotation from last year, including junior Nicole Avila-Ambrosi, who averaged 14.5 points per game as a sophomore. Lincoln Southwest, meanwhile, still has multiple girls who played on the 2017 state championship team. It just so happens that the Mustangs and Silver Hawks play each other Thursday in Lincoln.
Health boost: Many teams in Class A will receive boosts from players returning from injury. That includes Lincoln Northeast, which is getting McKenna Minter back from an ACL injury. She was a Super-State first-teamer as a freshman. Westside must replace Super-State honorary captain Quinn Weidemann, but the return of Jasmine McGinnis-Taylor and Ryley Nolin from serious knee injuries will help. Millard West is much healthier than it was at this point last year, and Lincoln Pius X is looking to get a spark from Alexis Markowski, a Division I prospect who missed last season because of injury.
Returning all-staters
Jayme Horan*, Millard South, jr., 15.7 (ppg), 7.5 (rpg)
Maddie Krull*, Millard South, jr., 10.8, 4.0
Jaden Ferguson*, Lincoln Southwest, sr., 13.0, 6.5
Hannah Kelle*, Lincoln Southwest, sr., 12.0, 5.0
Quinesha Lockett*, Omaha Benson, sr., 19.0, 6.9
Nicole Avila-Ambrose, Millard North, jr., 15.0, 4.0
Natayah Wilson, Lincoln High, sr., 15.4, 8.0
* Returning Super-Stater
CLASS B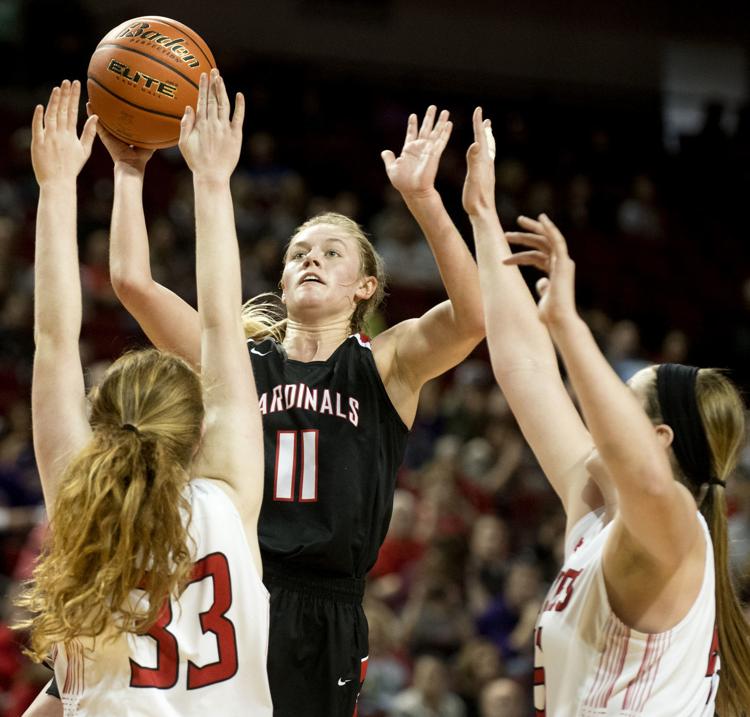 Team ('17-18) | RS
1. South Sioux City (23-5) | 5
2. Elkhorn South (14-13) | 2
3. Elkhorn (26-3) | 3
4. Norris (11-12) | 4
5. Seward (20-5) | 2
6. Waverly (15-8) | 4
7. Crete (12-11) | 4
8. Sidney (21-4) | 4
9. Northwest (11-11) | 3
10. Beatrice (13-9) | 3
Contenders: Hastings, Omaha Skutt, Platteview, York.
Case for No. 1: South Sioux City, which fell short of winning a second straight Class B state title, returns just about everybody, including arguably the best player in the class in point guard McKenna Sims, an Illinois State signee. Senior guards Marybeth Rasmussen and Taryn Christensen return, and Kyra Fischer looks to build off an impressive freshman season.
Ready to contend: Elkhorn South will be cutting its teeth on a Class A-heavy schedule, which should help prepare the Storm for the season's stretch run. A trio of sophomores — Lily Ziemkiewicz, Rylee Gray and Omaha Concordia transfer Cami Small — highlight the Storm roster. Defending champion Elkhorn must replace Super-Stater Brooke Carlson, but guards Maddy Meehan and Payton Jakopovic are expected to take on bigger scoring roles. Norris came on strong late last year, and returns several key players, so the Titans get the nod at No. 4, though Seward and Waverly also have the makings of top-four teams.
Welcome back: Two accomplished coaches are back in the game in Class B. Kip Colony won 420 games at Millard West before stepping away from the game in 2014. He's now leading the Omaha Skutt program. Hall of Fame coach John Larsen is leading Crete this year. Larsen led Lincoln Southeast to nine state titles.
Returning all-staters
McKenna Sims*, South Sioux City, sr., 16.9, 4.5
Morgan Maly, Crete, jr., 15.2, 6.5
Maddy Meehan, Elkhorn, jr., 8.7, 7.0
Camryn Opfer, Seward, sr., 11.0, 8.0
* Returning Super-Stater
CLASS C-1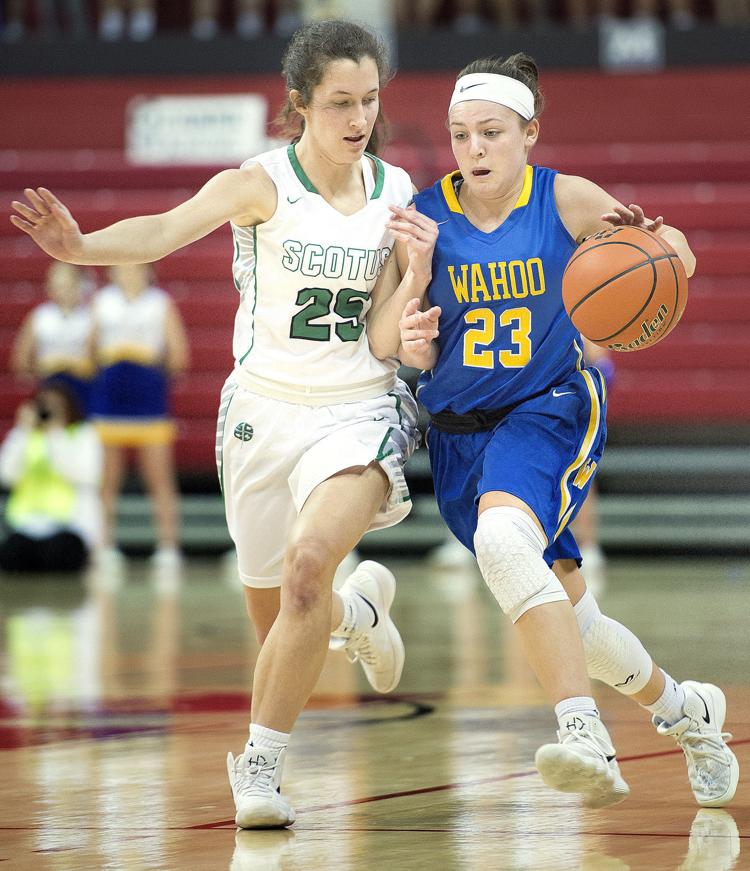 Team ('17-18) | RS
1. Wahoo (23-4) | 5
2. Mitchell (27-2) | 3
3. Bishop Neumann (20-4) | 2
4. Auburn (21-5) | 3
5. West Point-Beemer (21-7) | 3
6. Louisville (19-7) | 4
7. Grand Island CC (18-8) | 2
8. Lincoln Christian (20-4) | 3
9. Ravenna (22-6, C-2) | 3
10. Columbus Scotus (22-5) | 1
Contenders: Broken Bow, Hershey, Kearney Catholic, Malcolm, North Bend Central, Pierce, Syracuse.
Case for No. 1: Wahoo returns six of its top eight players from last season, and the Warriors boast a potent starting five. First-team all-stater Hallie Reeves and Elly Larson return from ACL injuries, and Kendal Brigham gives the Warriors a strong floor general at point. Mitchell must replace Jori Peters at point, but first-team all-stater and UNLV commit Keyana Wilfred is one of state's top post players, and the Tigers should get a boost at guard from Morrill transfer Kenzey Kanno.
After Wahoo and Mitchell … : It's anyone's guess. There are a lot of question marks for many teams. Bishop Neumann lost three senior starters from last year's state runner-up team, but the Cavaliers had a strong bench and players such as Taylor Stuhr and Lindsey Thiele are expected to take on bigger roles. Defending champion Columbus Scotus must replace four starters, but all-stater Bailey Lehr is among a solid group of returning seniors. Auburn and Grand Island Central Catholic have standouts to build around.
Movers and shakers: West Point-Beemer is expected to receive a big boost from Conestoga transfer Sierra Kile, who was one of the state's top scorers a year ago. Ravenna, last year's state runner-up in Class C-2, moves up to C-1. The Bluejays are led by all-state guard Jordyn Fiddelke (19.1 ppg last season).
Returning all-staters
Keyana Wilfred, Mitchell, sr., 18.5, 7.7
Hallie Reeves, Wahoo, sr., 12.8, 4.2
Bailey Lehr, Columbus Scotus, sr., 10.6, 8.0
Megan Woods, Grand Island CC, sr., 18.1, 11.7
Jordyn Fiddelke, Ravenna (C-2 last year), sr., 19.1, 3.5
CLASS C-2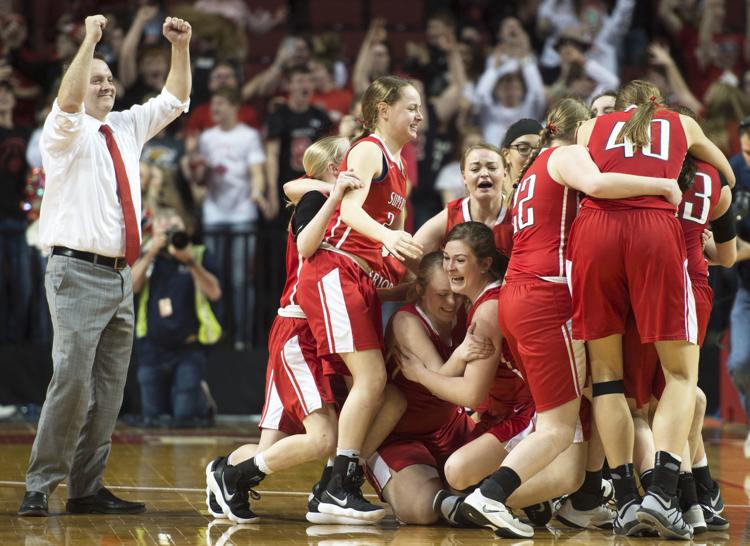 Team ('17-18) | RS
1. Superior (28-1) | 3
2. Hastings SC (23-3) | 4
3. Oakland-Craig (12-11) | 5
4. Stanton (24-5) | 4
5. Hartington CC (16-9) | 3
6. BRLD (21-5) | 5
7. Crofton (15-9) | 4
8. Doniphan-Trumbull (14-9) | 5
9. Centennial (15-9) | 5
10. Blue Hill (18-6, D-1) | 5
Contenders: Bridgeport, Burwell, Clarkson/Leigh, Fillmore Central, Guardian Angels CC, Homer, Wood River.
The case for No. 1: Superior gets the nod. The Wildcats are the defending state champions, and they have the state's top post player in Husker volleyball recruit Kalynn Meyer. Guard Teghan Sullivan was a key cog last year, and Kalynn's sister Shayla will be added to the mix.
C-2 may be the deepest class: If it's not the deepest, it's certainly the most experienced. Several teams are returning their starting lineups intact. Hastings St. Cecilia and Stanton were built for deep runs last year, and both teams will be among those pushing Superior.
Oakland-Craig's 1-2 punch: Dacey Nelson averaged 23 points as a sophomore before an ACL injury wiped out her junior season. Stepping into her place was freshman Kennedy Benne, who averaged 20.6 points per game last season before an ACL injury cut her season short. Now healthy, they'll be on the court together, forming C-2's best 1-2 combination.
Returning all-staters
Kalynn Meyer*, Superior, jr., 20.5, 14.0
Lexi Vertin, Hastings SC, sr., 12.2, 4.9
Kennedy Benne, Oakland-Craig, jr., 20.6, 5.7
* Returning Super-Stater
CLASS D-1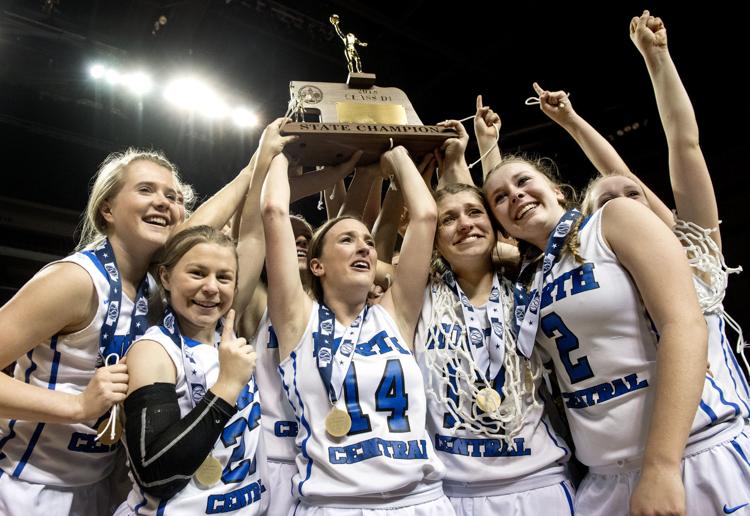 Team ('17-18) | RS
1. Pleasanton (24-2) | 5
2. North Platte St. Pat's (22-4, C-2) | 5
3. Humphrey/LHF (21-5) | 4
4. Archbishop Bergan (18-7, C-2) | 2
5. Hartington-Newcastle (19-4, C-2) | 3
6. Dundy Co.-Stratton (18-5) | 3
7. North Central (25-3) | 1
8. Elkhorn Valley (17-7) | 4
9. Elgin/PJ (15-7) ] 2
10. Hitchcock County (19-7) | 4
Contenders: Cambridge, Howells-Dodge, Meridian, Overton, Randolph, Weeping Water.
Case for No. 1: Depth and more depth have Pleasanton at the top to begin the season. The Bulldogs return most of their contributors from last year, including four players who averaged 7.6 points per game or better. North Platte St. Pat's returns all five starters, including all-stater Kaleigh Kummer (15.6 points per game last year). Humphrey/Lindsay Holy Family reached the state volleyball final in November. The guard-forward combo of Brittney Veik (13.1 ppg last year) and Taya Beller (12.5 ppg and 11.2 rpg) looks to help lead a similar run in hoops.
Adding some muscle: North Platte SP, Archbishop Bergan and Hartington-Newcastle were each in Class C-2 last year, and all three have the makings for big seasons in Class D-1. Bergan must replace four seniors, but several players are set to step into bigger roles. Ratings contender Cambridge also was in C-2 a season ago. Defending state champion North Central must replace four starters, but Miah Wiebelhaus (12 ppg last year) leads a team ready to reload.
Returning all-staters
Kaleigh Kummer, NPSP (C-2 last year), sr., 15.6, 5.1
Taya Beller, Humphrey/LHF, sr., 12.3, 11.3
Grace Cave, Weeping Water, so., 17.4, 5.3
CLASS D-2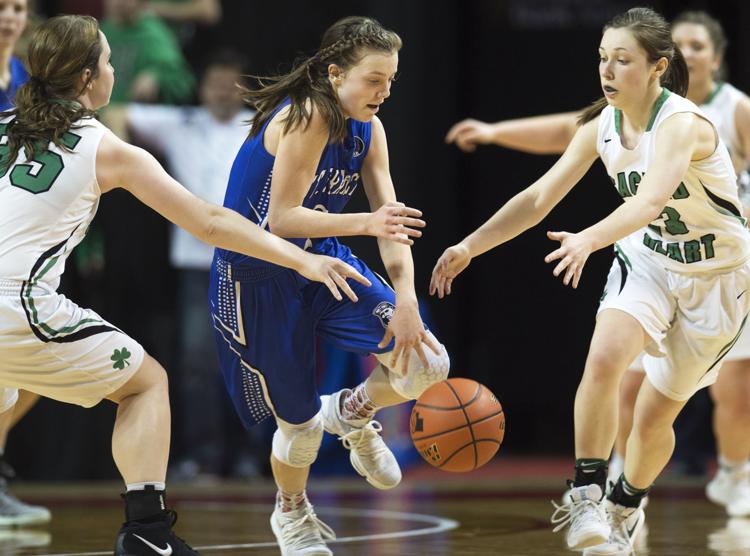 Team ('17-18) | RS
1. Humphrey SF (26-3) | 3
2. Falls City SH (27-1) | 2
3. BDS (26-3, D-1) | 3
4. Exeter-Milligan (23-7) | 3
5. CWC (13-9) | 3
6. Ewing (20-5) | 3
7. Mullen (16-6) | 3
8. Wynot (14-9) | NA
9. Red Cloud (19-6) | 2
10. Maywood-Hayes Center (20-6) | 4
Contenders: Hyannis, Kenesaw, Sterling.
Case for No. 1: Last season's state champion (Falls City Sacred Heart) and state runner-up (Humphrey St. Francis) are at the top again. Both teams have all-staters to replace, but St. Francis' Allison Weidner and Sacred Heart's McKenzie Witt are dynamic point guards and should help keep both teams in contention.
BDS looking for volleyball-hoops double: BDS, which dropped to Class D-2 this year, won a state volleyball title, edging Ewing in five sets. The Eagles, who finished second in Class D-1 last year, must replace three starters, but a mix of size and speed will have BDS in the mix.
Returning all-staters
Allison Weidner, Humphrey SF, so., 14.5, 4.1
Kate Jansky, Exeter-Milligan, sr., 15.0, 6.0
Marlee Taylor, Sandhills/Thedford, sr., 13.0, 10.0
Mary Nibble, Red Cloud, sr., 12.9, 9.3