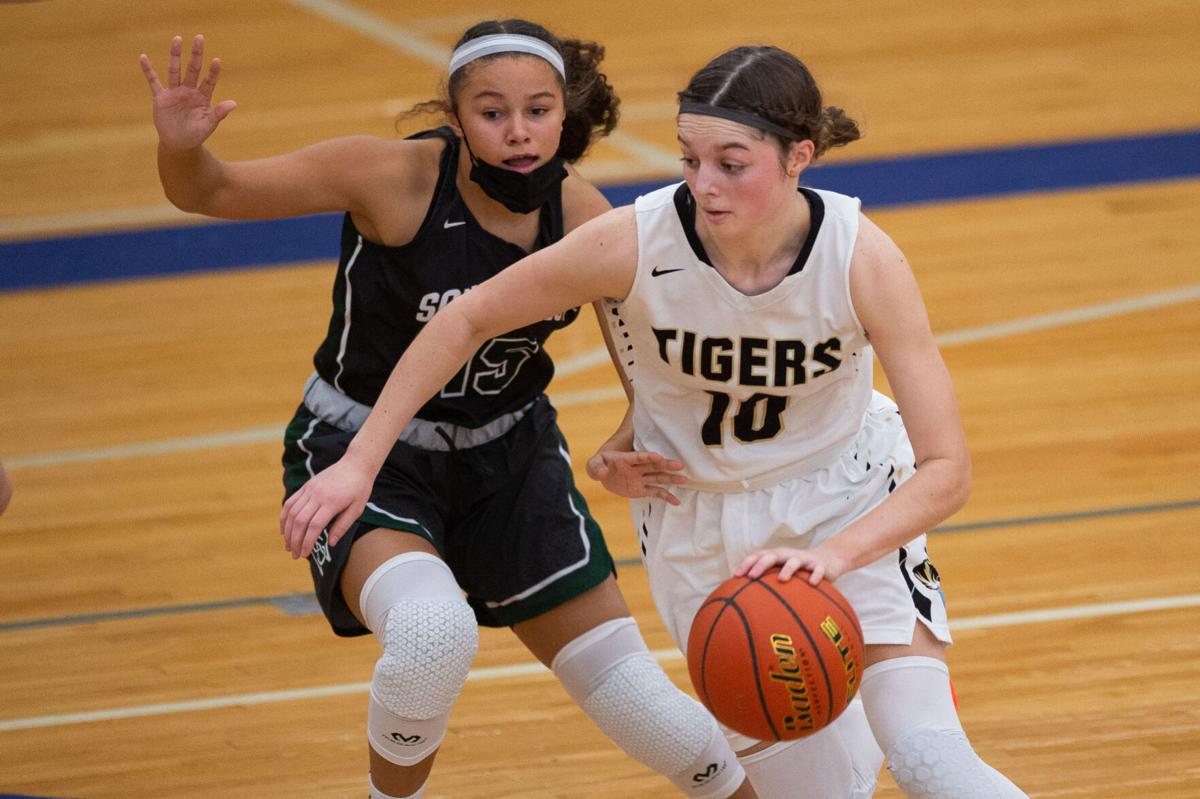 Basketball practice at Fremont had just wrapped up, and Taylor McCabe was leaving the school.
Her next stop: the YMCA near home to shoot for an hour.
Wednesday was more of a recovery day following a hard-fought win at Lincoln East on Tuesday. So, more ball-handling stuff, shooting floaters and set threes.
On days before games, it's more off-the-dribble and on-the-move threes and pull-up shots.
Yes, McCabe says, she takes a day off here and there. But the state's top shooter is persistent when it comes to honing her craft and maintaining a high level of success.
"I credit most of it to my dad, because growing up he was always pushing me to get better," the Fremont junior guard said. "I think he was one that saw first that I was going to be talented at a young age.
"I never complained, because I liked it. And then as I kept growing up, it was just like, 'We got to get better, we got to get better, we got to try new things.'"
Behind a quick release, McCabe has posted impressive numbers for two-plus seasons now at Fremont. She's currently averaging 23.2 points per game, leads the state with 50 made three-pointers and is coming off a 37-point performance against Glenwood (Iowa).
More impressive, though, has been McCabe's consistency.
The Iowa pledge averaged 18.2 points as a freshman (Super-State third team) and 20.3 as a sophomore (Super-State first team). She connected on 42% of her threes as a freshman, 42% as a sophomore and 43% this season.
Kelly Flynn coached a lot of great shooters while leading South Sioux City to 11 Class B state championships, including his daughter Jenni, who ranks fourth in the state record books in career three-pointers. He puts McCabe at the top.
"Taylor is the best one that I've had an opportunity to coach," said Flynn, who is in his third year as Tigers head coach. "She's not only a good shooter, she does so many things well, and just has incredible range.
"You just love having the ball in her hands when the clock's running down because she has such a quick release."
McCabe continues to expand her game, driving to the basket more and improving her shorter shots. She averages 5.0 rebounds, 3.7 assists and 3.0 steals per contest. But opponents continue to try to take away her best element — the three-point shot.
Kelly says McCabe is a true student of the game, which makes it hard to stop her. As defenses look for different ways to scout her, McCabe tries to stay a step ahead.
"Basketball is a creative game," she said. "There's a lot of new moves coming out all the time. I like to try stuff out when I'm just on my own and then just building up the confidence to use that stuff in the game."
McCabe looks for other ways to improve. Her advice to up-and-coming shooters: Watch a lot of basketball.
"Just seeing the game, seeing how these guys and girls create shots for themselves and can get themselves open and watching their form and then going out and (replicating) it, and figuring out what works for them, and doing it over and over again until they figure it out, I think that's huge," she said.
When it comes to her own game, McCabe isn't afraid to take deep threes.
"I'm sure sometimes they're (opposing coaches) thinking, 'Well, she's not going to shoot it from there,' and yet she'll pull up and launches it and hits it," Flynn said.
Always looking for an advantage, McCabe turns to the advice given from a summer coach. Defenders are going to crowd the line. Keep stepping back.
"I do think it helps me get open, so as long as I work on it enough and trust myself enough then I can definitely shoot it," McCabe said. 
As opponents have learned this year, McCabe is not the only three-point threat on the Fremont roster. The Tigers, who are 11-2 and ranked No. 2 in Class A, have made 121 threes (the Class A record is 201 and the all-class mark is 303), including 21 from freshman McKenna Murphy, 16 from senior Macy Bryant and 14 from senior Charli Earth.
"I've been playing with these girls for a long time now and I always knew they had it in them, and it's just fun to see everybody's success paying off," said McCabe, who made 107 threes as a sophomore. "This year our team chemistry has been really good and this summer we were all in gym working out and I think that just continued on."