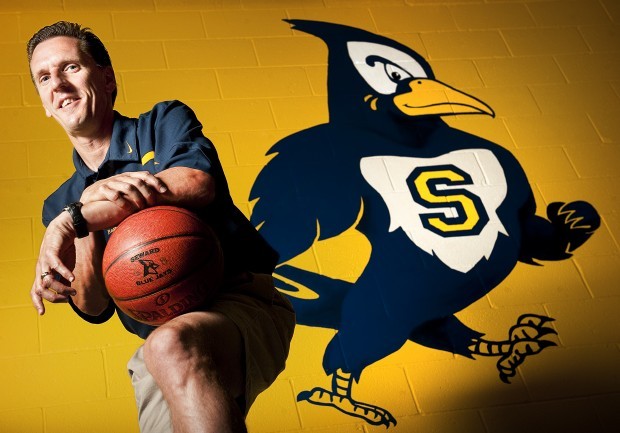 Citing a desire to spend more time with his family, Tom Tvrdy has resigned as the Seward High School girls basketball coach after guiding the Bluejays to the second-longest winning streak in state history and a string of four straight Class B state championships.
Seward athletic director Steve Borer confirmed Wednesday morning that Tvrdy stepped down Tuesday afternoon. Tvrdy, the Lincoln Journal Star Girls High School Coach of the Year in 2011, will continue teaching social studies at Seward, Borer said.
Tvrdy's son, Titus, is on the Doane basketball team, and his daughter, Hannah, will be playing for Nebraska next season. Tvrdy's youngest son, Carson, is a fourth-grader.
"I had to decide between traveling with my wife and watching our kids play or to continue coaching," Tvrdy said in a statement.
"For the next four years, my plan is to watch my kids play and help coach my son's Silverhawk's club team," he said. "God willing, my goal is to get back into coaching when my family situation allows me to do it."
Under Tvrdy, Seward won 104 straight games and had undefeated state championship teams in 2009, '10, '11 and '12. The Bluejays went 23-5 this season and reached the state tournament semifinals.
During that span, Tvrdy coached five all-staters — Creighton junior Alyssa Kamphaus, Nebraska sophomore Emily Cady, Fort Hays State freshman Beth Bohuslavsky and two current Bluejay seniors — Hannah Tvrdy and Northern Colorado recruit Kourteney Zadina.
"There are too many people out there to thank from players, coaches, administration and community members that I fear I will leave someone out," Tvrdy said. "But my sincere thanks go out to all who made this great experience possible for me these past 12 years. Without the support of my wife, Shelly, and longtime assistant coach Greg Miller, none of this would have been possible for me to be a part of."
Tvrdy has compiled a 406-134 career record in 24 years of coaching. In six years at Gothenburg in the 1990s, he had four teams reach the Class C-1 state tournament, two of which advanced to the semifinals. The 1997 squad finished as state runner-up.
After three seasons at Fremont, Tvrdy came to Seward. The Bluejays were state semifinalists in 2003 and qualified for state in 2008 before their record run.
His 2009-10 team went 25-0 and was one of the most dominant in state history. With Cady and Kamphaus leading the way, the Bluejays had just one game closer than 17 points during the regular season and district tournament before posting victory margins of 23, 20 and 23 points at the state tournament. His 2011-12 squad finished ranked No. 29 nationally by ESPN Hoop Gurlz.
"What's always impressed me about Tom's coaching is kids knew their roles, they accepted them and he got them all playing toward one goal. He had them sold on the idea that not everyone needed the basketball to be successful," Borer said. "He stressed defense, the kids believed in it and it won a lot of games for us through the years."