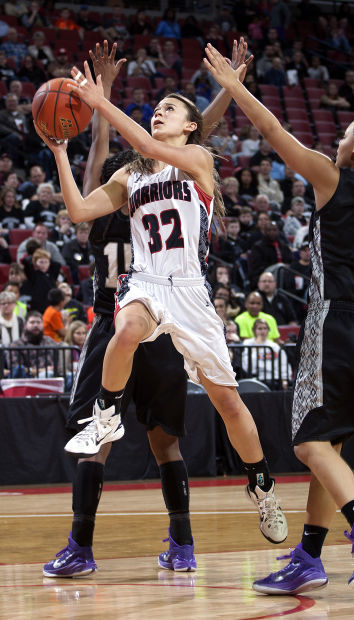 Quinn Weidemann is still a freshman, technically.
That probably comes as a shock to those who watched her lead Omaha Westside to a 61-49 win Friday against No. 2 Lincoln Northeast at Pinnacle Bank Arena. The victory puts Westside (23-4) into the Class A championship game Saturday against Norfolk.
Weidemann scored 18 points and handled the ball against Northeast's pressure defense.
"There's not much pressure anymore. After the first couple games I got that out of my system," Weidemann said of being a rookie.
Third-ranked Westside made 7-of-11 three-pointers in the first half and hit four — two from Lynsey Curran, and one each from Jay Bridgeman and Weidemann — in a 15-1 run during the second quarter to build a 35-20 lead.
"After that, we knew we could do this," Weidemann said.
Northeast's Jamie Holscher hit a three-pointer with 3:52 left in the quarter cut the deficit to 39-34, but Northeast could get no closer. Weidemann admitted to nervousness but kept pushing ahead.
"We thought the momentum had swung there in the middle of the third quarter," Northeast coach Steve Bartek said. "We cut it down to five points. It just felt like we were on the verge of going on a run. To Westside's credit, they met that challenge."
Westside went on an 8-0 run in the first 3:35 of the fourth quarter, stretching the lead to 50-37 on Weidemann's free throws. The Rockets, who set a school record for wins this season, were never closer than nine the rest of the game.
Westside committed 17 turnovers, but Northeast committed 18.
Northeast (25-2) shot 25 percent (15-of-60), including 5-of-29 on three-pointers. Westside's size advantage forced the Rockets to the perimeter.
"We thought we were getting some really good looks. We were cold and they were hot. It was a little bit too much to overcome in the second half," Bartek said.
Westside opened in a man-to-man defense but coach Steve Clark quickly went to a zone. The switch might have caused his players to double-take.
"We always play man. We played a couple zones tonight that we haven't played. We've played them in practice but not in games," Clark said.
Northeast beat Westside 65-61 in the season's first game, but was held to its fourth-lowest point total of the season Friday.
"In the first game they scored 25 points in the first quarter. We improved a lot on the defensive end," Weidemann said.
Tantashea Giger scored 21 points and fouled out with a minute remaining. She watched the closing second, eyes blinking and her left leg bouncing.
"Tantashea has been one of the best players in the state all year," Bartek said. "We asked her to step out of her role. She was primarily a perimeter player for three years. With our lack of size, nobody over 5-9, we asked her to go inside. She's played high post, low post, scrapping for anything."
Northeast made it to state for the fourth straight season and 16th time overall.
"Sometimes when you chase dreams, you come up short," Bartek said. "Our goal was to win a state title."