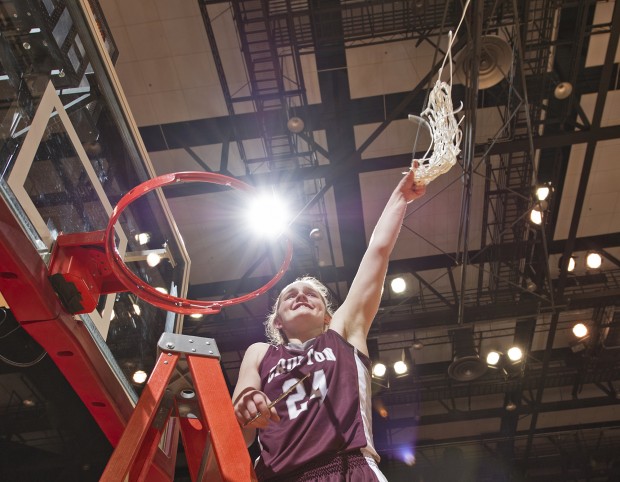 As unstoppable as Tom Osborne calling an option play or Michael Jordan telling an opponent he was going to the basket, the Crofton girls basketball players said they were going to get rebounds in the second half Saturday.
"We knew what to do, to stop them going to the boards, but that's easier said than done," Hastings St. Cecilia coach Jahn Kile said. "You know it's coming and there was nothing we could do to stop it."
Top-ranked Crofton (27-0) defended its Class C-2 state title with a dominating 43-31 victory against No. 2 Hastings St. Cecilia at the Devaney Sports Center.
Crofton didn't shoot well, hitting just 31 percent from the field and 2-of-11 from three-point range.
But the Warriors, led by senior Bridget Arens with 20 points and 14 rebounds, took ownership of 28 rebounds, including 11 offensive boards, in the second half and ran away from the Hawkettes. In three tournament games, Crofton allowed just 86 points total and outrebounded its foes by 40.
"Coach (Aaron Losing) said I had to get rebounds in the second half, and I figured this is my last time out, so give a big show and focus on getting the ball," said Arens, who scored on four offensive rebounds in the second half and hit six free throws after she was fouled getting rebounds. "We all went after the ball, and it worked."
Arens wore a net around her neck and cried through the medal ceremonies.
"I'm not an emotional guy and I'm not a crying guy," said Losing, who has coached Crofton to 36 consecutive victories. "I'll let Bridget do the crying for all of us."
Crofton sophomores Maria Wortmann and Allison Arens, Bridget's younger sister, combined for 12 more rebounds. Allison Arens scored 11 points and Wortmann was scoreless.
"My job is rebounder," Wortmann said. "The other girls can score, but I'm supposed to rebound. I didn't mind seeing Bridget get all those rebounds today."
St. Cecilia (22-5) tied the game at halftime and took the lead on a basket by Clare Hamburger to open the third quarter.
But the Hawkettes missed all but one of their next 11 shots while Crofton pulled away. Bridget Arens scored 16 points in the second half, matching St. Cecilia's total for the final two quarters.
"We never did get our outside shooting going through the tournament, but we played as good as we could on defense and we were outstanding on rebounds," Losing said. "All those second-chance opportunities and all those stops on defense made the difference in the game. We made the hustle plays in the second half — almost all of them."
Kile said Crofton was simply more aggressive in the second half.
"Credit them for some of our shooting problems (20 percent in the second half, and 27 percent in the first half)," Kile said. "We couldn't do much about that."