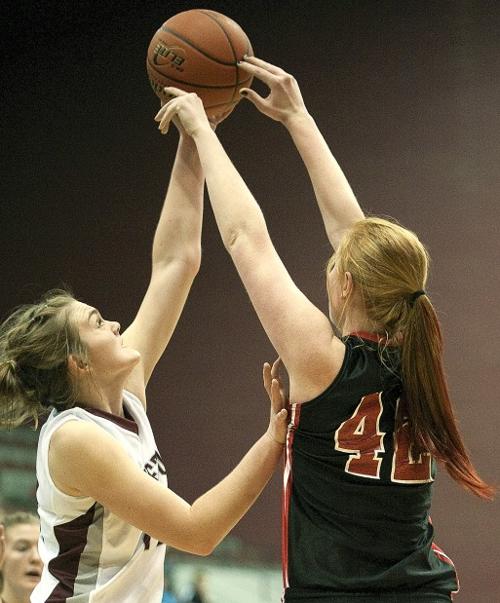 Crofton followed the phrase of the week with a sequestration of sorts in a 54-36 victory against Homer on Friday in a Class C-2 state tournament semifinal at Pershing Center.
The top-ranked and defending champion Warriors forced 20 turnovers, cashed in 22 points off steals and stomped to their second straight championship game berth — against Hastings St. Cecilia at 9 a.m. Saturday at the Devaney Sports Center.
"Defense, in-your-face defense, is what we demand," said Crofton coach Aaron Losing, whose 26-0 squad is the only unbeaten girls team in the state. "If you don't want to run all through practice and all game long, then you're probably going to be way, way down the bench."
Crofton, which beat North Bend Central 54-19 in the first round, averages 62 points a game and allows just 32.
"Everything we do is based on defense," said Crofton senior Bridget Arens, who has scored 35 points in two games. "We weren't shooting too well today or yesterday (40 percent), but like last year, that defense is always there for us. We all take the yelling in practice because we know that makes us mentally tough."
"We planned to get to the final again because we knew man-to-man defense works," Losing said. "Last year, it was more exciting because we were an underdog. Now, we play defense like it is a second nature."
Homer (23-4) stayed with the Warriors until Crofton scored the last 10 points of the first half and outscored the Knights 18-5 in the third quarter.
"The girls are as competitive as I am, and that's why they play such great defense every time out," Losing said.