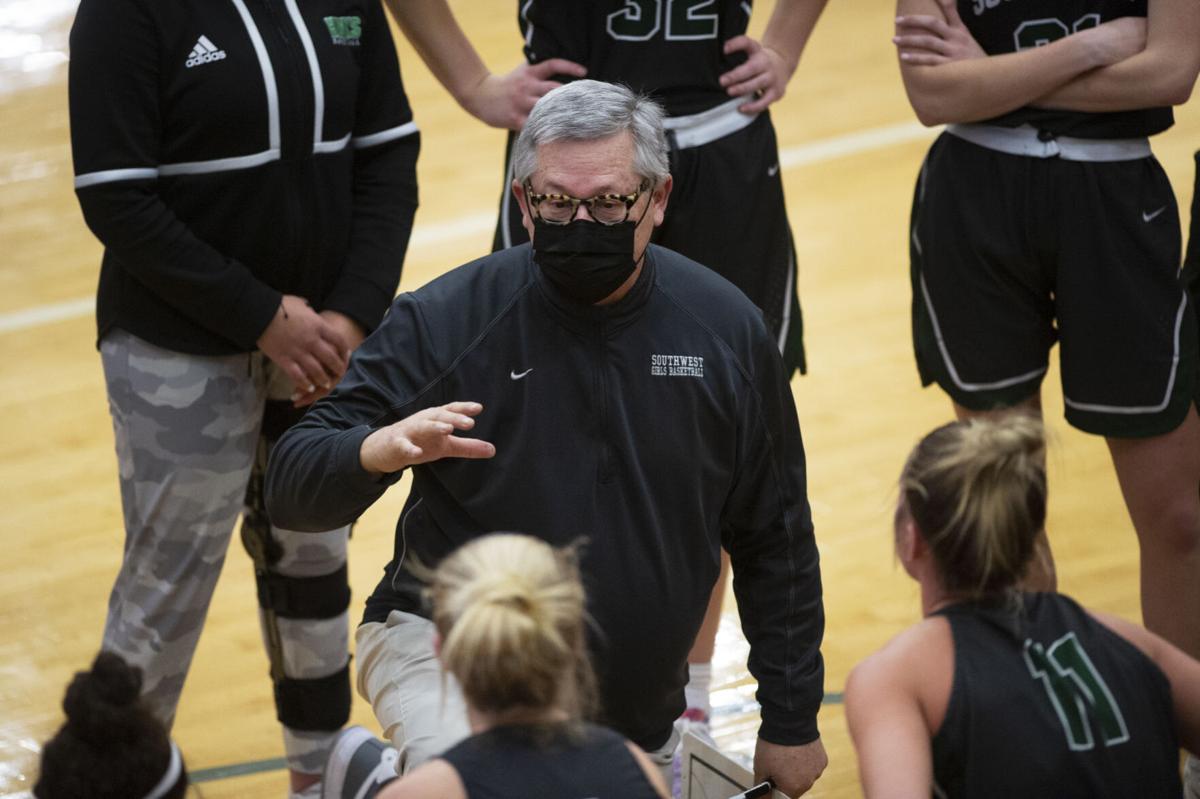 All seven Class A district finals are Thursday.
A-1, No. 7 Bellevue West (12-8) at No. 1 Lincoln Pius X (21-0), 6:30 p.m.: The Thunderbolts haven't been tested down the stretch and they'll see a Bellevue West team they defeated 74-39 on Jan. 12. Husker recruit Alexis Markowski scored 29 points on 12-of-15 shooting in that game, so the Thunderbirds will be looking for other ways to slow her down. The T-birds' Taryn Wharton is one of the top shooters in the state. The Northern Iowa recruit is averaging 18.7 points, 3.8 assists and 3.1 steals per game.
A-2, Gretna (12-9) at No. 2 Millard South (21-1), 7 p.m.: Millard South hasn't missed a beat since it was tripped up by Omaha Marian on Jan. 5. Only two teams have played within 20 points of the Patriots since then. Junior Megan Belt dropped 26 points against Lincoln Southeast on Tuesday, and sophomores Khloe Lemon, Cora Olsen and Mya Babbitt are capable of big scoring games, too. Millard South and Gretna have contrasting styles. The Patriots like to push the tempo, while the Dragons like to slow it down.
A-3, Norfolk (11-11) at No. 4 Lincoln Southwest (18-2), 6 p.m.: A 15th straight victory would also clinch a fifth straight state appearance for Southwest. The Silver Hawks are deep and the offense has been playing well late in the season. Norfolk has won six of seven games, including a district semifinal victory at Kearney. Southwest won the regular-season meeting 41-34 on Dec. 22.
A-4, Lincoln North Star (10-9) at No. 5 Omaha Central (21-3), 6 p.m.: Omaha Central, which defeated North Star 73-51 on Feb. 13, will have a noticeable size advantage against the smaller Navigators. Aaniya Webb, a 6-foot junior, is averaging nearly 15 points per game for the Eagles, and freshman Inia Jones is already one of the top point guards in the state. Senior Abby Krieser leads the way for the Navigators, but sophomore Sammy Leu has been playing well late in the year, too.
A-5, Papillion-La Vista (14-8) at No. 3 Fremont (20-3), 6:30 p.m.: Fremont edged the Monarchs 72-71 behind three late free throws from Taylor McCabe on Dec. 19. Fremont's offense has been humming late in the season, averaging 77.6 points over their past five contests. Papio has played very well over the back half of the season.
A-6, Bellevue East (13-10) at North Platte (15-6), 6 p.m.: Bellevue East has won five of six games, including a win at No. 6 Millard North on Tuesday, and sophomore Mya Skoff is big a reason why. She's averaging 22 points per contest over the Chieftains' past five games. The Bulldogs are seeking a return trip to state. Senior Gracie Haneborg (18.3 ppg, 5.5 spg, 4.9 apg) is one of the state's top guards.
A-7 Papillion-La Vista South (11-11) at No. 10 Lincoln East (12-9), 6 p.m.: Papillion-La Vista South upset the district's top seed, Lincoln High, 55-47 on Tuesday, but maybe it wasn't that big of an upset when one sees how well the Titans have been playing. They have won seven straight. The Spartans are seeking their sixth straight trip to state, and they're led by a trio of guards in Olivia Kugler, Haley Peterson and Mattie Campbell.