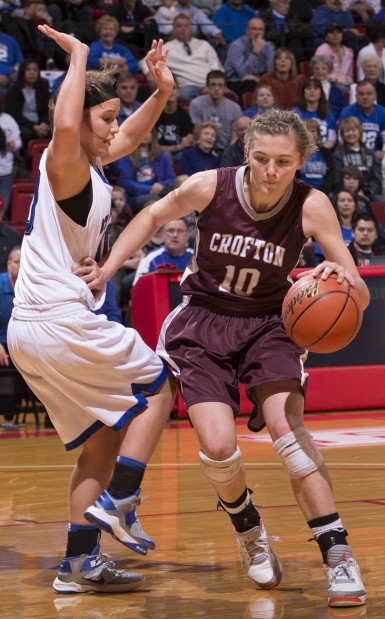 Renderings of the new Pinnacle Bank Arena were on display in the corner of the Devaney Sports Center room where the winning girls basketball teams got their pictures taken Saturday after their state championship games.
It certainly caught the attention of Class C-2 Crofton, and as the players gathered around to look at it, one of them said "it would be so cool to play there."
The quest for a third straight title has already started for the Warriors. While Lincoln has not officially been selected by the Nebraska School Activities Association as next year's host for state basketball, it's assumed the new arena will become the primary facility and a renovated Devaney will be used on Thursday and Friday like Pershing Center has been through the years.
"We hope we get to play there (the Pinnacle Bank Arena), that's the goal," Crofton coach Aaron Losing said after guiding the Warriors to their fifth state title since 2005.
Crofton, the only undefeated team in the state this season, will bring a 34-game winning streak into next season. While the Warriors will graduate 6-foot senior all-stater Bridget Arens, they'll return Arens' younger sister, sophomore standout point guard Allison Arens, as well as two other key sophomores — Quinn Wragge and Maria Wortmann.
And there will be another Arens — 5-9 Monica Arens, a freshman post.
"There will be some pressure (to repeat), but it will be a new adventure and we'll be excited for it when it comes," Allison Arens said.
Just who will be playing in Pinnacle Bank Arena on championship Saturday next year? In Class A, there are a number of possibilities. Runner-up Bellevue West, ranked No. 1 the entire season, brings back the talented trio of center Kate Liveringhouse and guards Madi Braun and Chloe Akin-Otiko.
They certainly impress the coach of this year's championship team, Lincoln Southeast's Kara Graham.
"That team is special. They're going to be so good. They could be right back here next year," Graham said of Bellevue West.
But so could Millard West, Omaha Benson, Lincoln Northeast and whoever has Jessica Shepard — Southeast or Fremont. Millard West brings back five of its top six scorers, including versatile 5-11 junior Samantha Waldron. Benson did not have a senior on its state tournament roster and will add 5-10 junior standout Zabrina Kentch inside to compliment 6-foot sophomore all-stater Kianna Ibis.
Kentch went down with a knee injury in November and missed the entire season.
Northeast brings back seven of its top eight players, a prospect that excites coach Steve Bartek.
"The experience of playing down here at state for the second straight year will be huge going into next season," Bartek said. "This is a group that loves basketball and they're hungry."
Shepard, Southeast's 6-3 Super-State sophomore and a Nebraska recruit, will learn later this month where she'll play next season. Her father, Mark Shepard, is a finalist for the Fremont Public Schools superintendent job.
If she lands in Fremont, the Tigers are a potential top-five team with the possibility of going even higher. If Shepard stays, Southeast will have those same expectations with three-point shooter Reanne May and top defender Maddy Everett also back.
Northwest will have the tools to repeat in Class B with junior all-stater McKenzie Brown and two other junior starters — Katie Placke and Erin Sorahan — leading the way. Runner-up Norris has a solid foundation coming back with the Hohlen sisters, Kasey and Kylie.
Holdrege, which beat Northwest in the district finals, returns 10 of 11 players, including one of the top post players in the state in Rachel Jelden. Dusters coach Trent Benjamin, however, is stepping down to pursue an administrative position.
Lincoln Pius X drops back to B next season and should be an instant contender with its trio of sophomores leading the way — Maddie Simon, Becky Brokaw and Briahtia Sebek.
* ADJUSTMENT TO SHEPARD'S POINT TOTAL: Shepard finished with 24 instead of 26 points and Southeast teammate Alexa Kastanek scored 16 in the win over Bellevue West in the Class A state championship Saturday. The official book incorrectly credited Shepard with an early second-quarter basket that was actually scored by Kastanek.
Both the Southeast and Bellevue West scorebooks had Kastanek with the two-point basket, as did the media covering the game. NSAA personnel will review the game on video before making an official change in the individual point totals.
The 24 points will leave Shepard with 79 for this year's tournament, one shy of the Class A tournament record of 80 set by Maurtice Ivy of Omaha Central in 1984. Shepard, however, still breaks Ivy's single-season scoring mark for Class A with 664 points this year.