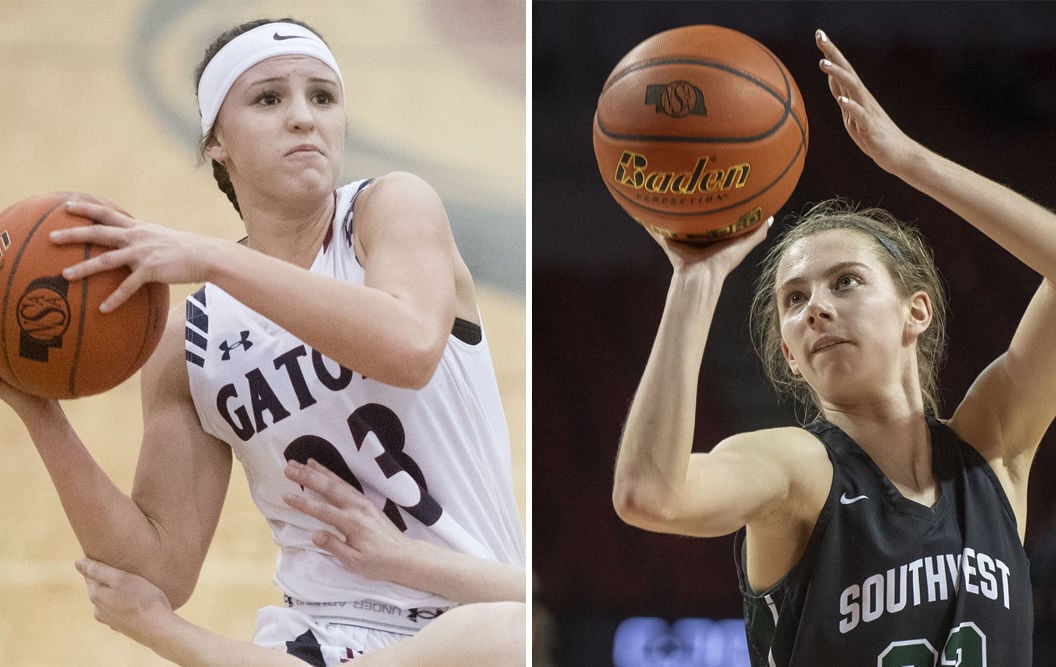 Lincoln Southwest's Kate Dilsaver and Lincoln North Star's Abby Krieser are two of the top multi-sport athletes in the Capital City.
So when it comes to college options, picking a sport is half the battle.
Krieser entered high school thinking she might play softball at the next level, but decided last year to pursue college basketball. Dilsaver, a state champion sprinter, is receiving Power Five interest in track and field, but her focus is on basketball.
"It was a really hard choice because I had to have a deadline if I was going to play softball next year or basketball," Krieser said. "I talked with my parents and they helped me, but I knew basketball was the right choice."
Now comes the other part — finding future homes on the hardwood.
Both entering their senior years at their respective schools, Dilsaver and Krieser are looking to make the most of their summer AAU season with Team Factory in Omaha. They're also trying to make the most out of an unusual situation. The COVID-19 pandemic shortened the summer, and Division I and II coaches are not able to attend tournaments for the July evaluation period.
Like a multi-sport athlete jumping from one sport to the next, Dilsaver and Krieser, both all-city second-teamers last season, are learning to adjust.
"It's definitely difficult because the live periods are — it's best for coaches to watch you in person (and) it's really difficult for them to recruit from watching live feeds," Dilsaver said. "(But) it's better than nothing.
"I think it's important to be patient because no one knows how this is going to work out. We're all just kind of rolling with it."
Dilsaver is one of the fastest athletes in the state, and she has the state gold medals to back it up. She won the 100- (12.08 seconds) and 200-meter (:24.90) dashes in Class A at the 2019 state track and field meet.
Dilsaver's speed also is one of her strongest assets on the basketball court. She moved into the Silver Hawks' starting lineup as a junior and by the end of the season had transformed into a go-to scorer, averaging 12.9 points per game.
"I don't know how much colleges look at high school, but I think at least for me ... I think it helped show me that I can score and can be a good leader on a good team," said Dilsaver, who is receiving strong interest from Division II schools, including Fort Hays State. "I think it boosted me to trend toward the right direction in wanting to get better. I still have a lot of things that I need to work on, but it definitely showed me that I can do it."
Dilsaver hasn't completely shut the door on college track. She is receiving interest from Nebraska, Minnesota and other Power Five schools. Though her focus remains to pursue a basketball scholarship, Dilsaver said she's happy to have options, especially during an unusual recruiting cycle.
"I still obviously get a little stressed a little bit thinking about it, but at the same time I do have options, different roads I can go down if one of them doesn't quite work out," she said.
Krieser, meanwhile, is playing AAU basketball for the first time since eighth grade. She focused on club softball when she got to high school, and was receiving college interest. But she started missing summer hoops.
"It's a lot more competitive and way faster pace than high school, so I'm getting used to that," Krieser said of getting back on the AAU circuit.
Krieser made an immediate impact at North Star, starting as a freshman at third base for the softball team. A few months later, she was the Navigators' starting point guard.
When North Star added point guard Dyvine Harris before the 2019-20 season, Krieser was able to move over to two-guard, a more natural position. She led the Navigators in scoring at 12.9 points per contest.
Because of the current limitations with visits, Krieser said she likely won't make a decision on college until later in the year. She has interest from Coe (Iowa) and NAIA perennial power Concordia.
"I was really nervous because I had only one year to play and get colleges to notice me, and with corona, that really didn't help," Krieser said. "But I'm just really glad we get to play in front of college coaches (on live feeds).
"I would still go to the gym (during shutdown) and shoot and I would talk to my teammates about it, and our coaches were like, 'We're going to play, keep working on basketball.'"
Get in the game with our Prep Sports Newsletter
Sent weekly directly to your inbox!