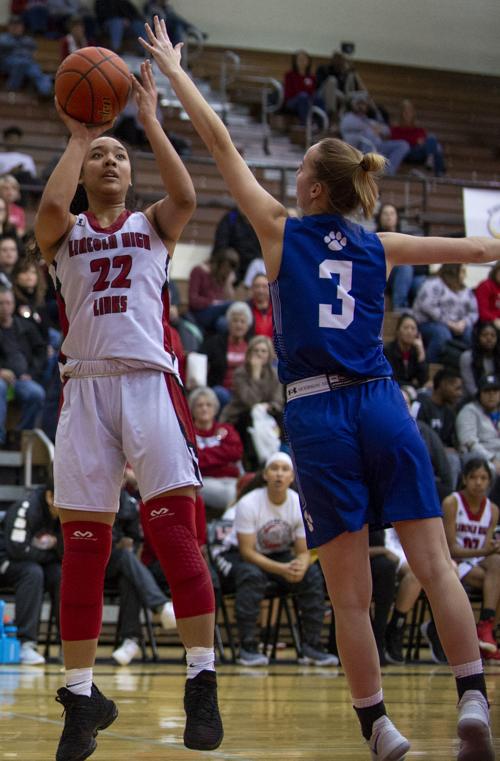 Kaysia Woods is a two-year varsity starter in basketball. So by now, teams know you can't give her room to put up a shot.
Otherwise, there's a good chance it's going in.
"I've just always been known to shoot," she said. "Everyone knows me as a shooter."
Now the Lincoln High junior is seeking to expand on her reputation as a sharpshooter. Woods is working on more areas of her game playing for Team Factory out of Omaha this summer.
"I'm driving to the hoop more than I normally did," said Woods, one of the top 2021 prospects in the state. "I'm still learning a lot, so we'll see in the second (live period) session how I get better."
At 6-foot, Woods' size and shooting prowess make her a strong option at either small forward or shooting guard, where she can create several mismatches.
Woods' smooth shooting form has been attracting attention from NCAA Division I coaches for some time now. She received her first Division I offer, from Wichita State, during her freshman season at Lincoln Northeast.
"Getting my first offer during my freshman year, it was almost like a dream come true," Woods said. "I've been putting in the work for years, and it just feels good to know that all my work is paying off."
Offers from Kansas State and Colorado State soon followed, and recently, Woods got an offer from Colgate.
You have free articles remaining.
Woods also is receiving interest from Omaha, Western Kentucky, South Dakota, South Dakota State, UMKC and Marquette.
The summer hoops season is wrapping up for many club programs this week, and Woods is hoping to gain more interest playing with Team Factory in tournaments in Minneapolis and Ames, Iowa.
"I just want to be able to expand my options to the most that I can and just be able to have a wide variety (of offers) and see where I fit best," she said. "It doesn't really matter to me how far or anything. I just want to be able to play my game and make an impact to a program."
Because Woods has yet to start her junior year in high school, she can't talk to college coaches. That will change Sept. 1, when coaches can reach out to prospective juniors via phone calls and texts, and Woods looks forward to building those relationships.
For now, Woods is letting her summer play and film do the talking. Colgate was the latest team impressed enough to make an offer.
"It's fun," Woods said of playing in front of several college coaches. "But it's also kind of, not really scary, but you feel like you have pressure on you, but sometimes you've got to shake it off. You've got to act like no one's watching you, and play your game."
Just like Woods' early years with a basketball in her hands.
"I was always working on my shot," Woods said when asked about her development as one of the state's top shooters. "My dad and I would go shoot in the gym almost every day, and put up shots. A lot of shots."
Woods said she might wait until next summer to make a decision on college, though that could change. Her attention will soon turn to helping Lincoln High in Year 2 under coach Dominique Kelley-Johnson.
The Links also return Nyayongah Gony, a 6-2 post player who is receiving a lot of Power Five Conference interest and offers.
"The goal is to go to state, but we just want to do the best we can and see where that puts us," Woods said. "I think we're going to have a really good season. We definitely played way better at the end of (last season). As soon as the end of the season came, that's when we started figuring things out, so I feel like this upcoming season, I think we'll pick up where we left off and go up from there."