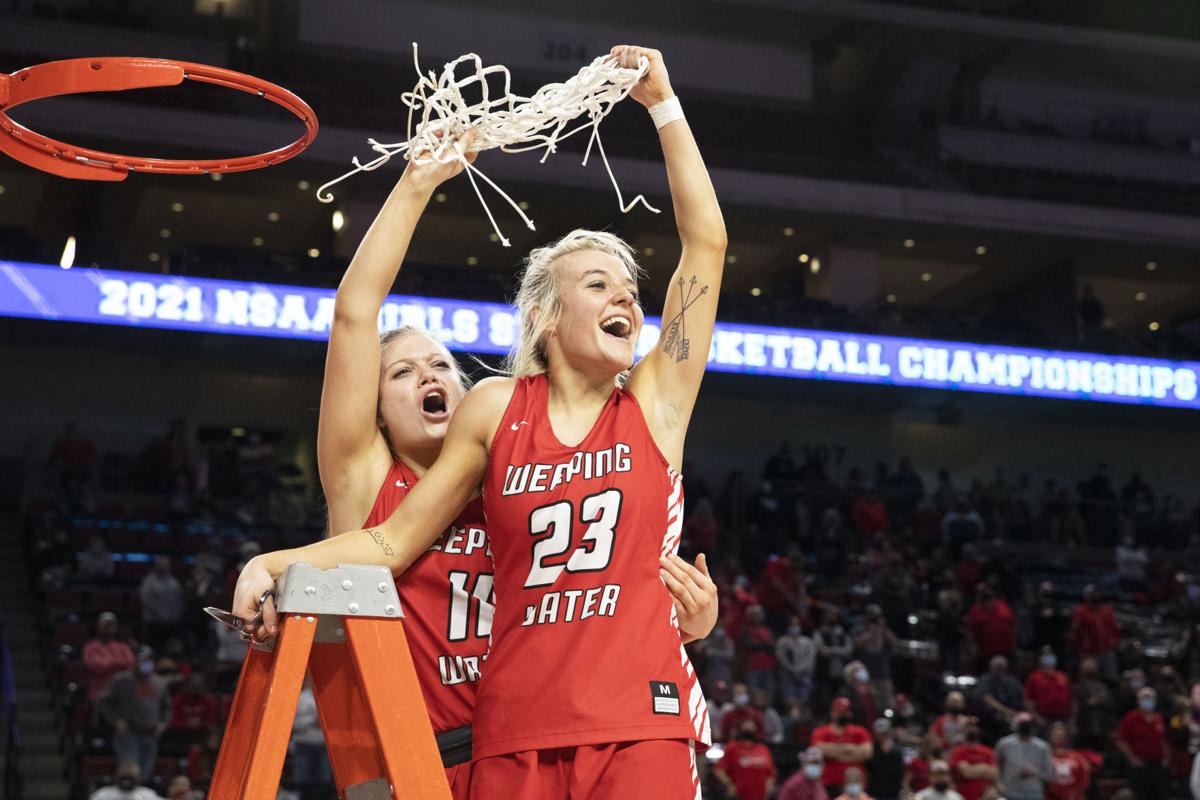 Player, school, Yr., Ht., PPG, RPG
Alexis Markowski, Lincoln Pius X, Sr., 6-3, 23.3, 13.0
Taylor McCabe, Fremont, Jr., 5-9, 23.6, 4.9
Allison Weidner, Humphrey SF, Sr., 5-10, 25.0, 7.0
Britt Prince, Elkhorn North, Fr., 5-10, 22.4, 7.3
Grace Cave, Weeping Water, Sr., 5-8, 21.4, 5.4
Honorary captain: Markowski, Lincoln Pius X.

Mya Babbitt, Millard South, So., 5-8, 18.2, 3.3
Jillian Aschoff, Lincoln Pius X, Sr., 5-7, 8.0, 4.0
Taryn Wharton, Bellevue West, Jr., 5-6, 18.4, 3.7
Inia Jones, Omaha Central, Fr., 5-6, 12.6, 4.4
Kaitlyn Emanuel, North Bend Central, So., 6-0, 17.0, 8.0

Bailey Kissinger, Hastings SC, Jr., 5-6, 16.4, 3.4
Sidney Swanson, West Point-Beemer, Sr., 5-6, 20.1, 5.8
Cora Olsen, Millard South, So., 5-8, 14.5, 4.9
Gracie Haneborg, North Platte, Sr., 5-8, 18.5, 6.2
Kaysia Woods, Lincoln High, Sr., 6-0, 18.0, 6.5

Player, school, Yr., Ht., PPG, RPG
Alexis Markowski, Lincoln Pius X, Sr., 6-3, 23.3, 13.0
Taylor McCabe, Fremont, Jr., 5-9, 23.6, 4.9
Mya Babbitt, Millard South, So., 5-8, 18.2, 3.3
Jillian Aschoff, Lincoln Pius X, Sr., 5-7, 8.0, 4.0
Taryn Wharton, Bellevue West, Jr., 5-6, 18.4, 3.7
Honorary captain: Markowski, Lincoln Pius X.
Inia Jones, Omaha Central, Fr., 5-6, 12.6, 4.4
Cora Olsen, Millard South, So., 5-8, 14.5, 4.9
Gracie Haneborg, North Platte, Sr., 5-8, 18.5, 6.2
Kaysia Woods, Lincoln High, Sr., 6-0, 18.0, 6.5
Aaniya Webb, Omaha Central, Jr., 5-11, 15.4, 4.4
Bellevue East—Mya Skoff, Baylee Egan, Riley Jensen; Bellevue West—Dani Peterson, Kenzie Melcher, Grace Schaefer; Elkhorn South—Rylee Gray, Lauren Kohl; Fremont—Charli Earth, Macy Bryant, Sarah Shepard, Bella Keaton; Gretna—Avery Kallman, Grace Huntwork, Emma Schweigart; Kearney—Aspen Rusher, Lily Novacek, Kierstynn Garner, Tatum Rusher; Lincoln East—Olivia Kugler, Haley Peterson, Matalynn Campbell; Lincoln High—Kiana Wiley; Lincoln North Star—Abby Krieser, Sammy Leu, Dyvine Harris; Lincoln Northeast—Doneelah Washington, A'Iyana Jones, Nyathak Gatluak; Lincoln Pius X—Miriam Miller, Adison Markowski, Charlee Hagedorn; Lincoln Southeast—Brittany Wulf; Lincoln Southwest—Kennadi Williams, Kate Dilsaver, Skylar Pieper, Katie Carpenter, Freddie Wallace, Riley Wells; Millard North—Kaylee Kessler, Sidney Anderson, Megan Chambers; Millard South—Khloe Lemon, Megan Belt, Lexi Finkenbiner, Juliana Jones; Millard West—Laney Schipper, Libby Hoffman; Norfolk—Hailey Kleinschmit; North Platte—Carly Purdy, Abby Orr; Omaha Benson—Kiera Estima, Nataya Lockett; Omaha Burke—Aanaya Harris, Hailey Ingram, Bre Schneidewind, Kara Stricklin; Omaha Central—Claire Williams, Aniah Wayne, Nyanaur Pal; Omaha Marian—Aryannah Harrison, Cece Hacker, Ashley Wilwerding; Omaha North—Kionna Moton; Omaha Northwest—Taniya Golden; Omaha Westside—Lucy Schonlau; Papillion-La Vista—Jenna Hoelscher, Caitlyn Ryan, Ann Fitzgerald; Papillion-La Vista South—Tate Norblade, Lyida Hodges, Savanna Solomon, Kara Lang.

Player, school, Yr., Ht., PPG, RPG
Britt Prince, Elkhorn North, Fr., 5-11, 22.4, 7.3
Maddie Portwine, York, Sr., 6-0, 15.7, 4.0
Mak Hatcliff, Beatrice, Sr., 5-9, 16.1, 7.8
Brianna Stai, Norris, Sr., 6-0, 10.4, 5.9
Hannah Newton, Crete, Sr., 5-11, 12.8, 3.0
Honorary captain: Prince, Elkhorn North.
CeCe Behrens, Omaha Skutt, Sr., 5-9, 15.8, 5.6
Kiara Libal, Ashland-Greenwood, Sr., 5-6, 20.5, 2.0
Reilly Palmer, Elkhorn North, Jr., 5-9, 12.2, 3.1
Lindsay Krause, Omaha Skutt, Sr., 6-4, 13.3, 11.7
Mariyah Avila, Scottsbluff, Jr., 5-5, 11.1, 4.1
Ashland-Greenwood—Saige Craven, Chloe Bergsten; Aurora—Cassidy Knust; Beatrice—Nevaeh Martinez, Chelsea Leners; Bennington—Abby Boyes, Taylor Sedlacek, Maddy Elwood; Blair—Makayla Baughman, Ella Ross, Mya Larson; Crete—Lexi Mach, Leah Jurgens; Elkhorn—Tia Murray, Haley DeBuse, Lexi Knott, Ella Dalton; Elkhorn North—Hannah Nadgwick; Gering—Cloey Fries, Sydnee Winkler; Hastings—Dacey Sealey, McKinsey Long, Maddie Hilgendorf, Libby Landgren; Holdrege—Alexis Bliven, Taylor Wiser; Lexington—Sarah Treffer, Klair Fagot; McCook—Tiara Matson, Shawna Wilkinson; Norris—Delaney White, Molly Ramsey, Maddy Collier, Kalli Kroeker; Northwest—Shanae Suttles, Claire Caspersen; Omaha Duchesne—Nicky Huss; Omaha Gross—Theo Mba, Rachel Culhane, Sydney Herren, Jenna Skradski; Omaha Mercy—Willavena Tokporo, Abby Krehbiel; Omaha Skutt—Peyton McCabe; Platteview—Ally Kuhl; Schuyler—Jocelyn Tena; Scottsbluff—Sabrina Harsh, Payton Burda; Seward—Hannah Benedict, Abbey Ringler, Tanya Miller; South Sioux City—Kyra Fischer, Hannah Strom, Khaia Herron, Jalen Galvin, Tasha Freiberg; Waverly—Paige Radenslaben, Abigail Carter, Leah Rasmussen; York—Masa Scheierman, Destiny Shepherd, Mattie Pohl.

Player, school, Yr., Ht., PPG, RPG
Kaitlyn Emanuel, North Bend Central, So., 6-0, 17.0, 8.0
Bailey Kissinger, Hastings SC, Jr., 5-6, 16.4, 3.4
Sydney Swanson, West Point-Beemer, Sr., 5-6, 20.1, 5.8
Sydney Emanuel, North Bend Central, Jr., 5-7, 15.5, 4.2
Keisha Snyder, Winnebago, Sr., 5-10, 17.5, 12.0
Honorary captain: K. Emanuel, North Bend Central.
Lily Vollertsen, Syracuse, Jr., 6-0, 19.9, 7.7
Kali Staples, Broken Bow, Sr., 5-7, 9.5, 4.1
Kali Jurgensmeier, Bishop Neumann, Jr., 6-1, 13.5, 8.2
Taryn Wagner, Central City, Sr., 5-6, 18.9, 3.9
Olivia Poppert, St. Paul, Jr., 6-0, 17.0, 9.0
Adams Central—Libby Trausch, Rachel Gooden, Jess Babcock; Ainsworth—Kendyl Delimont, Bria Delimont, Kaitlyn Nelson; Arlington—Kailynn Gubbels, Kylee Bruning; Auburn—Sydney Binder, Jaeleigh Darnell, Leah Grant; Battle Creek—BriAnna Zohner, Paytyn Taake; Bishop Neumann—Lauren Thiele, Paisley Douglas, Kinslee Bosak, Bailey Maly, Mary Chvatal; Broken Bow—Kya Scott, Kailyn Scott, Halle McCaslin, Kassidy Cyboron; Central City—Jade Erickson; Chadron—Jacey Garrett, Anika Burke; Columbus Lakeview—Reese Janssen; Columbus Scotus—Grace Mustard, Janae Rusher, Kamryn Chohon, Camille Pelan; Conestoga—Myah Cummings, Lindee Watson; DC West—Ellie McCarville, Avery Wright, Grace Hohm; David City—Lauren Vandenberg, Neely Behrns, Emily Johnson, Payton Andel; Doniphan-Trumbull—Maddison Shimmin; Fairbury—Jordan Tracy, Ellie Ohlde; Falls City—Eryn Snethen, Madison Jones; Gibbon—Yahyda Castaneda, Samantha Walker; Gothenburg—Kynlee Strauser, Annica Harm, Ashlyn Richeson, Clara Evert; Grand Island CC—Chloe Cloud, Jenna Heidelk, Alexis Mudloff; Hastings SC—Katharine Hamburger, Addie Kirkegaard, Shaye Butler; Homer—Bradie Johnson, Emily Rasmussen; Kearney Catholic—Ashlyn Wischmeier, Ashley Keck, Liv Nore; Lincoln Christian—Makylee Ailes, Ashlynn Ailes, Emerson Crist; Lincoln Lutheran—Katelynn Oxley, Abby Wachal, Shanae Bergt, Addi Ernstmeyer; Logan View-SS—Valerie Uehling, Sophia Vacha, Grace Schlueter, Josie Kahlandt; Louisville—McKenzie Norris, Avery Heilig, Ella Johnson; Malcolm—Alyssa Fortik, Emma Brown, Joslyn Small, Ashlynn Sehi, Diamond Sedlak; Milford—Hannah Kepler, Kaitlin Kontor; Minden—Sarah Hultquist, Sloane Beck, Abby Rehtus; Mitchell—Jayden Kanno, Caani Banks; North Bend Central—Cierra Kluthe, Ally Pojar, Hannah Williams; Oakland-Craig—Chaney Nelson, Sadie Nelson, Sydney Guzinski; Ogallala—Milan Coggins, Taylor Trumper, Makayla Kichner; Omaha Roncalli—Claire Wilson; O'Neill—Alyssa Eichelberger, Meg Schluns, Lauren Young; Ord—Nikie Nelson, Kloe Severance, Payton Hackel; Pierce—Kenzie Moeller, Morgan Moeller, Abby Meier; Sidney—Karly Sylvester, Morgan Jaggers, Alecca Campbell; Syracuse—Jessie Moss, Halle Wilhelm; Wahoo—Autumn Iversen, Kelsie Sears, Karly Golladay, Taylor Luben, Toni Greenfield, Kharissa Eddie; Wayne—Brooklyn Kruse, Rubie Klausen, Kendall Dorey; West Point-Beemer—Reece Snodgrass, Rachel Groth, Jadyn Meiergerd, Brooklyn Weddle; Winnebago—Natasha Deal, Madeline Cleveland.

Player, school, Yr., Ht., PPG, RPG
Lacey Sprakel, Crofton, Sr., 5-9, 17.1, 6.8
Caragan Tietz, BRLD, Sr., 5-9, 14.8, 5.1
Ruthie Loomis-Goltl, Bridgeport, So., 6-2, 20.0, 8.1
Ashlyn Kingsbury, Ponca, Sr., 5-11, 12.1, 5.0
Boston Boucher, Wood River, Sr., 5-9, 14.6, 3.7
Honorary captain: Sprakel, Crofton.
Samantha Ehlers, Ponca, So., 6-0, 12.2, 8.5
Olivia Loomis-Goltl, Bridgeport, Fr., 5-10, 17.8, 6.8
Shayla Meyer, Superior, Jr., 6-1, 19.2, 10.7
Kate Hirschfeld, Centennial, Sr., 5-10, 14.0, 5.0
Brenna Rief, Guardian Angels CC, Sr., 5-6, 16.0, 1.0
Aquinas—Madisen Jelinek, Bethany Emswiler, Emma Sellers; Arcadia-Loup City—Jessia Stieb; BRLD—Jordan Snyder, Alyssa Buchholz, Isabel Freemont; Bayard—Grace Burry, Hallie Cochran; Blue Hill—Brooklyn Kohmetscher; Bridgeport—Sydney Nein, Brookyln Mohrman, Mackenzie Liakos; Brownell Talbot—Josie Petrulis, Katherine Thaden, Molly Clark; Burwell—Carlee Helgoth, Hannah Gurney; Centennial—Asia Nisley, Daylee Dey; Centura—Sydney Davis, Katelyn Fanta, Sydney Perez, Taya Christensen; Clarkson/Leigh—Chloe Hanel, Cassidy Hoffman, Kennedy Settje, Kayden Schumacher; Creighton—Maycee Zimmerer, Bryna Fonta; Crofton—Kaley Einrem, Alexis Folkers, Ella Wragge, Jayden Jordan; Cross County—Cortlyn Schaefer, Erica Stratman; Elm Creek—Whitney Bauer, Ashley Brown, Lani Meier; Fillmore Central—Jackie Schelkopf, Lexi Theis, Jordan Broman, Abby Nichols; Freeman—Kaylee Bures, Taylor Anderson, Dakota Haner; Fullerton—Hanna Plumbtree, Alyssa Reardon; Gordon-Rushville—Jayla Brehmer; Guardian Angels CC—Sophia Hass, Brandi Doernemann; Hi-Line—Gretchen Hodge; Howells-Dodge—Jaedyn Ratzlaff, Cassie Pieper; Johnson Co. Central—Zadie Plager, Saylor, Rotner; Laurel-Concord-Coleridge—Kinsey Hall; Lourdes CC—Aspen Meyer, Gina McGowen, Brianna Fulton; Lutheran Northeast—Mia Wiederin, Mia Furst, Becca Gebhardt, Chloe Spence; Madison—Whitney Zessin; Morrill—Ilycia Guerue, Libbie Schaefer, Jaiden Steiner; Norfolk Catholic—Avery Yosten, Mary Fennessy, Elly Piper, Carly Marshall; North Central—Hunter Wiebelhaus, Brielle Bussinger, Jenna Hallock, Adisyn Anderson; Omaha Christian—Codie Wirges, Belle Wirges; Overton—Rachel Ecklund, Haley Fleischmanm, Paetyn Florell, Maeli Meier; Palmyra—Holly Wilen, Jami Gabriel; Pender—Ashley Ostrand, Zoey Lehmkuhl, Caitlyn Heise; Perkins County—Kailee Potts, Dani Burge; Ponca—Alyssa Crosgrove; Ravenna—Tori Sklenar, Allyson Larsen, Kennedy Hurt; Shelby-Rising City—Allie Neujahr; South Loup—Landyn Cole, Megan Donegan, Ava Pandorf; Southern Valley—Ann Bose; Stanton—Sylvia Cunningham, Savannah Siebrandt, Kinley Pohlman; Superior—Sierra Blackburn, Ella Gardner; Sutton—Kylie Baumert, Xytlaly Bautista, Dayvie Perrien; Tekamah-Herman—Maggie Sheets, Halle Olsen, Preslee Hansen; Thayer Central—Natalie Tietjen, Chloe Souerdyke, Cassandra Hergott; Tri County—Hannah Holtmeier; Wakefield—Jordan Metzler, Aishah Valenzuela, Alex Arenas; Wilber-Clatonia—Nevaeh Honea, Abby Rezny; Wood River—Kiernan Paulk.

Player, school, Yr., Ht., PPG, RPG
Grace Cave, Weeping Water, Sr., 5-8, 21.4, 5.4
Addison Schneider, Humphrey/LHF, Jr., 6-1, 18.8, 13.5
Lauren Baker, Archbishop Bergan, Sr., 5-10, 17.3, 4.6
Kaci Pierce, Pleasanton, Sr., 5-8, 12.7, 5.4
Brynn Wortmann, Hartington CC, Sr., 5-10, 16.4, 3.3
Honorary captain: Cave, Weeping Water.
Autumn Dickmander, South Platte, Sr., 5-7, 18.0, 4.8
Katy Lindner, Pleasanton, Sr., 6-0, 10.6, 4.7
Tonja Heirigs, North Platte St. Pat's, So., 5-6, 21.3, 5.1
Brenna Wagner, Summerland, Sr., 5-10, 19.4, 7.3
Macy Kamler, BDS, Sr., 5-10, 11.8, 5.4
Alma—Addison Neal, Carlee Stuhmer, Addison Siebels, Riley Scott, Katy Prickett; Amherst—Hannah Herrick; Ansley-Litchfield—Kaylee Rohde, Carli Bailey; Anselmo-Merna—Jaide Chandler, Kaitlyn Jacquot, Hadlee Safranek, Shaylyn Safranek, Kirsten Meyers; Arapahoe—Hope Koller, Emerson Swanson, Tracy Roskop; Archbishop Bergan—Kaitlyn Mlnarik, Summer Bojanski, Jadin Ostrand; BDS—JessaLynn Hudson; Bloomfield—Alexandra Eisenhauer, Madison Abbenhaus, Brynn Bargman; Boyd County—Lauryn Hoffman, Amelia Hoffman; Cambridge—Autumn Deterding, Breelle Miller, Paige Klumpe; Central Valley—Neleigh Poss, Vanessa Wood; Dundy Co.-Stratton—McKinzie Baney, Maggie Lutz, Alyssa Schneider; East Butler—Allie Rigatuso, Addie Sullivan; Elgin/PJ—Ashlynne Charf, Keyera Eisenhauer, Kirsten Krebs, Allyson Selting; Elkhorn Valley—Carney Black, Kenzie Mosel, Bria Gale; Elmwood-Murdock—Lexi Bacon, Jayden Halferty, Bailey Frahm, Ella Zierott; HTRS—Katilyn Glathar, Natalie Novak; Hartington CC—Brooklyn Kuehn, Megan Heimes; Hartington-Newcastle—Kayden Jueden, Alivia Morten; Heartland—Cassidy Siebert, Kaelyn Buller; High Plains—Brooke Bannister, Brianna Wilshusen, Hailey Lindburg; Humphrey/LHF—Paige Beller, Lexi Frauendorfer, Riley Jurgens, Halle Beller; Johnson-Brock—Jordan Koehler; Kenesaw—Rylee Legg, Cassidy Gallagher, Kaylee Steer; Maxwell—Jordan Miller, Harley Kuenning; McCool Junction—McKenna Yates; Mead—Emily Hebenstreit, Emily Quinn, Rebecca Halbmaier; Meridian—Allison Kort; Jaslyn Ward, Kimberly Schropfer; Neligh-Oakdale—Paige Furstenau, Trinity Kurpgeweit, Brooke Frey; North Platte St. Pat's—Kate Stienike, Mae Siegal, Rachel Heiss; Osmond—Kiera Moes; Palmer—Clara Kunze; Plainview—Abbie Kromarek, Peace Akinnigbagbe, Teya Boyer Pleasanton—Natalie Siegel, Chelsea Fisher, Isabelle Paitz; Sandhills Valley—Jaylen Dimmitt; Shelton—MaKenna Willis; Silver Lake—Kerigan Karr, Katelyn Karr, Amanda Ehrman, Georgi tenBensel; South Platte—Kerstin Brown, Mariah Koenen, Lauryn Stanley; Southern—Kaylee Klover, Callie Cooper; Southwest—Caylin Barnett; Summerland—Adyson Mlnarik, Avery Cheatum, Hatley Cheatum; Tri County—Jordyn Carr; Twin River—Katie Paczosa, Delaney Reeg, Whitney Schmidt; Wausa—Morgan Kleinschmit; Weeping Water—Karley Ridge; Yutan—Haley Kube, Maura Tichota, Laycee Josoff.

Player, school, Yr., Ht., PPG, RPG
Allison Weidner, Humphrey SF, Sr., 5-10, 25.0, 7.0
Samantha Moore, Mullen, Sr., 6-0, 17.0, 4.3
Erison Vonderschmidt, Falls City SH, Jr., 5-11, 16.3, 7.1
Morgan Ramsey, CWC, Sr., 6-1, 20.0, 6.2
Jaycee Widener, Maywood-Hayes Center, Sr., 5-10, 17.6, 8.0
Honorary captain: Weidner, Humphrey SF.
Karley Heimes, Wynot, Jr., 6-0, 12.7, 7.8
Alissa Kosch, Humphrey SF, Sr., 5-9, 12.0, 3.0
Rachel Magdanz, Falls City SH, Jr., 6-0, 10.0, 3.3
Elle Ravenscroft, Cody-Kilgore, Sr., 5-0, 21.5, 8.4
Macy Richardson, Sterling, So., 5-7, 15.1, 8.0
Arthur County—Gracie Wenzel, Emma Ohm; CWC—Michelle Koenig, Ryann Haburchak, Tessa Metschke, Rachel Dierks; Cody-Kilgore—Tehya From, Abi Donner, Jayda From; Diller-Odell—Addison Heidemann, Karli Heidemann, Mallory Denner; Dorchester—Jacee Zoubek, Abigail Zoubek; Exeter-Milligan—Jaiden Papik, Cameron Jansky, Emma Olsen, Cammie Harrison; Falls City SH—Olivia Eickhoff, Danielle Bippes; Franklin—Abigail Yelken, Bryanah Hindal, Bailey Lennemann; Hampton—Lexie Wolinski, Rorie Loveland, Zaya Stuart, Lillian Dose; Hay Springs—Samantha Toof, Joce Varvel; Heartland Lutheran—Jessica Zehendner, Madelyn Graham; Hitchcock County—Aimee Merrill, Lindsey Rippen; Humphrey SF—Kaylee Stricklin, Emma Baumgart, Hannah Baumgart; Lawrence-Nelson—Emily Miller,  Lewiston—Katelyn Sanders; Leyton—Ella Draper, Sage Rummel; Loomis—Alexis Billeter, Sam Schemper, Hanna Stewart, Georgia Crandall; Maywood-Hayes Center—Olivia Hansen, Ashlin Broz, Kiley Hejtmanek, Alexis Wood; Medicine Valley—Acelyn Klein, Stella Heapy, Kaylyn Roblee; Mullen—Taylor Svoboda, Brooke McCully, Shelby Welsh, Kylie Licking; Nebraska Christian—Molly Griess; Parkview Christian—Alejah Anderson; Paxton—Jacelyn Jorgensen; Randolph—Jaiden Taylor, Gracie Eledge; S-E-M—Abbie Rohde, Faith Hernandez, Mikah O'Neill; Sandhills-Thedford—Madison Marten, Tenley Rasmussen; Sioux County—Karlee Juhnke, Kailey Klein, Kodie Rempp, Beth Krein; St. Edward—Emma Olson, Jean Cumming; St. Mary's—Mya Hedstrom; Sterling—Dakotah Ludemann; Stuart—Lexi Schroeder, Taya Schmaderer; Wallace—Mariah Gardner; Wauneta-Palisade—Cali Cox, Haylee Sandman, Peyton Cox; Wilcox-Hildreth—Brooke Quadhamer, Sarah Jensen; Natalie Billington; Wynot—Edyn Sudbeck, Autumn Lawson.
These first-team Super-Staters have game: Meet the five girls who took their games to another level in 2020-21
They got... 𝗚𝗔𝗠𝗘!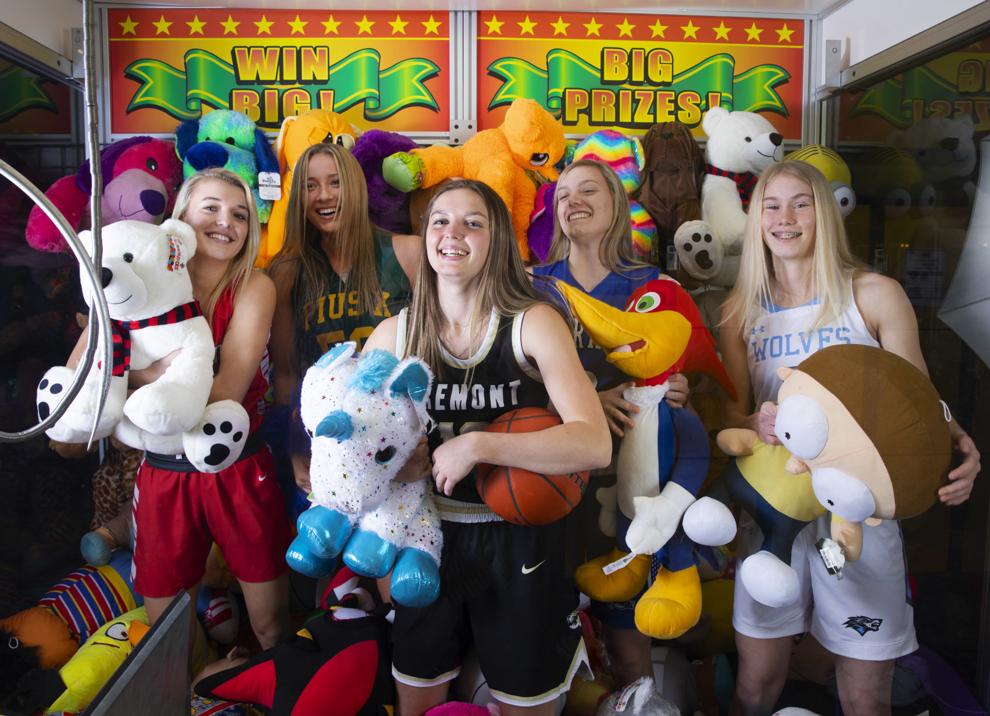 This season's group of first-team Super-Staters are gamers. They take their game to the next level. Do you see what we're getting at?
We spent a day at The Amazing Pizza Machine in Omaha. Sure, there were serious questions, but we enjoyed learning a little bit more about how games, arcade or otherwise, play in each player's lives.
We got some good answers, too.
Let us introduce the 2020-21 Journal Star first-team girls Super-Staters.
A day at the arcade 🕹️
Frankie Fidler and Saint Thomas getting some shots up on the pop-a-shot.  Stuffed animals. Flashing lights. Enjoy this behind-the-scenes look at the Journal Star's first-team Super-State photoshoot. 
𝘼𝙇𝙀𝙓𝙄𝙎 𝙈𝘼𝙍𝙆𝙊𝙒𝙎𝙆𝙄 (captain)
𝙻𝚒𝚗𝚌𝚘𝚕𝚗 𝙿𝚒𝚞𝚜 𝚇 | 𝚂𝚛. | 𝟼-𝟹 | 𝟸𝟹.𝟹 𝙿𝙿𝙶 | 𝟷𝟹.𝟶 𝚁𝙿𝙶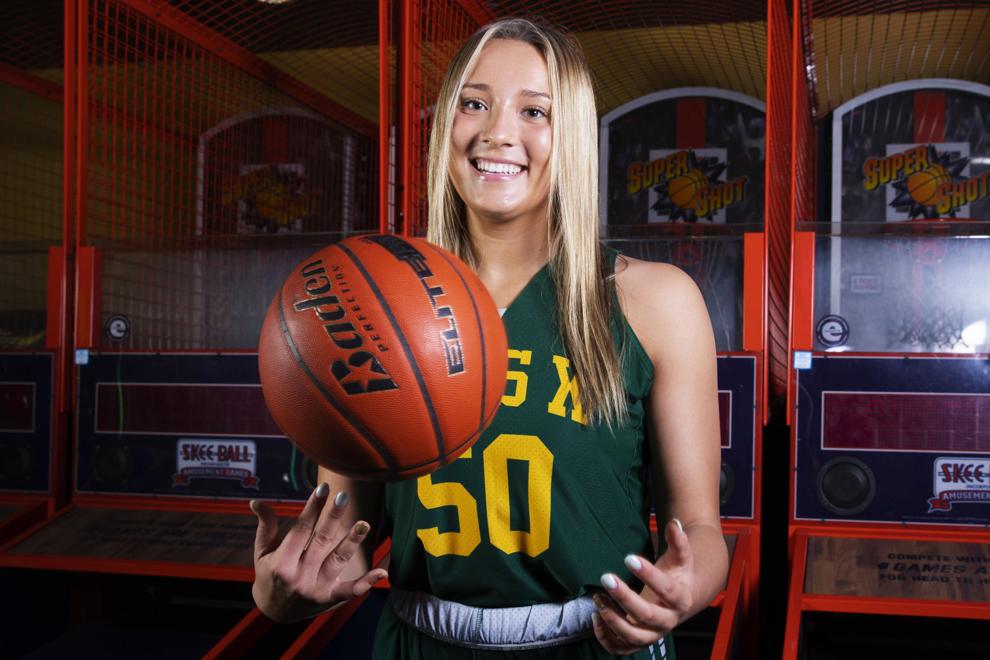 She's got game: Markowski was again the most dominant player in the state. When she got the ball near the block, it was game over for foes. Her size, power and touch near the basket made it difficult to stop her, or even slow her down. Defensively, she had the paint closed off each night. Markowski opened her season with a 34-point, 21-rebound showing against Lincoln North Star, and closed it with three double-doubles at the state tournament, including 30 points and 27 boards against an Omaha Central team that matched her sizewise in the semifinals, and 27 points and 19 boards in the Thunderbolts' state championship victory against Fremont. In between was a school-record 43 points against Fremont in the HAC Tournament final. The future Husker had 16 double-doubles and shot 60% from the field. Her athleticism made it possible for Pius X to utilize her offensively no matter the pace of the game. A two-time first-team Super-Stater, Markowski set numerous school records, including career points (1,485) and career rebounds (866), and she accomplished those marks in only three seasons.
Coach mode: "It was reminiscent of last year where against (Lincoln) East (in the state final), same thing this year, when we needed baskets, she just kind of put our team on her shoulders and decided to do whatever she could to get us another state title," Pius X coach Ryan Psota said. "When you really need somebody to step up, she just has that will to win that I have never seen out of any other player, who can just come up with key moments and key baskets and key rebounds."
Fun game she can maybe beat other Super-Staters in: "UNO! We always play UNO! in the Markowski household. I would take anyone on in UNO!"
Go-to games growing up: "We always got creative with balls and stuff, like if you make a ball in this basket or football, playing catch in the living room and the lamp breaks. Just stuff like that. And UNO!"
How many makes out of 20 on pop-a-shot: "Fifteen."
𝙏𝘼𝙔𝙇𝙊𝙍 𝙈𝙘𝘾𝘼𝘽𝙀
𝙵𝚛𝚎𝚖𝚘𝚗𝚝 | 𝙹𝚛. | 𝟻-𝟿 | 𝟸𝟹.𝟾 𝙿𝙿𝙶 | 𝟺.𝟿 𝚁𝙿𝙶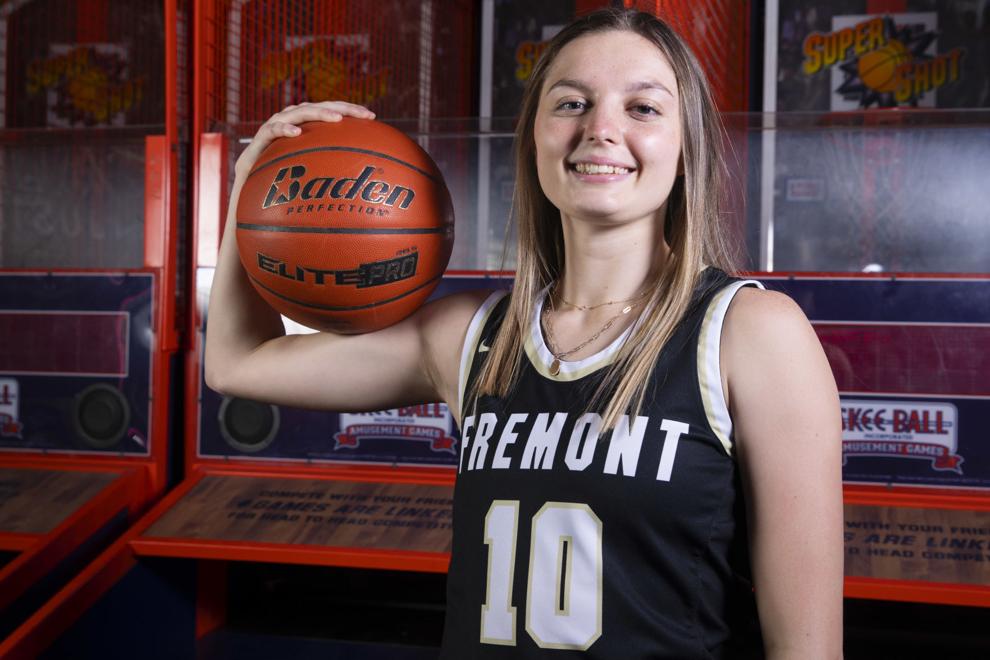 She's got game: McCabe dazzled as a sophomore (20.3 ppg, 35.2 rpg, 2.3 apg, 107 threes), and yet she found a way to take it to another level in her third season with the Tigers, who relied a little more on McCabe for her ball-handling skills this time. She averaged career bests in assists (3.7) and steals (3.7) and continued to shoot at a high clip. McCabe splashed 106 three-pointers, and shot 42% from three-point range in each of her first three seasons (How's that for consistency?). McCabe can score at all three levels and perfected the pull-up jumper this season, coach Kelly Flynn said, while also shooting deeper threes. Only one opponent held the two-time first-team Super-Stater to below 18 points (and that was 16), an incredible accomplishment when you consider, one, she's seeing the other team's best defender every game in Class A, and two, even the good ones have quiet nights. McCabe never did.
Coach mode: "She reminds me of a little bit of a girl (Steph) Curry," Flynn said of the Golden State Warriors star shooter. "When I watch him play, where he stops and start, stops and start and almost baits you, sets you up, and all of the sudden the step-back. She's perfected it to where when she freezes that defense with her step-back, it surprises you when it doesn't go in. Along with her scoring, she really has some impressive stats overall."
Fun game she can maybe beat other Super-Staters in: "There's a light thing … you have to press the things as fast as you can. I have the most coordination by far, not to brag (laughs), so I would definitely win at that."
Go-to games growing up: "They have a Go-Kart thing here (at Amazing Pizza Machine), I used to do that. I used to come here a lot when I was little with my siblings and parents."
How many makes out of 20 on pop-a-shot: "I'm still convinced it's rigged, so I would say 16."
𝘼𝙇𝙇𝙄𝙎𝙊𝙉 𝙒𝙀𝙄𝘿𝙉𝙀𝙍
𝙷𝚞𝚖𝚙𝚑𝚛𝚎𝚢 𝚂𝙵 | 𝚂𝚛. | 𝟻-𝟷𝟶 | 𝟸𝟻.𝟶 𝙿𝙿𝙶 | 𝟽.𝟶 𝚁𝙿𝙶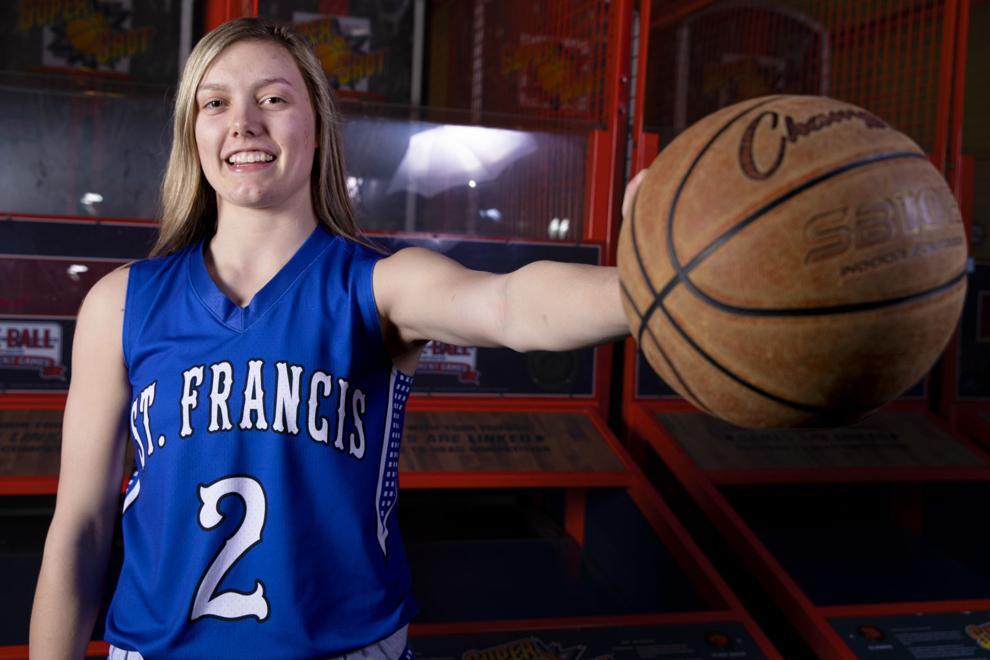 She's got game: Oh, man, does Weidner have game. In addition to scoring 25 or more points 13 times this season, including 43 against Hartington-Newcastle, Weidner averaged 6.4 assists and 6.4 steals per contest. She focused on improving her shooting coming into the season, and it showed as she shot 38% from beyond the arc and 57% from the field. Her stats were big, and her feel for games — when to take over as a scorer, when to feed teammates, when to speed up or slow down — was unmatched. A two-time first-team Super-Stater, Weidner finished with 2,282 career points, which ranks third all-time in the state, 740 career assists and 630 career steals; and she tied a bow on her prep career by leading the Flyers to a 25-0 record and a Class D-2 state championship.
Coach mode: "She's doing all of that at an extremely high rate of speed," St. Francis coach Bryan Reichmuth says of Weidner's ability to control games as either a scorer of facilitator. "Our style of play is up and down the court, (and) that's the way Allison is going to play. She's dissecting things before they even happen. I don't know how many nights I'd get a text from her, she'd seen this on film or that on film. She's just a student of the game."
Go-to games growing up: "Video games with my brothers, like Call of Duty, NBA2K. I feel like I'm pretty good at them."
How many makes out of 20 on pop-a-shot: "Are the rims the right rims? Out of 20 shots, I'd say I make 14."
𝘽𝙍𝙄𝙏𝙏 𝙋𝙍𝙄𝙉𝘾𝙀
𝙴𝚕𝚔𝚑𝚘𝚛𝚗 𝙽𝚘𝚛𝚝𝚑 | 𝙵𝚛. | 𝟻-𝟷𝟶 | 𝟸𝟸.𝟺 𝙿𝙿𝙶 | 𝟽.𝟹 𝚁𝙿𝙶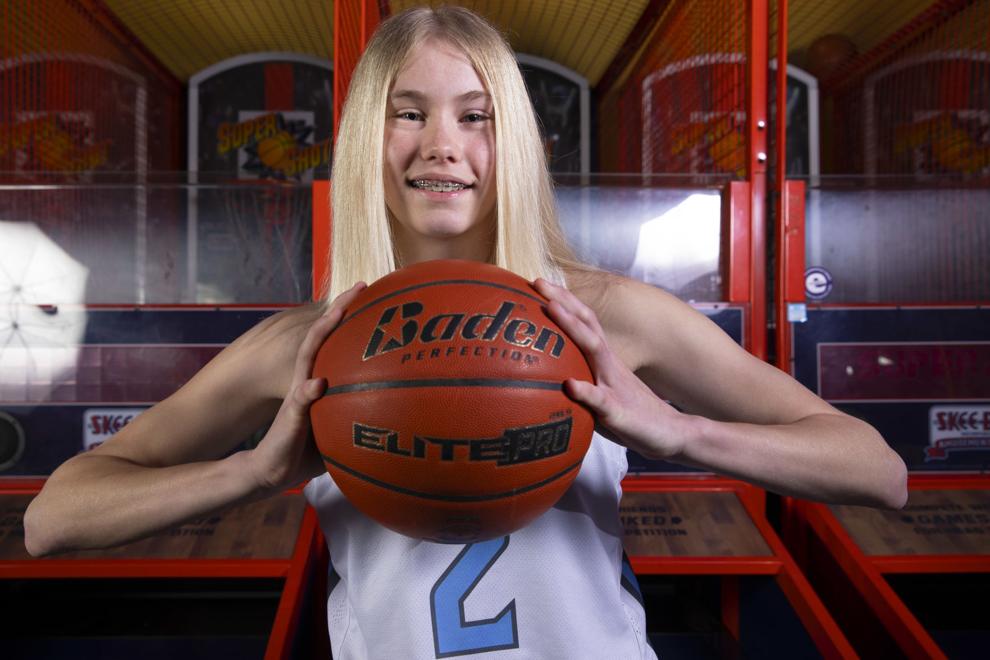 College: Has multiple DI offers, including ones from Louisville, North Carolina, Nebraska and Creighton.
She's got game: This was Prince's rookie prep season, but she didn't look like a freshman, and it's evident why she was receiving DI college offers before she even set foot in high school. She scored in double figures in 22 of 23 games, had four games of 30 points or more and 11 20-plus games, while shooting 54% from the field. She was dangerous behind the arc as well, knocking down 40% of her three attempts. Prince, who placed fifth at the Class B state cross country meet and runs track, put up big numbers despite seeing junk defenses every time out. More impressive was Prince's ability to run an offense with a sense of calm and efficiency as a freshman. Her poise and production played a big part in Elkhorn North, in its first year of existence, marching to a Class B state championship at Pinnacle Bank Arena.
Coach mode: Ann Prince, Elkhorn North's coach and Britt's mother, said she saw a lot of growth in the freshman as a leader. "I think she started to embrace that role a little bit before midseason. I think she felt connected with her teammates, I felt like our team chemistry was strong and I think when you get that feeling, then you finally give yourself the OK to lead on the court. So credit to her teammates for having an amazing team culture. I think that enabled her to feel comfortable and confident enough to take that leadership role as a freshman point guard."
Fun game she can maybe beat other Super-Staters in: "I'm pretty good at the game where you roll the ball (Ski Ball)."
How many makes out of 20 on pop-a-shot: "Twenty."
𝙂𝙍𝘼𝘾𝙀 𝘾𝘼𝙑𝙀
𝚆𝚎𝚎𝚙𝚒𝚗𝚐 𝚆𝚊𝚝𝚎𝚛 | 𝚂𝚛. | 𝟻-𝟾 | 𝟸𝟷.𝟺 𝙿𝙿𝙶 | 𝟻.𝟺 𝚁𝙿𝙶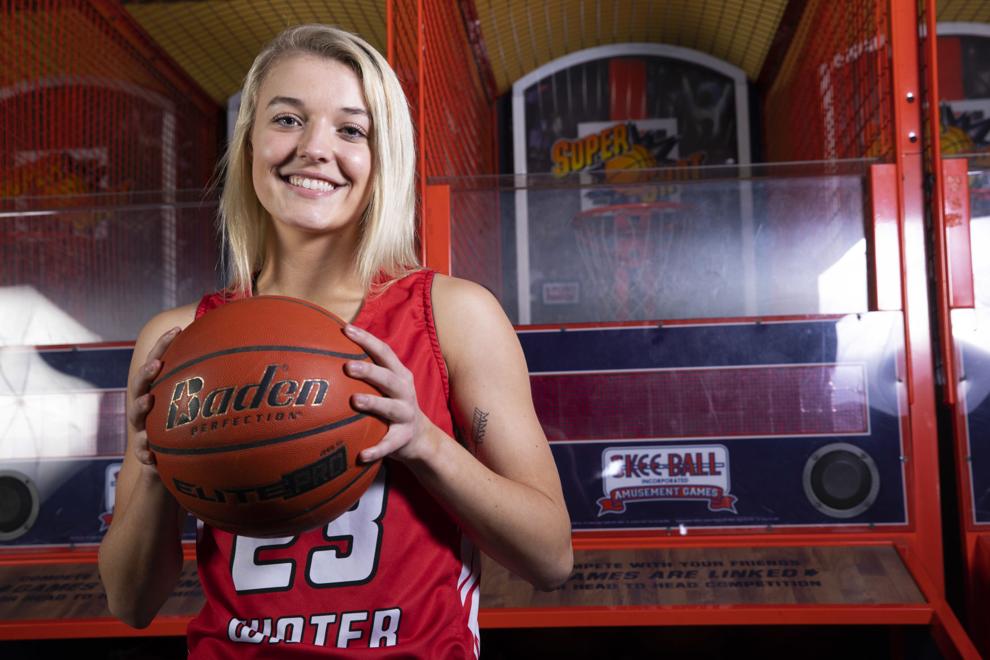 She's got game: Weeping Water coach Joe Haveman has seen Cave thread defenses as a shooter and passer for four seasons. A deep run at the state tournament allowed the rest of the state, and a TV audience on Championship Saturday, to see it, too. Cave played a leading role in guiding the Indians to a Class D-1 state championship, capping it with a coast-to-coast layup in the final seconds to beat No. 1 Pleasanton 40-39 in the final. Cave, a four-time first-team D-1 all-stater, can attack defenses so many ways, whether it's transition threes, slashing to the basket or delivering an array of passes to her teammates (She averaged five assists per contest.). Her season included a school-record 39 points against Falls City, and one of the best three-games stretches in recent memory at the state tournament.
Coach mode: "Hopefully they got to really see and appreciate how good of a basketball player she is and how much she can do," Haveman said. "Her skill set is so wide. For her to really hit her peak and hit her stride in the state tournament was fitting just for her great career, really an exclamation point on it. She showed at the state tournament that she can be extremely aggressive and extremely efficient at the same time, and for her to do it passing the ball, defensively and then we all know that she can score it, was very fulfilling, and obviously we needed every ounce of it."
Fun game she can maybe beat other Super-Staters in: "I like the car ones, but I am not good at any of them."
Go-to games growing up: "Chutes and Ladders. You'd spin it and then you would have to go. That was my favorite."
How many makes out of 20 on pop-a-shot: "Twenty. On a good day."